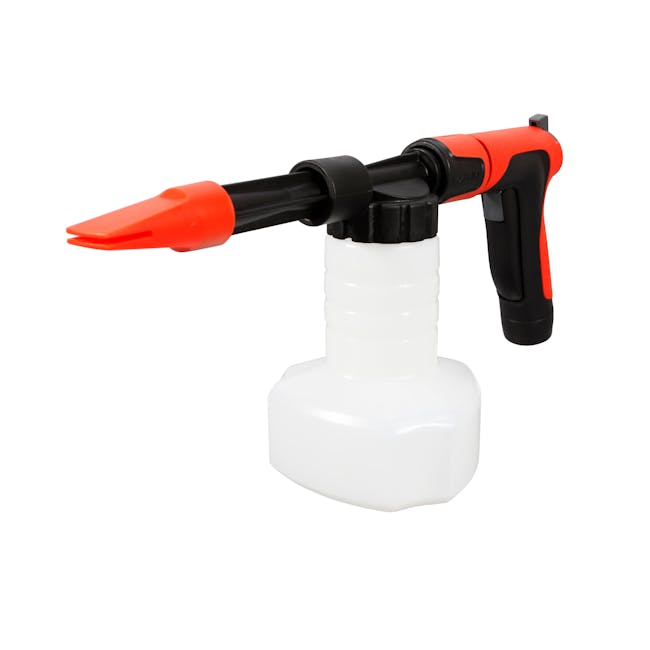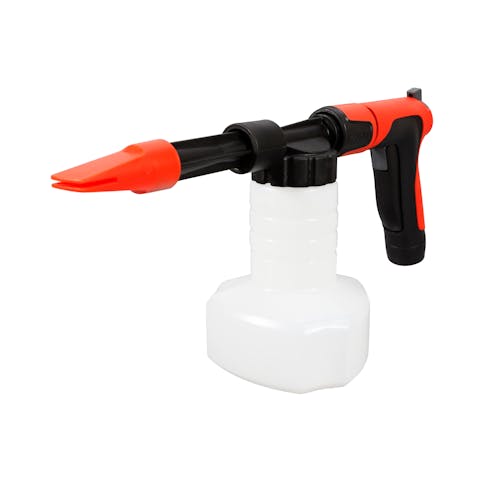 Aqua Joe AJ-SPXN-PRO-RED 2-in-1 All-Purpose Garden Hose-Powered Adjustable Foam Cannon Spray Gun Kit | W/ Bristle Brush and Detailer Sponge Attachments | Quick-Connect (Red)
2 YEAR WARRANTY
ADD A PROTECTION PLAN:
There is a newer model of this item:
SPRAY YOUR WAY! Transform your garden hose into a 2-in-1 wash station with the Hose-Powered Car Wash Sprayer + Foamer Cannon from AQUA JOE! Wash the car, rinse the siding, clean up lawn furniture and garden gear — all with the power of a standard household hose. AQUA JOE's 2-in-1 sprayer quickly and easily converts to a foam cannon for a rich, thick lather to remove stubborn dirt, grease and grime. Just fill with your favorite soapy solution, attach your garden hose and spray up to 16-feet away! The foam cannon nozzle sprays at a 25º angle to quickly cover dirt, dust and debris, with a thick, rich lather of foam. Then switch to the utility bristle brush or the sponge brush for a deep-down clean, providing gentle scrubbing action to give an extra cleaning boost! Finally, swap attachments to rinse it all away for a supreme clean! AQUA JOE features convenient one-handed operation — just squeeze the trigger like a hose nozzle, and use the thumb control dial to adjust water flow from light rinse to heavy soak, to suit the cleaning task at hand. And the included Quick Connect sprayer nozzle adjusts from 0º to 65º with just a twist to switch from pinpoint jet to gentle fan spray. Plus, every AQUA JOE foam cannon is backed by our complete two year warranty, for worry-free operation. So, give your garden hose an upgrade, and Go With Joe®: The Hose-Powered Car Wash Sprayer + Foamer Cannon from AQUA JOE!
GET EQUIPPED®.
Features
AQUA JOE Series: quickly converts your standard garden hose to a car wash sprayer + foam cannon
Spray up to 16.4 ft away
Detergent tank holds up to 23 fl oz of your preferred detergent solution, including Sun Joe Auto Snow Foam
Foam cannon mixing ratio: 1:10 for the perfect, viscous foam
Includes 4 nozzle attachments: 25º foam cannon nozzle, adjustable Quick Connect nozzle, Sponge Brush and utility Bristle Brush
Lightweight at just under 1 lb!
Fits standard garden hose