YOU ARE $125.00 AWAY FROM FREE U.S. SHIPPING!
YOU ARE $125.00 AWAY FROM FREE U.S. SHIPPING!



+4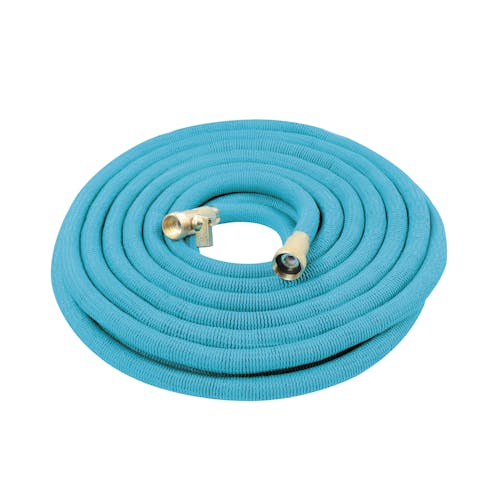 Aqua Joe AJEGH100 Lightweight Kink-Free Garden Hose W/ Flow Control Shut Off | 100 Ft | 5/8-inch (Light Blue)
PAY AS LOW AS:
$578
/Month
with
with
2 YEAR WARRANTY
ADD A PROTECTION PLAN:
EXPAND + CONQUER! The 100-ft Burst-Proof Garden Hose, from Aqua Joe®, expands up to three times its original length—33' to 100'—in seconds for maximum reach and maneuverability. And the fact it's burst-proof, kink- + twist-free, and mildew-, weather-, crush-, and abrasion-resistant ensures it'll work as hard as you do, season after season. Plus, it's super lightweight, 700 PSI burst rated, and maintains its flexibility down to 34° F. Other desirable features include a brass control valve and aluminum fittings at each end for unrestricted water flow and secure, leak-proof connections. Perfect for watering the flowers, washing the truck, rinsing patio furniture, or connecting to a sprinkler or pressure washer. Folds up for compact storage when you're done. 2-year warranty.
Features
EXPANDS UP TO 3X ORIGINAL LENGTH: 33' – 100'

EXTREMELY DURABLE: Burst-proof; kink + twist free; mildew-, weather-, crush-, and abrasion-resistant

OTHER DESIRABLE FEATURES: 700 PSI burst rated; maintains flexibility down to 34°F; super lightweight; brass control valve; aluminum fittings at each end for unrestricted water flow and secure, leak-proof connections

FOLDS UP for compact storage

5/8" DIAMETER; 2-year warranty