YOU ARE $125.00 AWAY FROM FREE U.S. SHIPPING!
YOU ARE $125.00 AWAY FROM FREE U.S. SHIPPING!





+5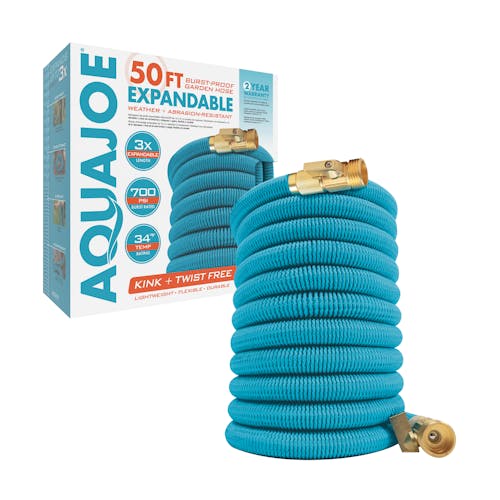 Aqua Joe AJEGH50 No-Kink Expandable Garden Hose w/ Heavy Duty Brass Valve & Flow Control Shut off | 50-Foot | 5/8-Inch | 700-PSI Burst Pressure (Light Blue)
2 YEAR WARRANTY
ADD A PROTECTION PLAN:
WATER YOUR GARDEN IN STYLE. Say goodbye to tangled, kinked and heavy hoses, and grow like no garden hose has grown before. AQUA JOE's sleek expandable hose with soft-touch fabric exterior will change the way you water your yard and garden. The lightweight, kink-resistant, highly-flexible material is specially designed to expand up to 3 times its original length — from 16 ft to 50 ft! — then automatically retracts and stores easily in your garage or shed. Sturdy, mildew-resistant construction with aluminum leak-resistant connections fits most standard spigots, sprinklers and irrigation accessories. And the built-in control valve adjusts flow rate as needed. Burst rated to up to 700 PSI, this ultra-strong garden hose won't crack under pressure, so you can trust you'll have a quality hose season after season. 
Features
5/8" inside diameter with heavy-duty metal fittings
Rust-resistant design expands up to 3x the normal length
Ultra-compact storage
Built-in water flow control valve
Maintains flexibility down to 34º F
Lightweight at just 2.5 lbs