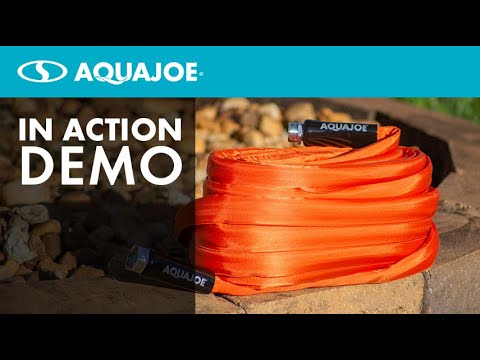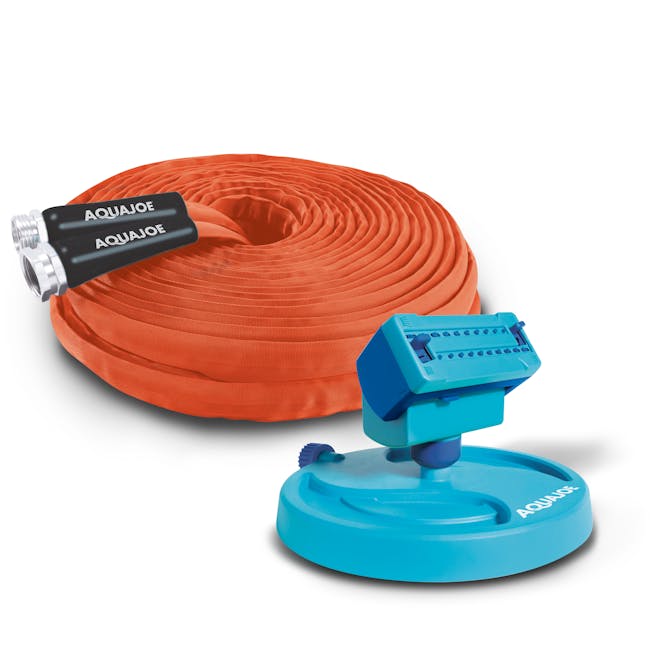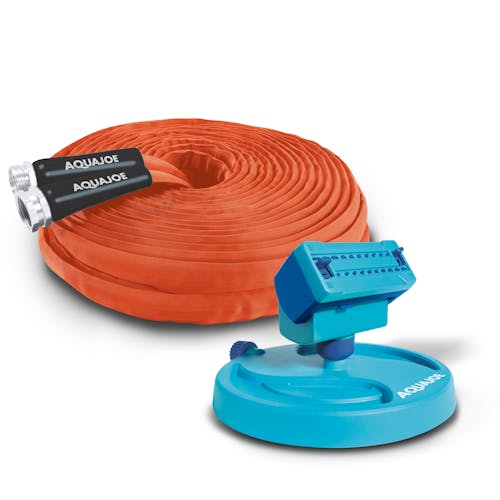 Aqua Joe Contractor Hose Bundle | Includes 75ft Contractor Grade Hose + Mini Oscillating Sprinkler
Aqua Joe AJFJH75-34-CTR Non-Expanding Kink-Free Contractor Grade FiberJacket Hose
THE HOSE THAT WORKS AS HARD AS YOU DO! DIYers, homeowners and handymen alike: when a household hose isn't up to the task, grab the one that's tough enough to take on the worksite. Constructed from a rugged, marine-grade woven fiber jacket material surrounding a durable 3/4-inch flexible inner core, the rip and abrasion-resistant fabric withstands daily use + abuse, yet is safe for use on delicate and painted surfaces. The innovative, dual-layer design is crush-proof and built to withstand the toughest treatment all while maintaining flexibility down to 0 degrees Fahrenheit. Plus, AQUA JOE is weather and mildew resistant and dries quickly, so you don't have to pick up a heavy, wet or slippery hose. Equipped with durable metal fittings for solid, leak-proof connections, AQUA JOE is kink-, twist- and tangle-free for uninterrupted flow when working, and rinses clean when the day is done. BPA-free, Lead-free and Phthalate-free, AQUA JOE is up to 50% lighter than conventional contractor hoses, and coils easily for compact storage. AQUA JOE contractor-grade hose is available in the popular 75 ft length ideal for most projects. For the maximum durability + performance you demand, don't stop the flow: Go With Joe®!
Aqua Joe AJ-OSPR20 Mini Gear-Driven Oscillating Sprinkler
TAILOR YOUR SPRAY WATER YOUR WAY! No more water wasted or overspray — put the H2O precisely where you want it with Aqua Joe's AJ-OSPR20 fully adjustable Mini Oscillating Sprinkler. Cover more ground and keep your lawn looking lush with the 20 durable, clog-resistant rubber nozzles that provide even water dispersal. And with the completely customizable water flow and spray range, you can water your way for small, medium, or large lawns — up to 4,250 sq ft! Equipped with a maximum spray width of 29.5 ft to 59 ft, you'll reach every corner of your yard garden with ease.
So, after spring has sprung and summer has set in, give your yard a long, cool drink of water, and Go With Joe®. GET EQUIPPED® with the AJ-OSPR20 from Aqua Joe® to keep your lawn looking lush, beautiful, and vibrant — season after season.
Features
Aqua Joe AJFJH75-34-CTR Non-Expanding Kink-Free Contractor Grade FiberJacket Hose
BPA-free, Lead-free and Phthalate-free
Up to 50% lighter than conventional hoses
Rugged, marine grade fiber jacket construction surrounding a 3/4" flexible inner core
Rip- and abrasion-resistant fabric is also safe on delicate and painted surfaces no scratching, scuffing or snagging!
Maintains flexibility down to 0 degrees Fahrenheit
Kink-, twist- and tangle-free for uninterrupted flow


Aqua Joe AJ-OSPR20 Mini Gear-Driven Oscillating Sprinkler
20 clog-resistant rubber nozzles for an even watering every time
Maximum coverage area of 4,250 sq ft to water even the largest lawn!
Spray width (min – max): 29.5 ft – 59 ft
Designed to fit a standard garden hose
360º adjustable neck rotates clockwise and counter-clockwise
Control your spray with the adjustable spray width, spray range, and water flow
Weight: 1.1 lbs