YOU ARE $125.00 AWAY FROM FREE U.S. SHIPPING!
YOU ARE $125.00 AWAY FROM FREE U.S. SHIPPING!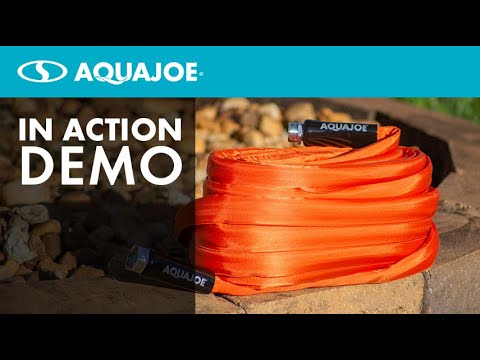 +14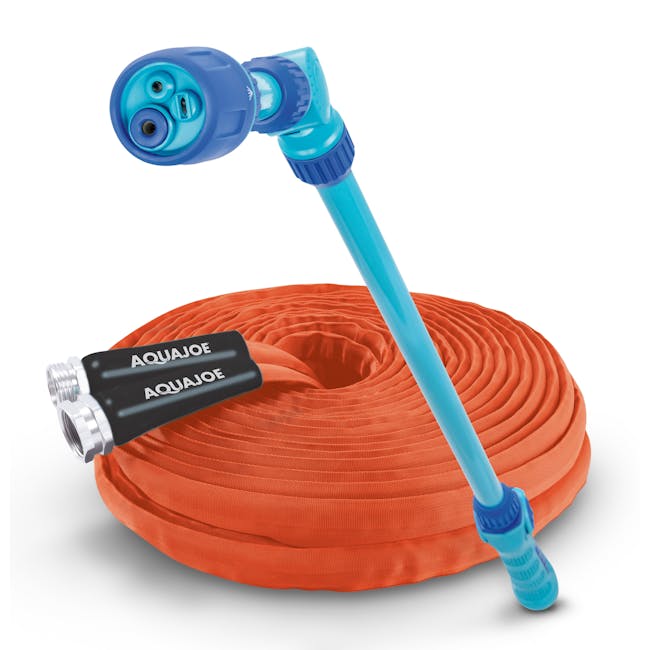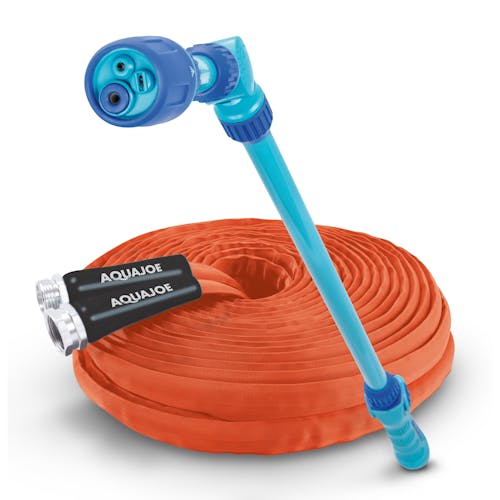 Aqua Joe Garden Watering Bundle | 75ft Hose + Watering Wand
PAY AS LOW AS:
$741
/Month
with
with
2 YEAR WARRANTY
ADD A PROTECTION PLAN:
Aqua Joe AJ-WW30-TND Watering Wand
WATER YOUR WAY, AT ANY ANGLE! Reach high, or low, and water your plants with unparalleled precision with the with the AQUA JOE Indestructible Watering Wand. The 180º pivoting head rotates to put the water precisely where you want it. Water a window box, rinse patio furniture, fill a bird bath, reach high hanging plants, or way down low – AQUA JOE lets you do it all, and all without bending or straining with the 30" metal watering wand. Choose from 3 selectable spray patterns: jet, flat, and tornado. Plus, with built-in Smart Throttle technology, you can adjust your spray with one smooth move. The lightweight, balanced design features durable zinc fittings, a built-in shut-off valve for setting the perfect flow rate, and a secure, non-slip grip handle, even when wet! Go With Joe, and water your way today! Get Equipped®.
Aqua Joe AJFJH75-34-CTR Non-Expanding Kink-Free Contractor Grade FiberJacket Hose
THE HOSE THAT WORKS AS HARD AS YOU DO! DIYers, homeowners and handymen alike: when a household hose isn't up to the task, grab the one that's tough enough to take on the worksite. Constructed from a rugged, marine-grade woven fiber jacket material surrounding a durable 3/4-inch flexible inner core, the rip and abrasion-resistant fabric withstands daily use + abuse, yet is safe for use on delicate and painted surfaces. The innovative, dual-layer design is crush-proof and built to withstand the toughest treatment all while maintaining flexibility down to 0 degrees Fahrenheit. Plus, AQUA JOE is weather and mildew resistant and dries quickly, so you don't have to pick up a heavy, wet or slippery hose. Equipped with durable metal fittings for solid, leak-proof connections, AQUA JOE is kink-, twist- and tangle-free for uninterrupted flow when working, and rinses clean when the day is done. BPA-free, Lead-free and Phthalate-free, AQUA JOE is up to 50% lighter than conventional contractor hoses, and coils easily for compact storage. AQUA JOE contractor-grade hose is available in the popular 75 ft length ideal for most projects. For the maximum durability + performance you demand, don't stop the flow: Go With Joe®!
Features
Aqua Joe AJ-WW30-TND Watering Wand
3 selectable spray patterns: jet, flat, and tornado to put the water precisely where you want it
Pivoting head rotates 180º to water without bending or straining
Rugged, lightweight 30" metal wand with non-slip grip
Features Smart Throttle technology and Thumb Control spray adjustment
Adjustable spray makes it safe for even the most delicate plants, and soft spray settings won't wash away precious soil
2 year warranty
Weight: 1.4 lbs
Aqua Joe AJFJH75-34-CTR Non-Expanding Kink-Free Contractor Grade FiberJacket Hose
BPA-free, Lead-free and Phthalate-free
Up to 50% lighter than conventional hoses
Rugged, marine grade fiber jacket construction surrounding a 3/4" flexible inner core
Rip- and abrasion-resistant fabric is also safe on delicate and painted surfaces no scratching, scuffing or snagging!
Maintains flexibility down to 0 degrees Fahrenheit
Kink-, twist- and tangle-free for uninterrupted flow