YOU ARE $125.00 AWAY FROM FREE U.S. SHIPPING!
YOU ARE $125.00 AWAY FROM FREE U.S. SHIPPING!





+11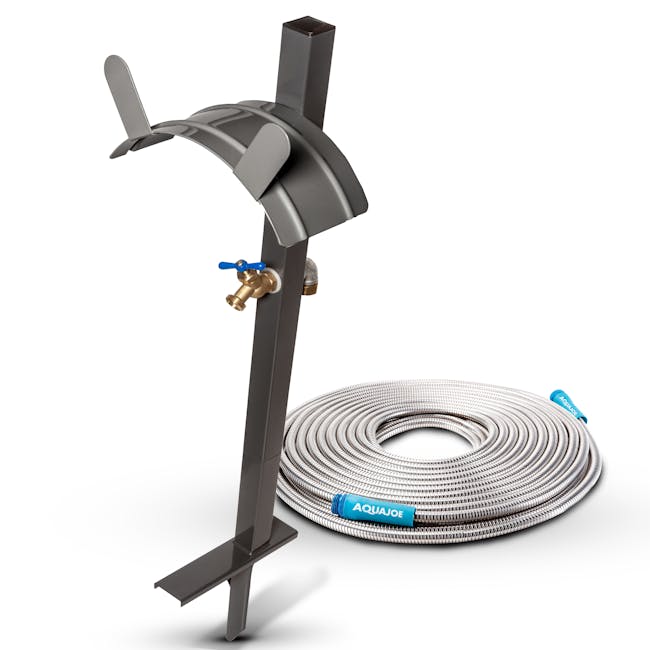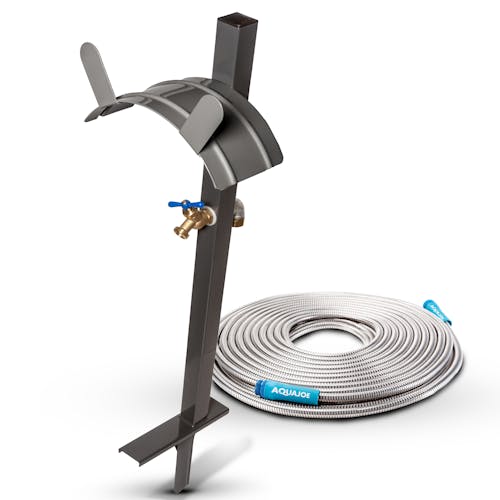 Aqua Joe Hose Holder Starter Bundle
AJSGH50 - Aqua Joe Heavy-Duty Puncture Proof Stainless Steel Garden Hose
THE STAINLESS STEEL HOSE THAT'S AS TOUGH AS NAILS! AQUA JOE's lightweight stainless steel hose is quite simply the last hose you'll ever need! Made from high-quality industrial grade 304 stainless steel for a lifetime of reliable use in your yard and garden. Won't cut, crush or crack - won't split, kink or get hot in the sun. It's the one hose that works as hard as you do. A rugged, virtually indestructible and puncture-proof stainless steel outer sheath surrounds a flexible PVC inner core, for maximum performance and durability, and features bend restrictor collars and durable aluminum fittings at each end for unrestricted water flow and secure, leak-proof connections. Lead-free, phthalate-free and BPA-free. Perfect for watering the flowers, washing the truck, rinsing patio furniture or connecting to sprinkler or pressure washer.


SJ-SHSBB-GRY - Aqua Joe Garden Hose Stand with Brass Faucet

Say goodbye to tangled, heavy hoses and store your hose the neater way with the Steel Garden Hose Holder Faucet from AQUA JOE.
The 42.5-inch high, powder coated pole and curved hanger are weather-resistant for a long-lasting luster, and make an elegant addition to any garden landscape. Heavy-gauge steel construction and a secure 2-point soil anchor system allows you to store up to 125 feet of your standard garden hose the stylish way, while giving you easy access to your faucet. Don't stay trapped against your house — simply connect your water source on one side, your hose on the other, and relocate the stand to a more convenient location, away from shrubs, delicate plantings or cramped quarters. A solid brass spigot provides a secure, leak-proof connection for years of reliable performance in your yard and garden.
So, stop straining – simply put the water where you want it and Go With Joe® for a neater, clutter-free hose storage solution!
Features
AJSGH50 - Aqua Joe Heavy-Duty Puncture Proof Stainless Steel Garden Hose
Made from lightweight, industrial grade 304 stainless steel 
Lead-free, Phthalate-free, and BPA-free
Won't cut, crush or crack - won't split, kink or get hot in the sun
Rugged stainless steel outer layer over durable PVC inner core
Durable, leak-proof aluminum fittings
Bend restrictor sleeve for uninterrupted flow
Great for yard garden: water the lawn and plants, wash the car and deck
SJ-SHSBB-GRY - Aqua Joe Garden Hose Stand with Brass Faucet
Neatly stores hose to ensure longer life while eliminating garden clutter
Brass spigot and heavy-gauge steel construction for maximum reliability performance
Secure 2-point anchor system for added stability
Provides convenient access to difficult-to-reach hose spigots by extending the connection
Stores up to 125 FT of standard garden hose (Not Included)