YOU ARE $125.00 AWAY FROM FREE U.S. SHIPPING!
YOU ARE $125.00 AWAY FROM FREE U.S. SHIPPING!





+22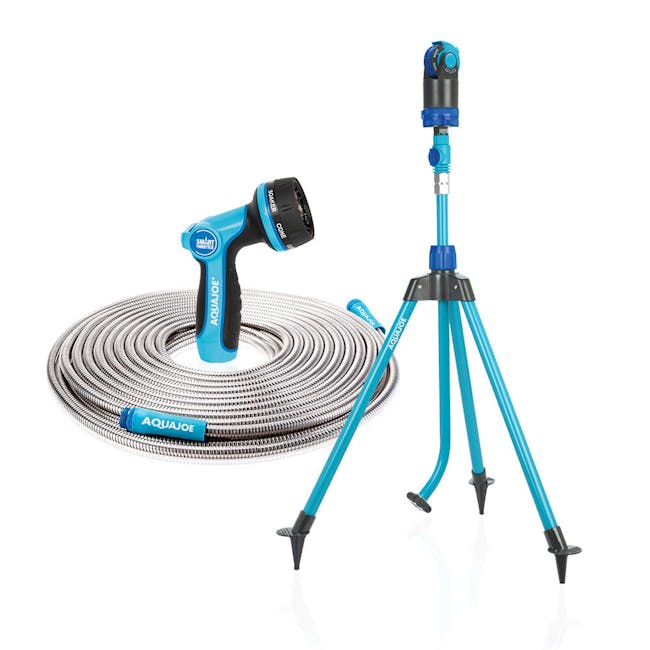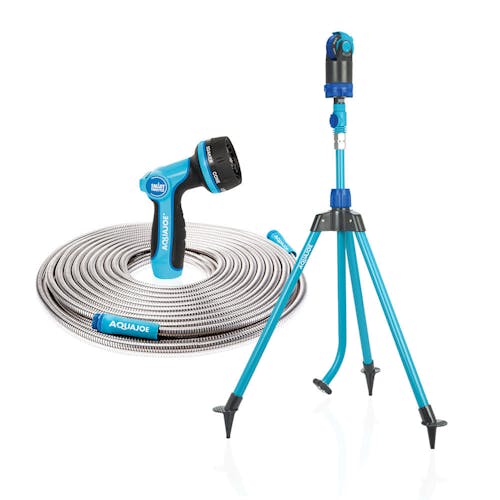 Aqua Joe Indestructible Watering Bundle | Includes Heavy Duty Stainless Steel Hose, Indestructible Multi-Function Nozzle, and Indestructible Tripod Sprinkler
GARDENING GEAR THAT'S AS TOUGH AS NAILS Keep cool in the face of your toughest tasks with Aqua Joe's Indestructible Watering Bundle! Includes a AJSGH50 50-Foot Stainless Steel Aqua Joe Hose, AJHN102 Indestructible Hose Nozzle, and AJ-6PSTB Turbo Drive Tripod Sprinkler. All three are virtually indestructible and ready to take on your toughest watering tasks.
Hook up the Stainless Steel Hose and experience the one hose that works as hard as you do! Resistant to cuts, cracks, and crushing, stainless steel sheaths a flexible PCS inner core for maximum performance and durability. Bend restrictor collars and durable aluminum fittings at each end ensure unrestricted water flow with secure, leak-proof connections whether you're watering the flowers, washing the truck, or rinsing patio furniture.
To tailor your spray your way, hook up the AJHN102 Heavy Duty Nozzle or the AJ-6PSTB. AJHN102 features 7 selectable spray patterns for everything from a gentle spray to high pressure stream with simply a twist of the wrist! Choose between jet, shower, flat, center, cone, soaker, and mist to suit the job at hand. For more regular irrigation that keeps your garden green and your lawn lush, switch to the AJ-6PSTB Turbo Drive Sprinkler. With a spray of 75.4-ft in diameter, telescopic adjustment, and 6 selectable sprays, dry, patch grass will become a thing of the past!
Best of all, all three products in the Aqua Joe Indestructible Watering Bundle are covered by our 2-Year warranty, so shop with confidence and GET EQUIPPED®.
Features
Stainless steel hose made from lightweight, industrial grade 304 stainless steel
Stainless steel hose is lead, phthalate, and BPA free
Heavy duty hose nozzle features solid metal construction with a durable rubberized grip
Turbo drive sprinkler features impact-resistant metal construction with a sturdy base
Turbo drive sprinkler features flow control to deliver a maximum flow rate of 9.3 GPM
Turbo drive sprinkler includes innovative misting feature; perfect for delicate plants and keeping cool on hot days
Turbo drive sprinkler and heavy duty hose nozzle fit standard garden hoses