YOU ARE $125.00 AWAY FROM FREE U.S. SHIPPING!
YOU ARE $125.00 AWAY FROM FREE U.S. SHIPPING!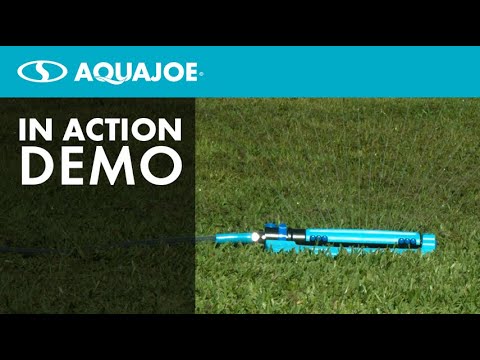 +12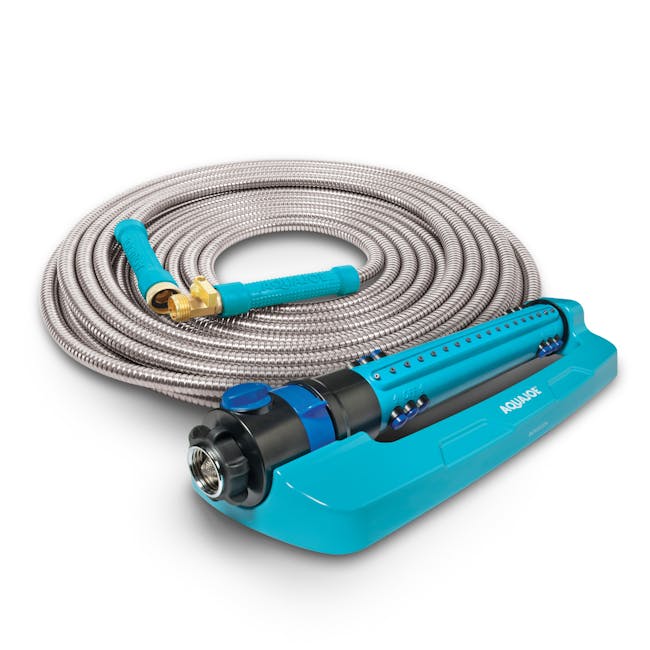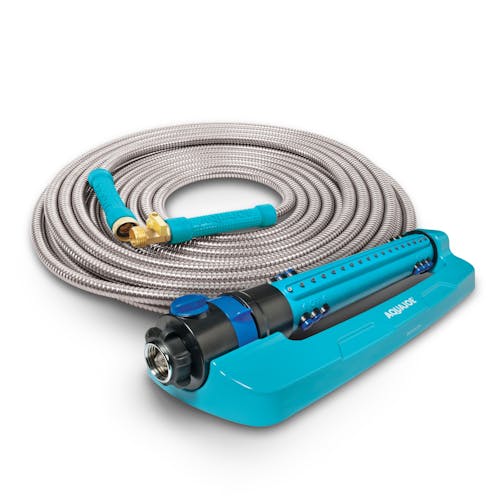 Aqua Joe Metal Garden Hose and Sprinkler Bundle | 50ft Metal Garden Hose + Oscillating Sprinkler
PAY AS LOW AS:
$777
/Month
with
with
2 YEAR WARRANTY
ADD A PROTECTION PLAN:
Aqua Joe AJ-OMS18-TRB Indestructible Metal Base Oscillating Sprinkler
PUT THE WATER PRECISELY WHERE YOU WANT IT! No more wasted water or overspray - keep your grass green and lawn lush with the AJ-OMS18-TRB Indestructible Metal Base Oscillating Sprinkler from AQUA JOE. With AQUA JOE's completely customizable coverage patterns, you'll have the control you need to make your home the envy of the entire neighborhood. Just slide the tabs to select your range + press to tailor your width from 12 to 18 nozzles to reach every corner of your yard – from the smallest lot to the largest lawn! The sturdy, plastic nozzles provide precise dispersal — up to 4500 sq ft — while built-in flow control allows you to increase or decrease water flow for optimal coverage with just a twist of the knob. An extra-long, weatherproof indestructible metal base provides enhanced stability and durability for tough outdoor use, plus AQUA JOE's durable, metal fittings provide a secure, leak-proof connection to your standard garden hose. And the built-in clean-out tool quickly clears clogs to help keeps your nozzles clean for continuous, reliable operation, season after season. When it comes to watering your way, go with the flow — and Go With Joe®!


Aqua Joe AJSGH50-MAX Heavy-Duty Puncture Proof Kink-Free Garden Hose
TOUGH AS NAILS! Perfect for watering the flowers, washing the truck, rinsing patio furniture, or connecting to sprinkler or pressure washer, AQUA JOE's lightweight stainless steel hose is quite simply the last hose you'll ever need! Made from high-quality, industrial-grade 304 stainless steel for a lifetime of reliable use in your yard and garden, this heavy-duty hose with water flow control valve is designed for ultimate durability. Won't cut, crush or crack - won't split, kink, or get hot in the sun; it's the one hose that works as hard as you do. Available in a variety of popular lengths, the rugged, virtually indestructible, and puncture-proof stainless steel outer sheath surrounds a flexible PVC inner core, for maximum performance and durability, and features bend restrictor collars and durable aluminum fittings at each end for unrestricted water flow and secure, leak-proof connections. So, GET EQUIPPED® with the hose that's built to last — the Stainless Steel Garden Hose from Aqua Joe®.
Download Manuals
Features
Aqua Joe AJ-OMS18-TRB Indestructible Metal Base Oscillating Sprinkler
No more wasted water or overspray – completely customizable coverage patterns lets you control how you water your yard

4500 sq ft max coverage area — for the smallest lot to the largest lawn

Sliding tabs adjust range, push buttons adjust width + knob adjust for fine flow control

18 plastic, clog-resistant nozzles for superior dispersal and even water distribution

Indestructible, weatherproof metal base resists cracking, bending or breaking

Leak-proof zinc connection fits a standard garden hose

Spray distance max: 72.2 ft / Spray width max: 62.3 ft

Weight: 2.2 lbs
Aqua Joe AJSGH50-MAX Heavy-Duty Puncture Proof Kink-Free Garden Hose
Made from lightweight, industrial grade 304 stainless steel 
Maintains flexibility down to 

0°F

Won't cut, crush or crack - won't split, kink or get hot in the sun
Rugged stainless steel outer layer over durable PVC inner core
Durable, leak-proof aluminum fittings
Bend restrictor sleeve for uninterrupted flow
Great for yard garden: water the lawn and plants, wash the car and deck