YOU ARE $125.00 AWAY FROM FREE U.S. SHIPPING!
YOU ARE $125.00 AWAY FROM FREE U.S. SHIPPING!




+7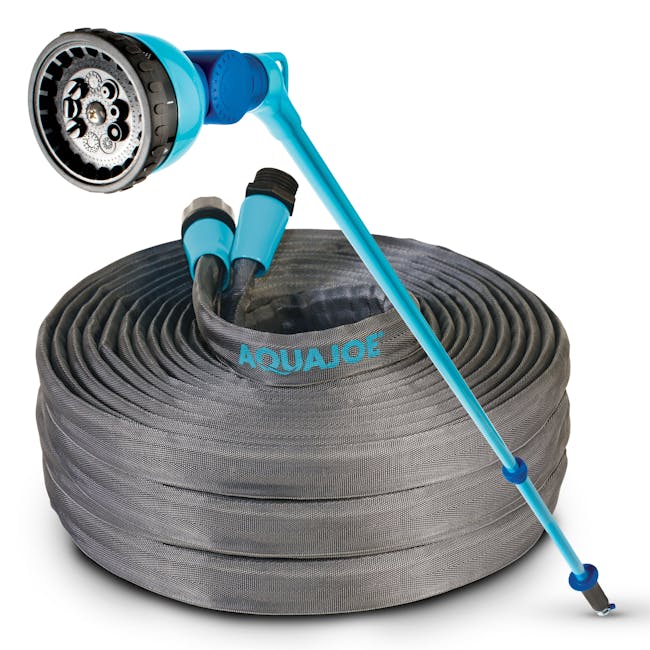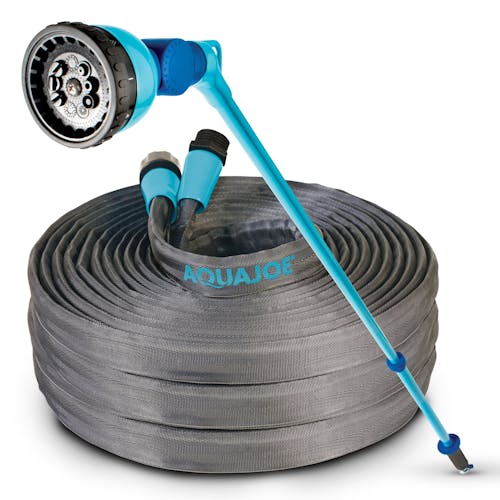 Aqua Joe Ultra Light Long Reach Watering Bundle
AJFJH100B - Ultra Flexible 100-Foot FiberJacket Garden Hose
Say goodbye to tangled, kinked, and heavy hoses with the SUPERLIGHT FIBERJACKET® Garden Hose from AQUA JOE. Constructed from a rugged, marine-grade fiber jacket surrounding a half-inch, flexible inner core, AQUA JOE is abrasion-resistant, so it's safe on delicate and painted surfaces — no scratching, scuffing, or snagging! The innovative, dual-layer design is crush-proof and built to withstand the toughest treatment all while maintaining flexibility down to 35 degrees Fahrenheit. A standard garden hose will burst at a pressure of about 200 PSI. But, Aqua Joe FiberJacket is burst-rated to withstand 300 so it won't crack under pressure! Plus, AQUA JOE's innovative, dual-layer design is up to 50% lighter than conventional hoses. AquaJoe FiberJacket is the compact, heavy-duty hose that's easy to lift, but built to last! Plus, AQUA JOE is weather + mildew resistant and dries quickly, so you don't have to pick up a heavy, wet or slippery hose! Equipped with durable nylon fittings for a secure, leak-proof connection, AQUA JOE is kink-, twist-, and tangle-free for uninterrupted flow when watering your yard + garden. AQUA JOE FIBERJACKET comes in a variety of the most popular lengths to fit any size yard, auto, boat, and more! So GET EQUIPPED® with the last hose you'll need! The SUPERLIGHT FIBERJACKET® Garden Hose from AQUA JOE®.
AJ-WW10-T59 - Aqua Joe 36-53-Inch Extendable Telescoping Spray Wand
A LONG COOL DRINK OF WATER! Reach out – way out, and water your plants wherever they may be – up high, down low or far back with the AQUA JOE Telescoping Watering Wand. The telescoping pole adjusts to let you reach up to 53" away to put the water precisely where you want it. Spray your way with just a twist of the 180º ratcheting head and 10 selectable patterns: cone, flat, jet, fan, soaker, center, angle, mist, shower + center. Water a window box, rinse patio furniture, fill a bird bath, reach high hanging plants, or way down low – AQUA JOE lets you do it all, and all without bending or straining. The lightweight, balanced design features durable zinc fittings, a built-in shut-off valve for setting the perfect flow rate, and a secure, non-slip grip handle, even when wet! Go With Joe®, and water your way today! Get Equipped®.
Features
AJFJH100B - Ultra Flexible 100-Foot FiberJacket Garden Hose
BPA-free, Lead-free and Phthalate-free
Up to 50% lighter than conventional hoses
Great for the car + boat enthusiasts — rip- + abrasion-resistant fabric won't scratch or damage painted surfaces
Rugged, marine grade fiber jacket construction surrounding a half-inch flexible inner core
No scratching, scuffing or snagging!
1/2" Hose Diameter fits standard spigots and accessories
Maintains flexibility down to 35 degrees Fahrenheit
300 PSI burst rated
Kink-, twist- and tangle-free for uninterrupted flow
Durable nylon fittings for reliable connections
AJ-WW10-T59 - Aqua Joe 36-53-Inch Extendable Telescoping Spray Wand
10 selectable spray patterns: cone, flat, jet, fan, soaker, center, angle, mist, shower + center to put the water precisely where you want it

Ratcheting head rotates 180º to

water without bending or straining

Rugged, lightweight aluminum wand extends from 36" to 53" to reach high up, down low

Features built-in shut-off valve and adjustable flow rate

Adjustable spray makes it safe for even the most delicate plants, and soft spray settings won't wash away precious soil

2 year warranty

Weight: 1 lb