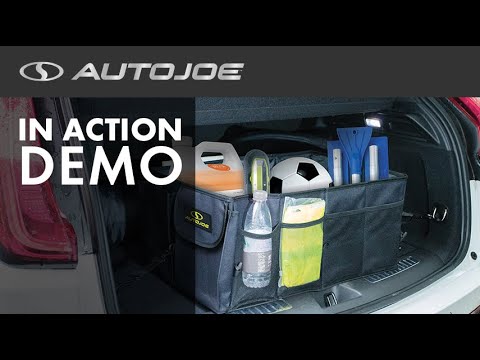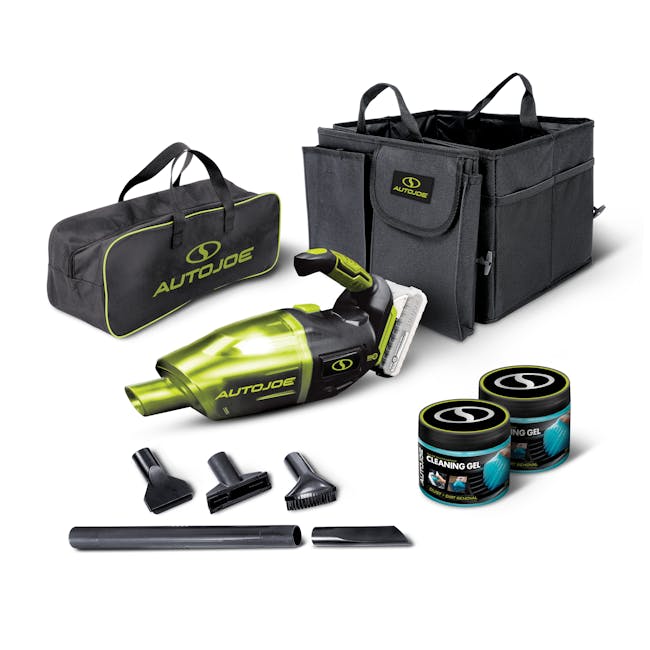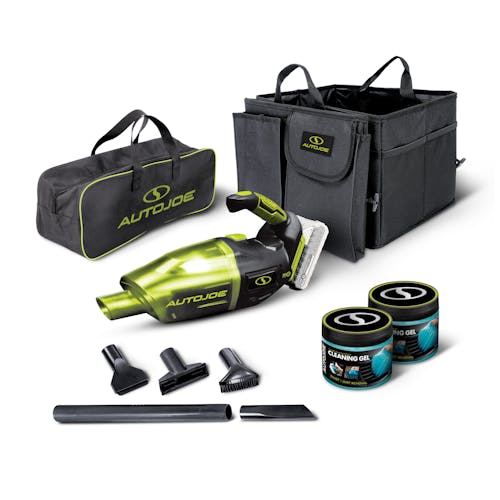 Auto Joe Tidy Car Bundle | Vacuum + Cleaning Gel + Storage Organizer
*Initial no-load voltage, at full charge, peaks at 24V; nominal voltage with typical load is 21.6V
24V-AJVAC-P1 - Auto Joe 24-Volt* Cordless Wet/Dry Handheld Vacuum | 5 Attachments & Carry Bag | W/ 2.0-Ah Battery + Charger
THE QUICKEST PICKER-UPPER! Powered by a 120-watt motor and a 2.0 Ah 24V* lithium-ion battery and charger, the 24V* Max Cordless Wet/Dry Handheld Vacuum Cleaner is perfect for quick clean-ups around the home, office, auto, garage, workshop, boat and RV, from Auto Joe®. With 33-air watt max suction power, 8 kPa max vacuum pressure, and an advanced HEPA filtration system, this handy grime fighter traps pollen, dirt, sand, hair, dust + debris and more inside its 18.3 fl oz dust tank. The HEPA filter is washable and reusable, and the included 6-piece accessory kit contains an extension tube, crevice nozzle, water nozzle, wet + dry utility nozzle, dust brush nozzle, and carrying bag. 2-year warranty.
ATJ-DCG1-2PK - Auto Joe Multi-Purpose Cleaning Gel | 2 Gel Packs Included | Reusable
GET GELLIN'! Clean up even the tiniest nooks and crannies of car vents, dashboards, keyboards, controllers, furniture and more with the 5.6 Oz Multi-Purpose Cleaning Gel, from Auto Joe®. The kneadable gel formula attracts + traps debris in hard-to-clean spaces, leaving no sticky residue! Just knead, press, and lift, and the dust is carried away with the gel! Then, refresh + renew by kneading and folding the gel repeatedly. Comes with 2 packs.
ATJ-CTSO-BLK - Auto Joe Collapsible Auto Storage Organizer
STOW + GO (WITH JOE)®!  Stay organized with the Collapsible + Adjustable Storage Organizer from Auto Joe®. The multi-purpose, rip-resistant organizer with customizable compartments, mesh pockets, pouches + carrying handles, is ideal for the trunk or passenger seat of any car, truck, or van. Auto Joe offers complete customization to meet your storage needs. Simply unfold the sturdy base plate to expand to full size for trips to the supermarket, or transporting towels, toys to the beach – or half size to keep loose trunk tools + sports gear organized. When you need a bit more organization in your life, you can easily expand your storage options by connecting additional organizers (sold separately) using the included toggle fasteners to lock together, and in place. And with a max load-carrying capacity of 85 lbs, AUTO JOE's designed for quick, easy offloading + unloading to keep you on-the-go.
Download Manuals
Features
24V-AJVAC-P1 - Auto Joe 24-Volt* Cordless Wet/Dry Handheld Vacuum | 5 Attachments & Carry Bag | W/ 2.0-Ah Battery + Charger
PORTABLE + CONVENIENT – ideal for quick clean-ups around the home, office, auto, garage, workshop, boat and RV
IONMAX 24V* RECHARGEABLE BATTERY SYSTEM: includes 2.0 Ah 24V* lithium-ion battery and charger for no-fade power + performance and cordless convenience
MOTOR: 120 W
SUCTION POWER MAX (air watts): 33 AW
VACUUM PRESSURE MAX: 8 kPa
ADVANCED HEPA FILTRATION SYSTEM traps pollen, dirt, sand, hair, dust + debris and more; washable, reusable HEPA filter
DUST TANK CAPACITY: 18.3 fl oz
6-PIECE ACCESSORY KIT: Extension tube, crevice nozzle, water nozzle, wet + dry utility nozzle, dust brush nozzle, carrying bag
NET/GROSS WEIGHT: 3.5/4.4 lbs; 2-year warranty
ATJ-DCG1-2PK - Auto Joe Multi-Purpose Cleaning Gel | 2 Gel Packs Included | Reusable
IDEAL for cleaning up even the smallest nooks and crannies of car vents, dashboards, keyboards, controllers, furniture and more!
INCLUDES two 5.6 oz packs
KNEADABLE GEL FORMULA attracts + traps debris in hard-to-clean spaces, leaving no sticky residue
REUSABLE: Just repeatedly knead and fold to reuse (until the blue darkens)
ATJ-CTSO-BLK - Auto Joe Collapsible Auto Storage Organizer
Rugged, rip-resistant auto organizer

Flexible + customizable storage solutions: full size + half size, or expandable with additional organizers (sold separately)

Included anchor straps + toggle fasteners hold securely

Collapsible for compact storage when not in use

Max load capacity: 85 lbs