YOU ARE $125.00 AWAY FROM FREE U.S. SHIPPING!
YOU ARE $125.00 AWAY FROM FREE U.S. SHIPPING!





+1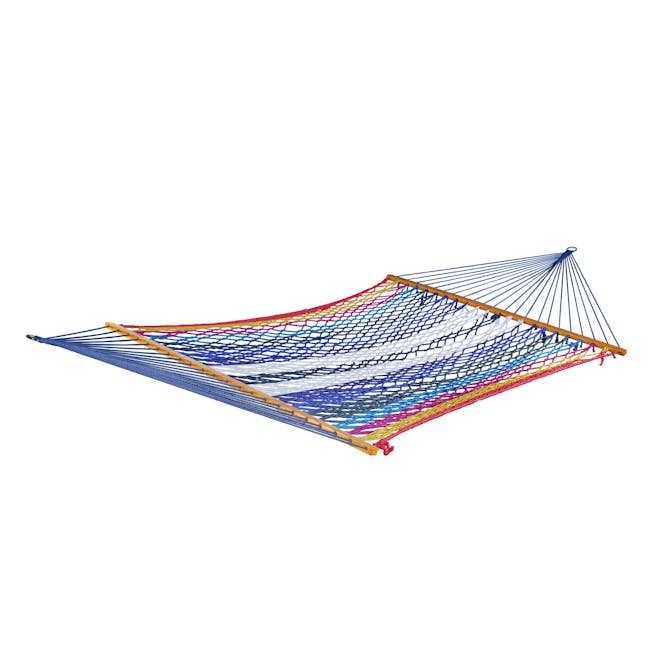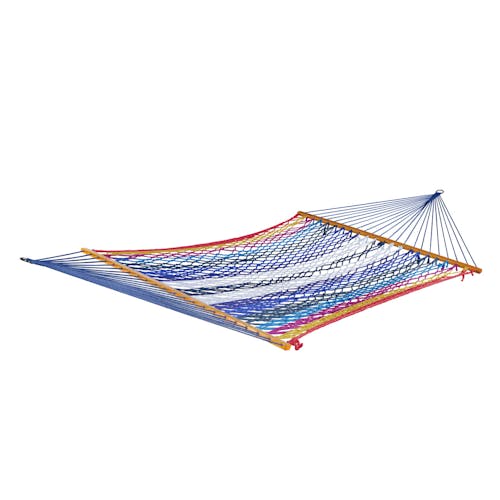 Bliss Hammocks BH-409M 60" Wide Multi-Color Rope Hammock w/ Spreader Bars, S Hooks, & Chains | Outdoor, Poolside, Patio, Backyard Hammock | Eco Friendly Cotton Rope | 450 Lbs Capacity
Limit 10 Per Order.
Ships Free
Ships Free
PAY AS LOW AS:
$1175
/Month
with
with
Ships Free
The Bliss Hammocks Fringed Tahiti Rope Hammock is made with incredibly precise, tightly hand-woven 3mm cotton rope that's extremely comfortable. The hammock bed conforms to your body and keeps you cool even in the hottest weather! With a tighter than average traditional rope hammock weave, this hammock will give you more of the all over body support typically expected only from a quilted hammock. Authentic fringe design create an exceptional tropical look that is complemented by carved & varnished hardwood spreader bars with tassels hanging off the ends. Oversized 48" width, gives you plenty of room to stretch out and has a weight capacity of 300 lbs. The hammock bed dimensions are 78 in. L x 48 in. Width with an overall length of 10.5 ft. (fits our 15 ft. hammock stand, sold separately). Zinc-coated, hanging hardware is included and makes it easy to secure the hammock to a stand. Zinc coated O rings on the ends featuring a beautiful braided rope design. Comes standard with a one year warranty... Find Your Bliss!
Features
OVERSIZED DIMENSIONS: 6' 5" long x 48" wide. Overall length: 10.5 ft.

SLEEK & STYLISH: Exquisite fringed design hanging off the hammock sides with rope beaded tassels at both ends of the hand carved, varnished hardwood spreader bars.

ECO FRIENDLY: Made with strong, tightly woven & hand braided 3mm cotton rope that's eco-friendly.

EASY SET UP: No assembly needed. Easy to hang with included 2- foot long chains & S hooks.

STRONG: Weight capacity of 300 lbs