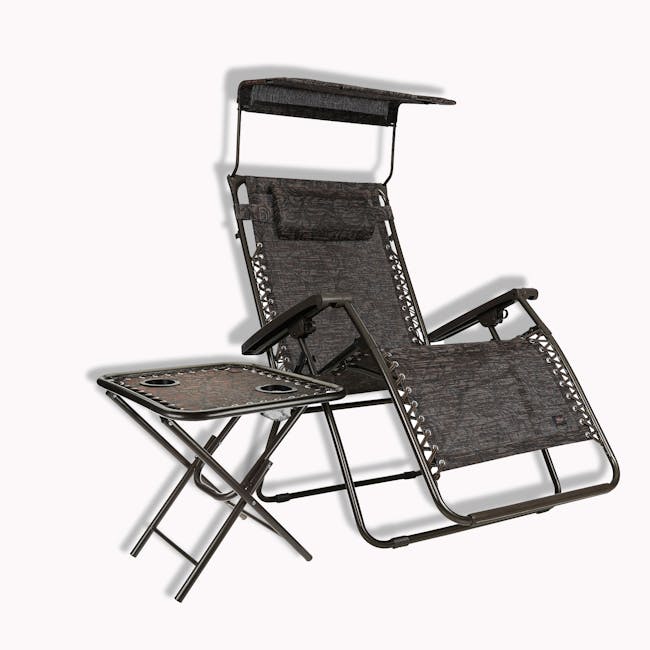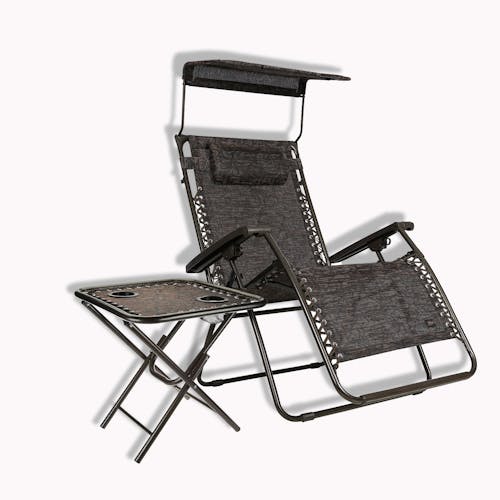 Bliss Hammocks Backyard Patio Bundle | 30" Wide XL Gravity Free Chair + Folding Side Table
GFC-435WJR - Bliss Hammocks 30" Wide XL Zero Gravity Chair w/ Canopy, Drink Tray, & Pillow
With the XL Bliss Hammocks Gravity Free Recliner, the stress will just float away as you recline back into any desired position! This chair is designed to put your body into the most natural position needed for rest and increased blood circulation when fully reclined. It's designed with "zero gravity" in mind and extra width for comfort so when fully reclined, your feet are aligned with the heart thereby achieving a neutral posture and ideal alignment. The result is a weightless sensation and of course, complete relaxation! Features an adjustable canopy/ sun-shade that blocks over 90% of UVA rays, and conveniently folds back and snaps into the back of the frame when not in use. Also comes with an adjustable pillow that can be used as a head rest or lumbar support and a side tray that holds 2 drinks, a cell phone & book or iPad. The seat bed is made of a PVC coated woven sling material that is strong, durable and doesn't absorb water, so can be dried instantly with a towel. It can also be easily cleaned with a wet cloth or hose. The sling material is attached to the frame with double bungee, to give you extra durability and allows the material to conform to your body when sitting in it; giving you ultimate comfort! The powder coated steel frame helps to prevent rusting which makes it ideal for use indoors and outdoor use and leaves you with a long- lasting quality product! It also features wider arm rests and and O lock mechanism which allows you to recline in any position, and lock it into place; then simply unlock to put the chair upright again. This XL model is 30" wide and has an increased weight capacity of 360 Lbs. The Bliss Gravity Free Chair folds practically flat for easy storage and portability... Find Your Bliss!
GFC-TBL-J - Bliss Hammocks 20" Folding Side Table w/ 2 Built-In Cup Holders
The Bliss Hammocks folding outdoor side table matches perfectly with our Gravity Free Recliners & Rocking chair series. It has two built-in cup holders (each with a 3" diameter) and plenty of additional space to hold food or magazines. There is no assembly involved - simply unfold and use. The table top is made of sling material with tightly pulled bungee cords around a steel frame to provide a sturdy, durable surface for your things. At just 6.6 lbs., it can quickly be moved around the yard with ease. For easy storage, this sling table folds back to 26" X 20" X 3". Overall product open size: 20" X 20" X 20". Weight Capacity: 40 lbs.
Features
GFC-435WJR - Bliss Hammocks 30" Wide XL Zero Gravity Chair w/ Canopy, Drink Tray, & Pillow
30" wide, holds up to 360 lbs. capacity. Folds instantly to 6.25" x 38" x 27" for easy storage or transport
Strong and durable powder coated steel frame to prevent rusting.
Double bungee attachment to the fabric for ultra strength & conformity.
Adjustable overhead canopy that blocks over 90% of the suns harmful rays. Also includes a Large side tray that holds 2 drinks, a cell phone, and an iPad or book
Made with a PVC-coated woven polyester non-stretch yarn that stays cool, is fade resistant, easy to clean, and dries fast.
Large width arm rests with O ring locking mechanism on both sides gives you comfort and the ability to in any reclining position.
More rigid frame construction give a weight capacity of 360 lbs.
GFC-TBL-J - Bliss Hammocks 20" Folding Side Table w/ 2 Built-In Cup Holders
STURDY DESIGN: Sling material with tightly pulled bungee cords around a steel frame
CONVENIENT: Simply unfold and use, at just 6.6 lbs., it can quickly be moved around the yard with ease.
CUPHOLDERS: Two built-in cup holders (each with a 3" diameter)
DIMENSIONS: Folds back to 26" X 20" X 3". Overall product open size: 20" X 20" X 20". Weight Capacity: 40 lbs