YOU ARE $125.00 AWAY FROM FREE U.S. SHIPPING!
YOU ARE $125.00 AWAY FROM FREE U.S. SHIPPING!





+2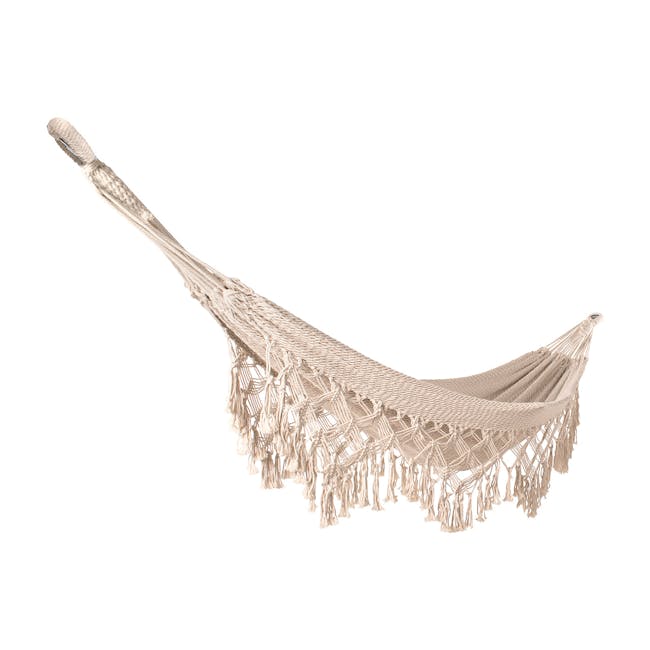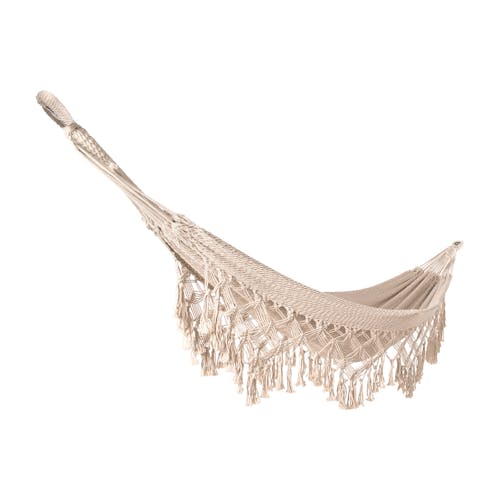 Bliss Hammocks BH-403RPF 40" Wide Brazilian Style Rope Hammock w/ Decorative Fringes & Braided Rope Ends | Indoor, Outdoor, Poolside, Patio, Backyard | Zinc-Coated Hardware | 400 Lbs Capacity
This boho-chique hand-crocheted fringed rope hammock is as beautiful as it is comfortable. This Brazilian style hammock is the most comfortable gathered-end hammock, made to provide more comfort in commonly strained areas like the head, knees, and ankles. Neutral beige palette and fringe crochet design gives this hammock a traditional yet modern bohemian look; ideal for modern stylish decor. Bed size is 40"W x 78"L with an overall length of 10' and width that can stretch up to 70". Steel reinforced loops add durability and a weight capacity of 400 lbs. All hanging hardware is included making it easy to hang between trees or from an indoor ceiling and can be hung as a bed or a hammock chair. Can also be used with a 10ft stand (sold separately). All Bliss Hammocks come with a one year warranty.
Features
SLEEK AND STYLISH: Brazilian Style Hammock with a 40-inch-wide bed. Its compact design accompanied with an included draw string bag makes this the perfect travel hammock.
SUPERIOR DESIGN: Exquisite hand-woven decorative crochet fringe
EXTRA DURABILITY: The thick, hand-woven rope loops are reinforced with steel for added strength, making it last longer that traditional rope loops to get you through the seasons
EASY SETUP: Conveniently included, the zinc-coated rust resistant, hanging hardware (2) eye screw and (2) hooks make it easy to secure your hammock on a tree or wooden post.
DIMENSIONS: stretches up to 70" w with a 6'5" x 3'4" L bed size construction and a weight capacity of 400 lbs.
Stand not included.