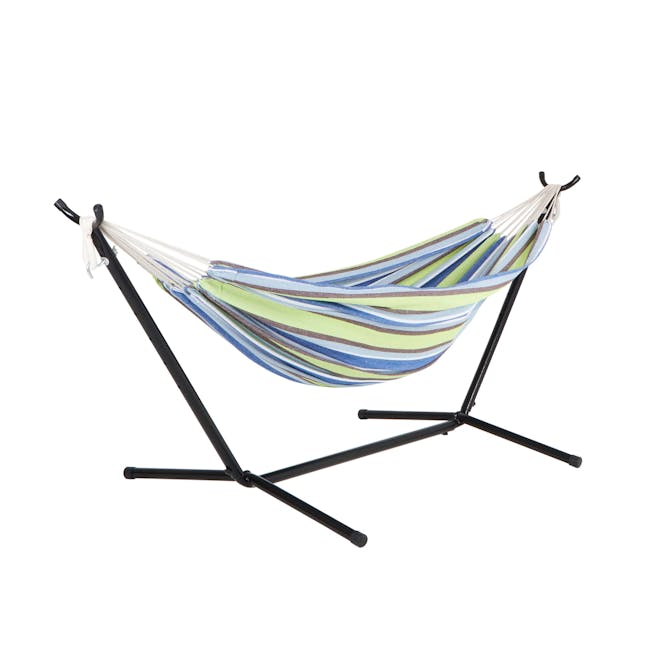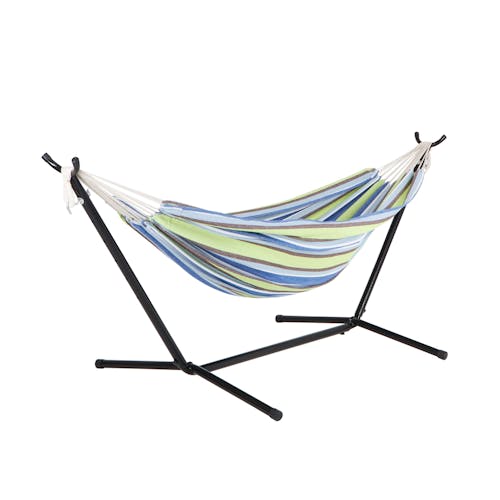 Bliss Hammocks BHST-401-GS Hammock & Built-in Stand W/ Carrying Case & Hanging Hardware | 60-in. Wide | 400 Lb. Capacity (Garden Stripe)
Don't you wish you could lay away your stress after a long day or week? Now you can with this Bliss Hammocks® double hammock with portable stand set. Both practical and stylish the hammock bed is big enough to accommodate two adults and its weight capacity can reach 400 lbs. This double hammock and stand set features a 9 ft. stand with powder coated steel, that is extremely easy to assemble and has unique adjustment levels to use with multiple hammock lengths. The colorfast Poly/Cotton fabric is soft, strong, breathable, dried quickly and conforms to your body as you lay in it diagonally. It's the perfect hammock set for relaxation & designed for use in any setting. Perfect size and portability for relaxation Indoors, outdoors, in your backyard by your poolside, patio, deck, you name it! With the included carry bag, it's also great for camping and outdoor recreational events; anywhere you want with your friends, families, or lovers. Achieve a new level of comfort by wrapping yourself in a soft polycotton double hammock. 1 year warranty is included...Find Your Bliss®
Download Manuals
Features
SLEEK AND STYLISH: Fabric Double Hammock with a 60-inch-wide x 78" bed. Its compact design accompanied with an included portable bag makes this the perfect 2-person travel hammock.
STRONG & DURABLE: Polyester and Cotton blended fabric gives you the durability you need to last through the seasons ahead. The thick, hand-woven rope loops are durable with multi layered rope for added strength.
DIMENSIONS: Stand is 9 ft long • Hammock is 60" w x 78" L with an overall length of 10'
HEAVY DUTY STAND: Designed with a baked enamel powder coated finish to resist the elements and a weight capacity of 400 lbs
PORTABILITY: This hammock and stand set is space saving with an overall combined length of 9 ft and included carrying case, makes it great for bedrooms, decks, balconies, porches, backyards, etc.