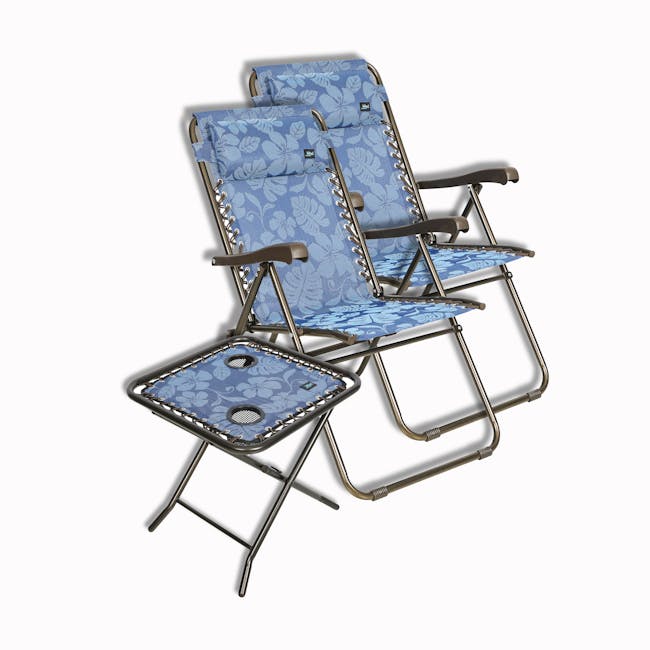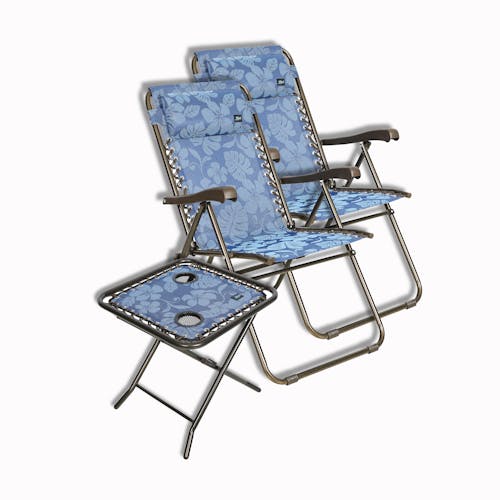 Bliss Hammocks Complete Patio Bundle | 2 x 26" Wide Reclining Chairs | Folding Side Table
GFC-612-BF - Bliss Hammocks 26" Wide Reclining Chair W/ Pillow
Enjoy the comfort of the Bliss Hammocks® Reclining Bungee Chair with head rest. Built for relaxation and longevity, the seat fabric is made of a vinyl coated polyester that's water resistant, UV protectant so it doesn't fade, and cleans and dries very easily. The fabric connects to the frame with a double bungees , so it conforms to your body when sitting in it. the frame is rigid and made of powder coated steel so its durable and stable, supporting a weight capacity of 275 lbs. Also comes with a built-in head rest for extra comfort. Use this chair indoors or outdoors including your Patio, deck or use as a high seated beach chair! Open dimensions of the chair are: 40.5" L x 24.4" W x 30"H and folds down to 34.5" x 24.5" x 3.75". Comes with a 1 year warranty... Find your Bliss®!
GFC-TBL-BF - Bliss Hammocks 20" Folding Side Table W/ Cup Holders
The Bliss Hammocks® folding outdoor side table matches perfectly with our Gravity Free Recliners & Rocking chair series. It has two built-in cup holders (each with a 3" diameter) and plenty of additional space to hold food or magazines. There is no assembly involved - simply unfold and use. The table top is made of sling material with tightly pulled bungee cords around a steel frame to provide a sturdy, durable surface for your things. At just 6.6 lbs., it can quickly be moved around the yard with ease. For easy storage, this sling table folds back to 26" X 20" X 3". Overall product open size: 20" X 20" X 20". Weight Capacity: 40 lbs.
Download Manuals
Features
GFC-612-BF - Bliss Hammocks 26" Wide Reclining Chair W/ Pillow
RECLINE IN COMFORT: Offers 6 different reclining positions with a multi function armrest that provides comfort while having a built in locking mechanism for adjusting the reclining position

WEATHER RESISTANT AND DURABLE: The double bungees are threaded through aluminum eyelets which prevents the fabric from tearing. The rust resistant powder-coated steel frame is rigid, provides durability, chip resistance, and long-lasting color.

SUPERIOR CONSTRUCTION: PVC-coated woven polyester non-stretch yarn. A fabric known as an industry standard for versatility and strength. Stays cool, is fade resistant, easy to clean & dries fast

PILLOW: includes foam padded headrest that provides support to help you relax.

DIMENSIONS: Open size: 40.5" L x 24" W x 30" H, 6 reclining positions and fold down to 34.5"L x 24.5"W x 3.75"D , Holds up to 275 lbs..
GFC-TBL-BF - Bliss Hammocks 20" Folding Side Table W/ Cup Holders
STURDY DESIGN: Sling material with tightly pulled bungee cords around a steel frame
CONVENIENT: Simply unfold and use, at just 6.6 lbs., it can quickly be moved around the yard with ease.
CUPHOLDERS: Two built-in cup holders (each with a 3" diameter)
DIMENSIONS: Folds back to 26" X 20" X 3". Overall product open size: 20" X 20" X 20". Weight Capacity: 40 lbs