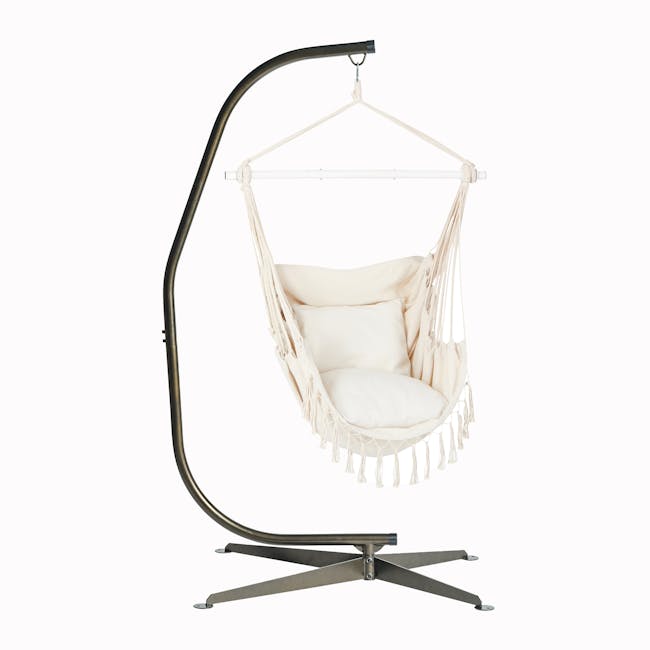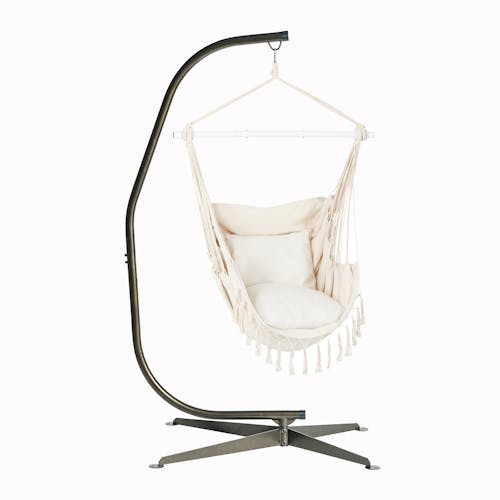 Bliss Hammocks Hanging Chair + Stand Bundle
BHC-103-NT - Bliss Hammocks 40" Wide Fringed Hammock Chair
This tasteful, incredibly comfortable fringed designed fabric Hammock Chair is perfect to add a little flair to your indoor décor & can also add the perfect personal touch to your outdoor space! This Hammock chair features a strong woven, breathable polyester & cotton material with 100% handmade/ woven fringes along the front end of the chair. Also Includes 2-square pillows for ultimate comfort. It also features a built in pocket on the side so you can hold your phone, iPad, book, drink & more. The spreader bar is a collapsible powder coated steel design that makes it easily storable during the cold season, while providing durability when in use. Hand crafted rope loop end for a classic style & durability with a 250 lbs weight capacity. All Hanging hardware is included with a chain and all the screws needed to install indoors as well. Comes with a one year warranty... Find Your Bliss!
HCS-499BZ - Bliss Hammocks 84" Swing Chair Stand w/ Hanging Hook
This Bliss Hammocks galvanized steel beam Hammock Chair Stand provides durable support for single person hammock chairs. Enjoy your hammock chair when no trees or overhead support is available! Baked enamel finish to resist the elements. Easy assembly And all hardware included. The base is compatible so you can permanently bolted to the floor if desired.
Download Manuals
Features
BHC-103-NT - Bliss Hammocks 40" Wide Fringed Hammock Chair
SLEEK & STYLISH: Exquisite hand-woven decorative macramé fringe design on a poly/cotton woven fabric that's durable and breathable so it aerates your body while sitting in it.
COMFORTABLE: Includes 2- 14.5" x 14.5" square pillows in matching color for added comfort.
CONVENIENCE: No assembly required. Built in side pocket to hold phones, books, iPad, Drinks and More. Coated steel hanging hardware included: Indoor mount with screws and anchors, 12" chain, S Hook and carabiner.
STRONG & DURABLE: Collapsible powder coated steel spreader bar for easy storage, with a weight capacity of 250 lbs.
LARGE SEATING AREA DIMENSIONS: 63"L X 40" W X 55"H; Large enough to sit or recline.
HCS-499BZ - Bliss Hammocks 84" Swing Chair Stand w/ Hanging Hook
Easy to assemble, Hardware and tools included
Sturdy built in base with pre-drilled holes for additional support
Galvanized and baked enamel finish to resist rusting
includes a heavy duty carabiner hook
Weight capacity of 350 lbs