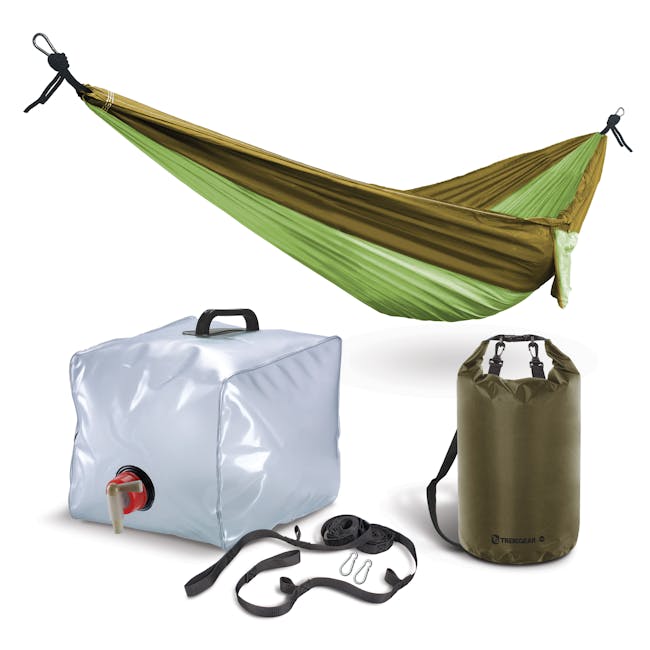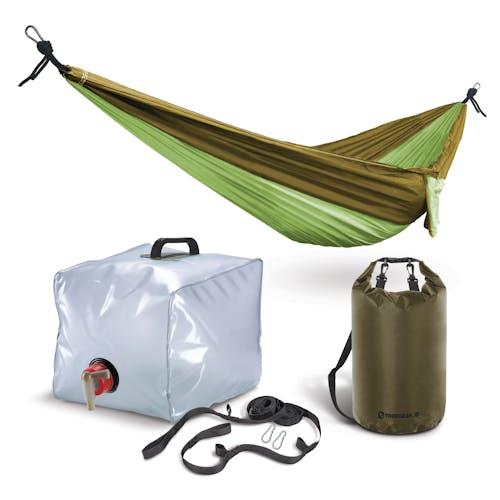 Bliss Hammocks Ultimate Camping Bundle | Camping Hammock in a Bag + Dry Bag + Collapsible Water Container
Bliss Hammocks BH-406XLS-FG Hammock in a Bag w/ Adjustable Tree Straps
The Bliss On The Go Hammock in a Bag® is the perfect portable hammock for those trips to campgrounds and parks. It weighs just 3 pounds, yet holds up to 350 pounds and folds neatly into its own pouch. Plus, it's made with weather-resistant, UV-resistant, quick-dry, strong yet lightweight nylon material and triple-stitched designed, dual-color fabric for durability. A set of adjustable hanging tree straps & 2 carabiner hooks are included so you can hang your hammock anywhere with 2 hanging points between 10-20 feet! Perfect for on the go travel, camping, a stop in the park, or a nice set up for your backyard, the On The Go Hammock in a Bag is the most versatile hammock on the market! Comes with a 1-year warranty… Find your Bliss®!
TrailGear TG-801-10OL Heavy-Duty Dry Bag | Roll-Top Closure Design
Protect your belongings from unpredictable weather and the elements! With our heavy-duty TrailGear dry bags, you can place all your important things and keep them safe. Our lightweight bags make easy for you to protect what is important to you. Available in a variety of colors.
TrailGear TG-851-5 Collapsible Water Container w/ On/Off Spout & Carry Handle
Our 2-Gallon Collapsible Water Container will make easy for you to have extra water around in your adventures! It's ideal water storage for camping, picnic, sports events, travel and emergencies. The collapsible capability makes it easy to store and expand when filled with water. Water container are ideal for camp, picnic, sports events, travel and emergency water storage. Collapsible (foldable) design makes it for easy storage and the comfortable handle will make it effortless to carry.
Features
Bliss Hammocks BH-406XLS-FG Hammock in a Bag w/ Adjustable Tree Straps
STURDY DESIGN: Made with strong, breathable nylon material with strong polyester rope ends.
EXTRA DURABILITY: Weather-resistant, UV-resistant, quick-dry, strong yet lightweight with triple-stitched reinforcement design with dual-color fabric
HANGING TREE STRAPS INCLUDED: 2 adjustable tree straps that feature our loop and lock system that allows for various length adjustments. Straps are 9.75' long & include 2 carabiner hooks; hang your hammock without damaging the trees!
DIMENSIONS: Bed size: 114"L x 54"W; overall length: 10'
WEIGHT CAPACITY: 350 lbs.
TrailGear TG-801-10OL Heavy-Duty Dry Bag | Roll-Top Closure Design
Polyurethane coated and taped seams for ultimate water-resistance
Heavy duty 210T ripstop polyester
Ultra lightweight and super compact
Adjustable shoulder strap
Roll-top closure for watertight closure
Not intended for full submission or flotation
Not for storing food or water
TrailGear TG-851-5 Collapsible Water Container w/ On/Off Spout & Carry Handle
Lightweight, sturdy compact design
Collapsible
5 gallons (20L capacity)
Comfortable, sturdy carry handle
Handy on/off spout
Made from non-toxic PVC
Cadmium and Phthalate free
1-year warranty