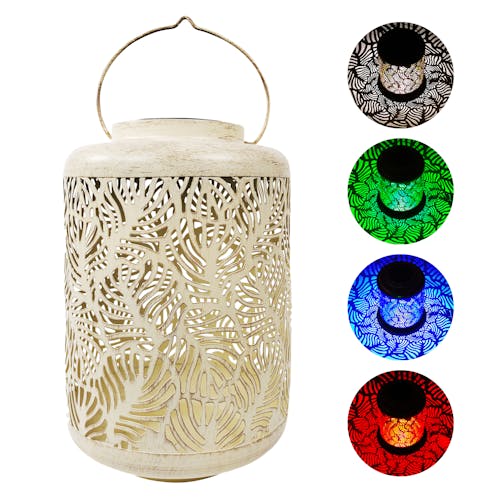 Bliss Outdoors BSL-308-WH Solar LED Lantern w/ Banana Leaf Design & Hand Painted Finish | 12-in. Tall | Waterproof IP44 (White)
With the Bliss Outdoors® Decorative Solar 2-Mode LED Lantern, you'll cast a beautiful illuminated design that will add ambience and charm to any living, gardening, or patio space. You get a large solar lantern that measures 12" tall x 7.75" in diameter, and has a dusk to dawn feature so it automatically illuminates at night and turns off at dawn. Featuring 2 modes of light choices: A steady warm LED light, or a wonderful 5- color gradual transition mode for the perfect ambience in any setting. It includes a 600 mAh battery and a polycrystal solar panel that gives you 6-8 or running time of light when fully charged during the day for 4-6 hours under sunlight. Designed with a banana leaf pattern that's laser cut on the lanterns surface so when illuminated, it casts a beautiful design & shadow pattern that's warm and pleasant to the eye. The lantern is durable and made of high-quality metal, then hand painted in a gorgeous brushed antique painted finish. These solar lanterns are also IP44 waterproof rated so it can withstand the element & comes with a handle so you can hang it or stand it on a table. It's an ideal gift for loved ones, holidays, housewarming or for anyone who wants to add a bit of charm to their living spaces. Comes with a 1 year warranty... Find your Bliss®
Download Manuals
Features
2 LIGHTING MODES WHITE & TRANSITIONAL RGB: 2 gorgeous lighting modes ideal for any setting; a steady warm white light, or a 5 color changing mode that transitions red, green, blue, yellow & purple in a continuous cycle.
UNIQUE BANANA LEAF DESIGN & ANTIQUE HAND PAINTED FINISH: Laser cut metal design casting a beautiful Banana Leaf pattern on surfaces with elegant contrasting shadows. Adding the perfect ambience for any setting. Hand painted antique look with elegant brushed accents.
WATERPROOF: IP44 rated so its suitable for indoors & outdoor use. Hang off trees, porches, pergolas or anywhere else with the included handle. You can also stand it on a table or ledge to add color and charm to any space.
SOLAR POWERED & RECHARGABLE: Polycrystal solar panel with a dawn to dusk sensor so it automatically turns on at night, and automatically turns off during the day. Just place in your favorite spot and enjoy while saving energy! Also includes a free 600mAh NI-HM rechargeable battery and when fully charged, gives you 6-8 hours of light.
VALUE & LARGE SIZED: You get a large decorative solar lanterns that is 12" tall x 7.75" in Diameter and comes with a handle that allows you to hang the lantern or you can stand it on any flat surface.