YOU ARE $125.00 AWAY FROM FREE U.S. SHIPPING!
YOU ARE $125.00 AWAY FROM FREE U.S. SHIPPING!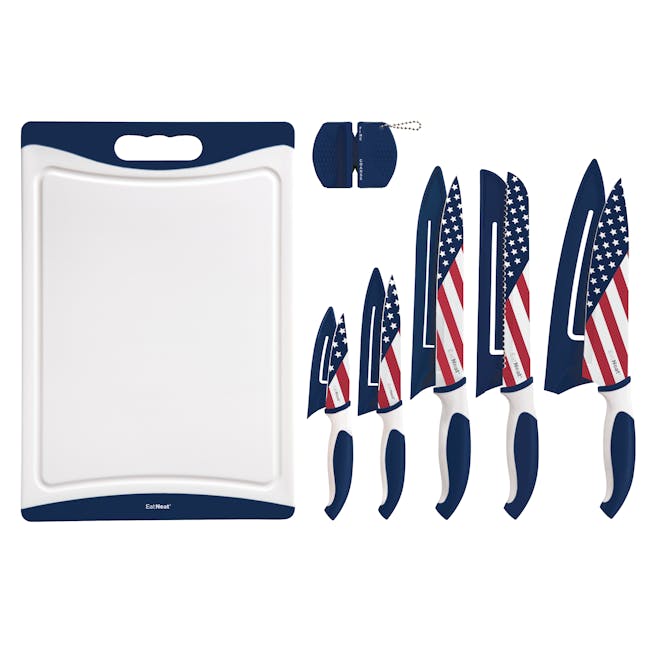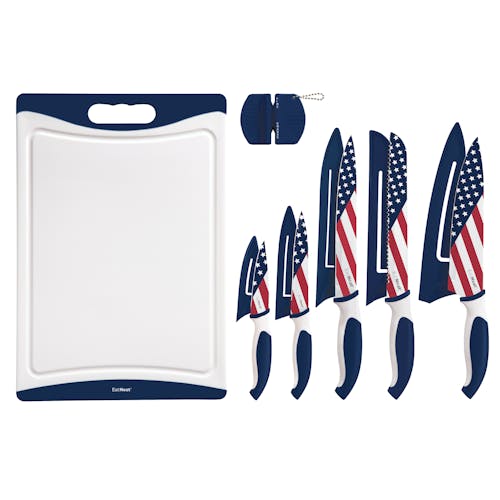 EatNeat SN220901 12-Piece Kitchen Knife Set | W/ 5 Stainless Steel Knives & Sheaths, Cutting Board, and Sharpener (American Flag)
A CUT ABOVE. This SN220901 12-Pc Cutting Board + Knife Set, from EatNeat®, is perfect for meal-preppers, amateurs, and professional chefs alike! It boasts 5 knives—paring, utility, slicing, bread, and chef—with soft-grip handles and sleek, high-quality, stainless-steel blades with non-stick coatings for pro-quality knife cuts. The stylish 14" x 9.7" polypropylene cutting board is ultra-sturdy, reversible, reusable, and features non-slip rubber borders, sturdy handles, and deep fruit, veggie, & meat juice-retaining grooves so you can cut, chop, slice and dice with confidence. The knife sharpener completes this must-have, all-purpose set. Hand wash recommended, BPA-free/FDA approved for peace of mind, and makes a great gift, too!
Features
5 KNIVES with soft-grip handles and sleek, high-quality, stainless-steel blades with non-stick coatings for pro-quality knife cuts: 3.5" paring; 5" utility; 8" slicing; 8" bread; 8" chef
14" x 9.7" POLYPROPYLENE CUTTING BOARD is ultra-sturdy, reversible, reusable, and features non-slip rubber borders, sturdy handles, and deep fruit, veggie, & meat juice-retaining grooves so you can cut, chop, slice and dice with confidence
KNIFE SHARPENER keeps those stainless-steel blades sharp and ready for action
BPA-FREE/FDA APPROVED for peace of mind; hand wash recommended

MAKES A GREAT GIFT: perfect for weddings, housewarming, bridal showers, birthdays, Christmas, graduations, RV homes, wet bars, camping trips, and more