YOU ARE $100.00 AWAY FROM FREE U.S. SHIPPING!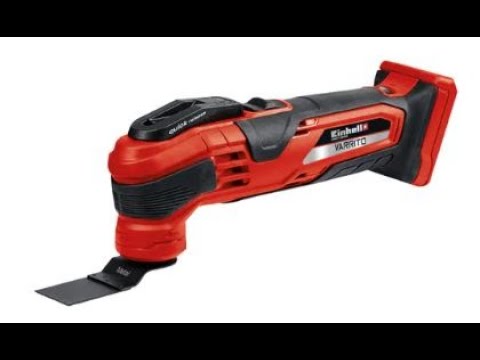 +6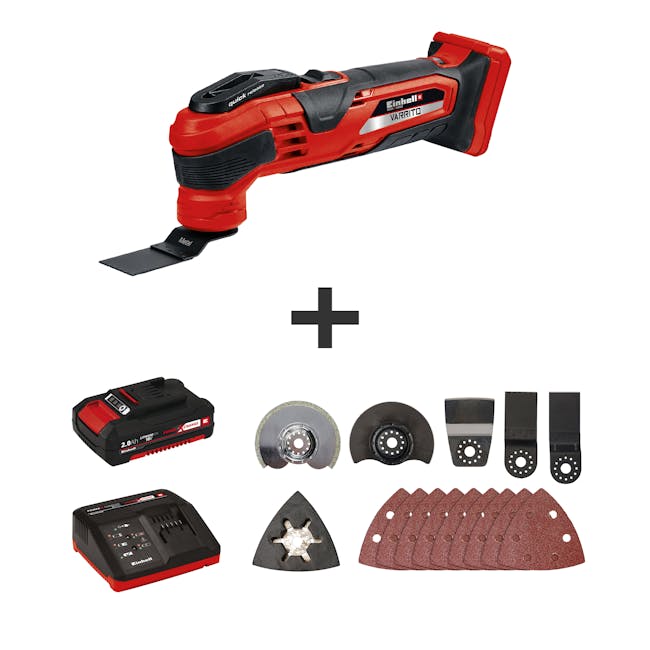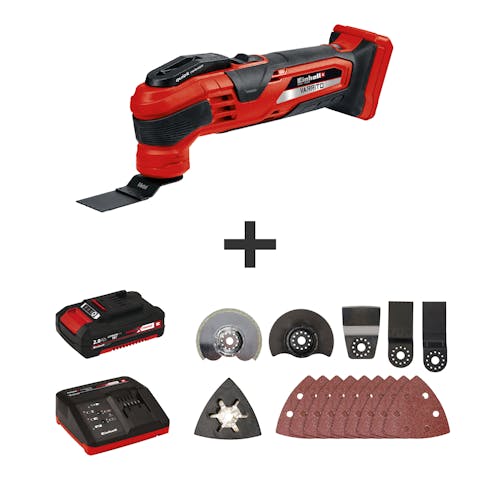 FINAL SALE: NO RETURNS OR EXCHANGES; NOT ELIGIBLE FOR WARRANTY COVERAGE
The Einhell cordless multifunctional tool VARRITO (1x2,0Ah) is a flexible, high-quality helper for extension and renovation jobs. It is really lightweight at 4.14 lbs. Thanks to its comprehensive features it helps get jobs such as sawing, grinding/sanding or scraping completed effortlessly. It is a member of the Power-X-Change family, so you can enjoy all of the advantages of Einhell's high-end lithium-ion technology. The cordless multifunctional tool is a high-quality designed for ergonomic operation, so it saves a great deal of effort when used in practice. The quick release, for example, helps you to change accessories without additional tools. This has a magnetic tool fixation for getting the tool ready quickly and comfortably. Also, the tool chuck has twelve adjustable settings. Speed electronics enables the tool to be adjusted to the particular material and application. The Varrito operates at 22,000 to 40,000 vibrations to let you work with precision. For safe and comfortable operation there is a soft grip. The product is supplied with a triangular grinding/sanding plate and a set of nine sheets of abrasive paper with different grit sizes (3*P60/3*P80/3*P120). A scraper, a plunge-cut saw blade for wood and plastic (HCS), a BIM plunge-cut blade additionally for metal as well as a segment saw blade for wood, plastic and soft metal (HSS) are all part of the package as well. The Varrito is a member of the Power X-Change series. The advantages of a cordless tool are obvious: Interfering cables, tripping hazards and the distractions caused by restricted movement are all a thing of the past thanks to the new generation of powerful and long-lasting cordless tools from Einhell. The batteries with the high-grade lithium-ion cells can be used for all members of the Power X-Change family. The product is supplied complete with one 2.0 Ah Power X-Change battery and high-speed charger.
Download Manuals
Features
Member of the Power X-Change family
Quick release for toolless change of equipment
Comfortable accessory change thanks to magnetic tool fixation
Speed electronics for material and application suitable working
Safe and pleasant working thanks to soft grip
Tool chuck (adjustable to 12 settings)
Incl. triangular grinding/sanding plate
Incl. 9x grinding/sanding paper (3*P60/3*P80/3*P120)
Incl. scraper
Incl. plunge-cut saw blade for wood and plastic (HCS)
Incl. BIM plunge-cut saw blade also for metal
Incl. segment saw blade for wood, plastic and soft metal (HSS)
Incl. 2.0 Ah Power X-Change battery and high-speed charger