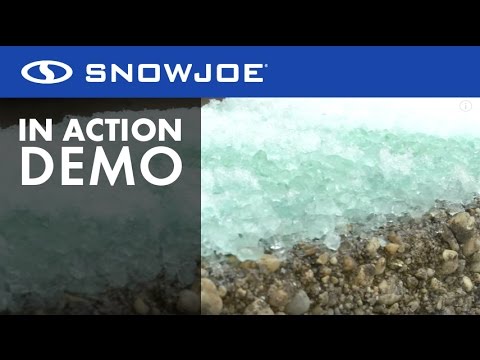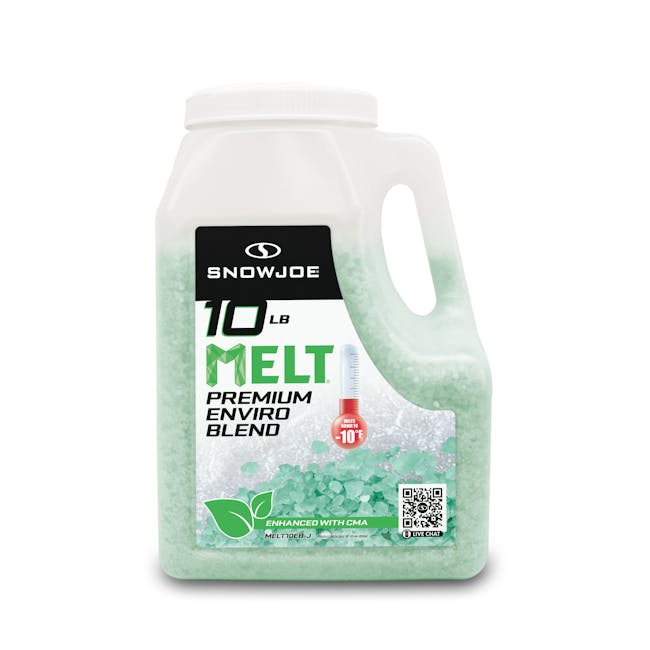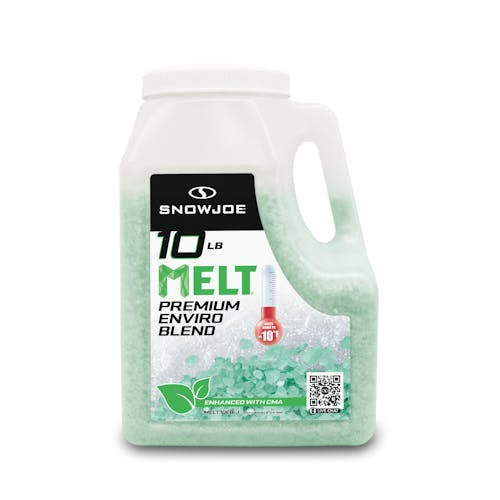 Snow Joe MELT10EB-J Premium Enviro Blend Ice Melter w/ CMA | 10-Lbs.
Exclusively Sold by Our Partners:
THE NICER DE-ICER: Thanks to its anti-corrosion formula that contains CMA (calcium magnesium acetate), Melt Premium Enviro Blend melts to -10°F and is safer for vegetation, concrete, and metals than pure rock or chloride-based salt. The formula works on surfaces longer, requiring less product, and won't dry out or irritate skin, so no protective clothing is necessary. Plus, it doesn't track onto your home's floors or carpets or leave slimy residue behind, so you can safely tread your footwear on any treated surface without worrying about damaging your shoes or home. Finally, the green-coated crystals not only serve as a visual indicator to observe the melting process in action, but also help you visually measure and dispense just the right amount to ensure the most cost-effective use of the product.
Download Manuals
Features
ANTI-CORROSION FORMULA: Melts to -10

°

and contains CMA (calcium magnesium acetate), an anti-corrosion agent that makes it safer for vegetation, concrete, and metals than pure rock or chloride-based salt.

LONG-LASTING: Works on surfaces longer, so less product is needed.

SAFER TO HANDLE: Will not dry out or irritate the skin, and can be safely and easily

dispensed without requiring the use of protective clothing.

NON-TRACKING: Will not track onto your home's floors or carpets, so you can safely

tread your footwear on any treated surface without worrying about damaging your shoes or home. Plus, it leaves no slimy

residue behind, making it safer to use on and around vegetation.

COLOR-COATED: Green-coated crystals not only serve as a visual indicator to observe the melting process

in action, but also help you visually measure and dispense just the right amount to ensure the most cost-effective

use of the product.

NET WEIGHT: 10 lbs

ACTIVE INGREDIENTS: Sodium Chloride, Percentage 85.0-99.9%, CAS. No 7647-14-5; Magnesium Chloride, Percentage 0.01-5.0%, CAS. No 7786-30-3; Calcium Magnesium Acetate (CMA), 0.01-5.0%, CAS. No 76123-46-1