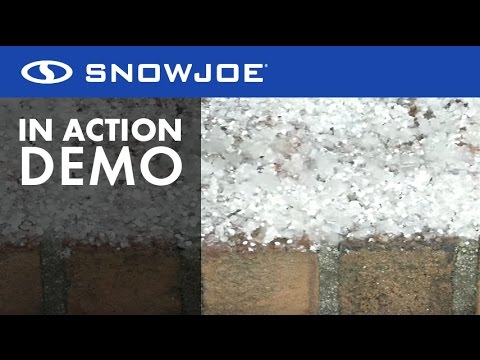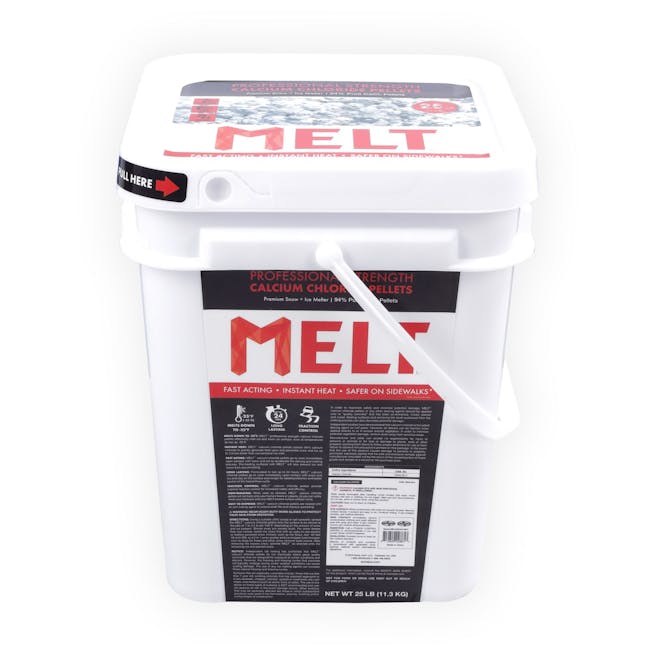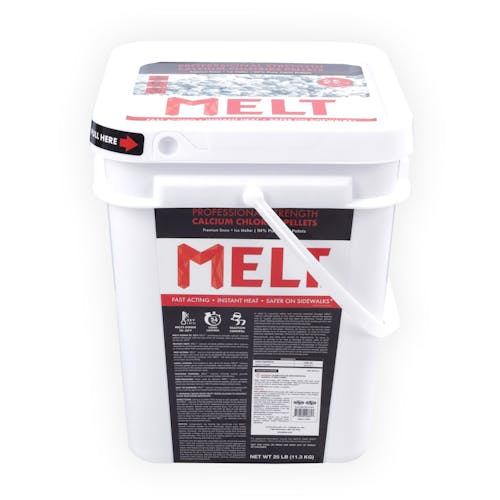 Snow Joe MELT25CCP-BKT Calcium Chloride Pellets Professional Strength Ice Melter | 25-Lbs.
Exclusively Sold by Our Partners:
PROFESSIONAL STRENGTH. REMARKABLE RESULTS.
Professional strength MELT is a unique formulation of calcium chloride pellets that accelerates the melting process by generating a large amount of heat on contact with snow and ice. MELT is designed to quickly, safely and effectively tackle frozen snow, sleet and ice on most driveways, steps, sidewalks, and entryways. MELT pellets attract moisture from its surroundings, speeding up the creation of brine to quickly lower the freezing point of water, generate heat, and melt snow and ice on contact.
Packaged in a convenient, resealable bag for easy storage, MELT Calcium Chloride Pellets can be conveniently dispensed directly out of the bag or into a hand-held or wheeled salt spreader. Proven safer when applied as directed to "quality concrete" surfaces, MELT exhibits the following properties:
MELTS DOWN TO -25°F: MELT professional strength calcium chloride pellets effectively melt ice and snow on contact, even at temperatures as low as -25°F.
INSTANT HEAT: MELT calcium chloride pellets contain 94% pure calcium chloride to quickly generate heat upon and penetrate snow and ice up to 3 times faster than conventional ice melt.
LONG LASTING: Formulated to last up to 24 hours, MELT calcium chloride pellets go to work immediately upon contact with snow and ice and stay on the surface area longer for added protection and better control of the freeze/thaw cycle.
NON-TRACKING: When used as directed, MELT Calcium Chloride Pellets will not track onto your home's floors or carpets, so you can safely tread your footwear onto any MELT-treated surface without worry.
Download Manuals
Features
Professional Strength - contains 94% Pure CaCl2 Pellets
Melts down to -25°F
Generates heat instantly upon contact with snow and ice
Convenient resealable bag for easy storage and extended shelf-life
Lasts up to 24 hours for superior traction control
When used as directed, MELT Calcium Chloride Pellets will not track onto your home's floors or carpets, so you can safely tread your footwear onto any MELT-treated surface without worry
Net weight: 25 lbs
Calcium Chloride, 94.8%, CAS. No 10043-52-4; Sodium Chloride, 2.5%, CAS. No 7647-14-5; Magnesium Chloride, 0.1%, CAS. No 7786-30-3; Calcium Hydroxide, 0.08%, CAS. No 1305-62-0; Calcium Sulfate, 0.01%, CAS. No 10101-41-4