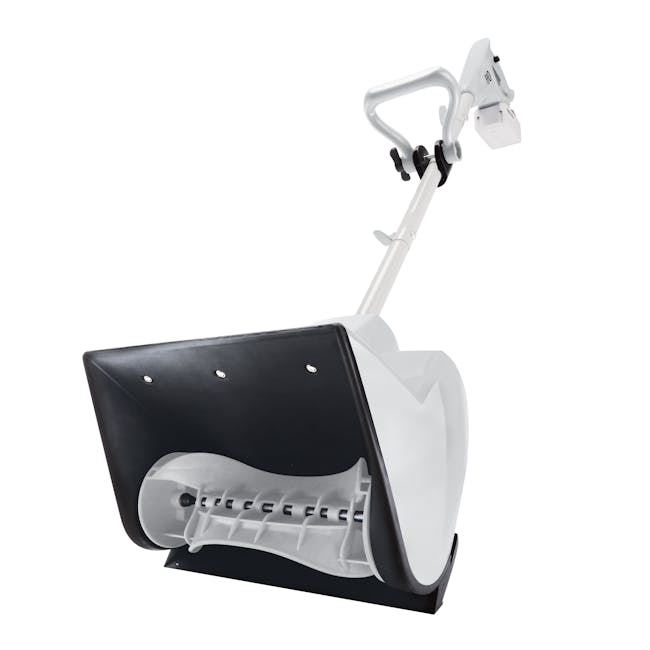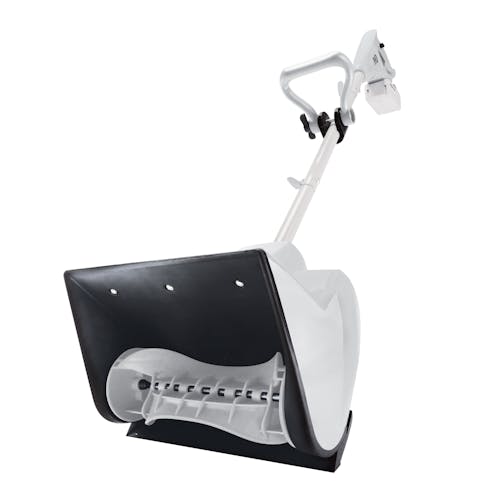 Snow Joe 24V-SS11-CVR-XR-WHT-RM 24-Volt IONMAX Cordless Snow Shovel Kit | 11-Inch | W/ 5.0-Ah Battery and Charger (White, Certified Refurbished)
REFURBISHED MODEL DOES NOT INCLUDE COVER
WHEN IT COMES TO SNOW, GO WITH JOE®. Introducing the ultimate grab-n-go cordless snow-busting tool: 24V-SS11-XR-CVR-WHT from SNOW JOE. Combining innovation and functionality, SNOW JOE provides an easy, convenient and cordless solution to get snow out of your way this winter.
Powered by SNOW JOE's exclusive IONMAX 24-Volt lithium-ion battery system, 24V-SS11-XR-CVR-WHT. The light choice is the right choice with SNOW JOE! Weighing less than 12 lbs, 24V-SS11-XR-CVR-WHT blasts through up to 2,025 pounds of snow per charge while the dual-handle design eliminates the need to bend and strain, maximizing user comfort and ease of use.
Equipped with a heavy-duty 2-blade paddle auger, SNOW JOE throws snow up to 20 feet away, clearing a 11-inch wide by 7-inch deep path with each pass. And the durable scraper blade at the base of the unit lets you clear right to the ground without damaging your deck or pavement!
When the job is done, 24V-SS11-XR-CVR-WHT stores easily inside of a hall closet for quick, convenient access. And with a maximum charge time of just 197 minutes, 24V-SS11-XR-CVR-WHT will be recharged and ready for the next task.
GET EQUIPPED® this winter with the 24V-SS11-XR-CVR-WHT 24-Volt 5.0 Ah Cordless Snow Shovel from SNOW JOE® and leave back-breaking snow removal behind you.
Initial no-load voltage, when fully charged, peaks at 24 volts. Nominal voltage under typical load is 21.6 volts. Plowing capacity may vary based on snow conditions.
Download Manuals
Features
REFURBISHED MODEL DOES NOT INCLUDE COVER
Ideal for quick, easy and CORD-FREE snow pickups on decks, steps, patios and sidewalks
Featuring exclusive ECOSHARP® technology for no-fade power performance
24V IONMAX 5.0 Ah rechargeable lithium-ion Battery + Charger
No pull cords, gas, oil, tune-ups, carbon emissions or tangled extension cords
2-blade high-impact, low-temperature paddle auger throws snow up to 20 feet and cuts a 11 in. x 7 in. path
400 W motor moves up to 2,025 lbs of snow per charge
Ergonomic, lightweight design (only 11.7 lbs) with adjustable back-saving handle
ETL approved; Certified Refurbished 90-Day Warranty