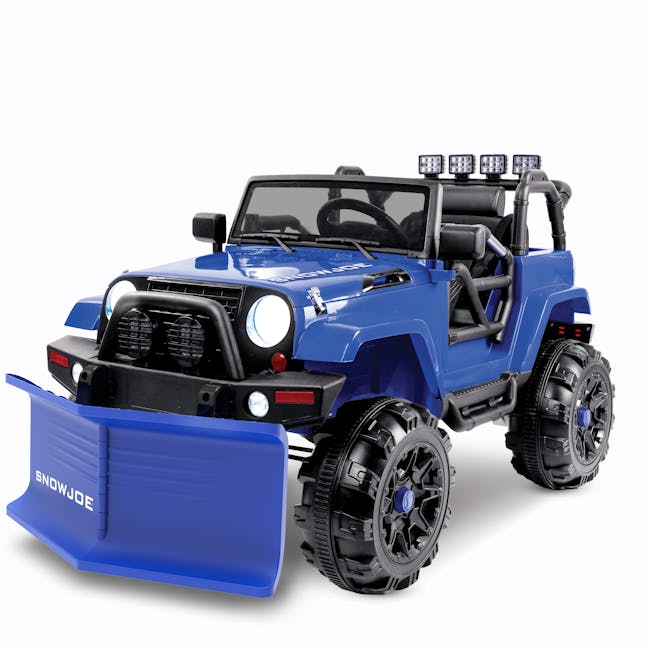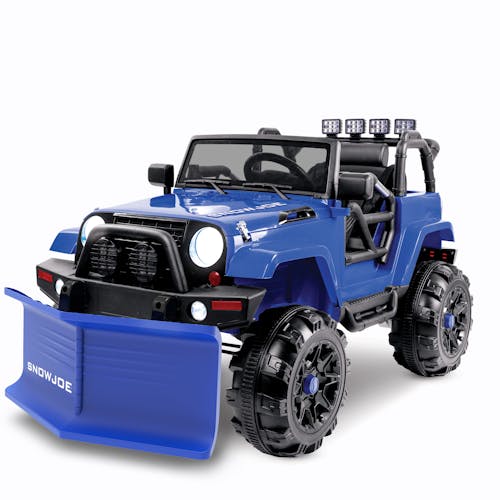 Snow Joe 24V-SUV1 24-Volt* Ride-On Kids Truck W/ Parental Remote and Snow Plow | For Ages 3-7 | W/ 4.0-Ah Battery + Charger
*Initial no-load voltage, at full charge, peaks at 24V; nominal voltage with typical load is 21.6V
Ships Free
Ships Free
PAY NOW:
$499.00 $49900 + S&H
OR
PAY AS LOW AS:
$45.10
/Month
with
with
2 YEAR WARRANTY
ADD A PROTECTION PLAN:
Ships Free
NO DRIVER'S LICENSE REQUIRED! Even kids ages 3-7 can enjoy driving a car both indoors and outdoors on the 24V-SUV1 24V* Powered Kids Ride-On SUV, from Snow Joe®. Powered by dual 35-watt motors and designed to ride on flat terrain like lawns, patios, driveways and sidewalks, this highly mobile, 45.2 pounds of pure fun includes all the bells and whistles for a safe + rompin' good time: Forward, park, and reverse gears; 3 speed settings (1/2 mph, default 2.2 mph, 3.1 mph); side-view mirrors; four 13.3-inch spring suspension tires; Snow Plow; and LED headlights for rides in dim environments. The dashboard panel contains a digital display, music controls for the pre-loaded audio tracks, an AUX/USB/MicroSD/Bluetooth input mode, USB port, AUX jack, MicroSD card slot, light switch, horn, on/off button, directional gear shift, and battery status display. Safety features include magnetically closed doors, a seat belt, a hood latch to secure the hood, and a parental remote control that can override the car's functions and control its speed + direction. Max weight capacity: 66 lbs; 2-year warranty.
Download Manuals
Features
24V* IONMAX LITHIUM-ION BATTERY COMPATIBLE with 24V* 4.0 battery + charger
SNOW PLOW ACCESSORY INCLUDED
DESIGNED FOR INDOOR/OUTDOOR use, including on flat terrains like lawns, patios, driveways, and sidewalks
FOR AGES 3-7
DUAL MOTORS: 35 watts each
3 GEARS: forward, park, reverse
3 SPEED SETTINGS: 1/2 mph, 2.2 mph (default), 3.1 mph
FOUR 13.3-INCH SPRING SUSPENSION TIRES
LED HEADLIGHTS for rides in dim environments
DASHBOARD PANEL includes digital display, music controls for the pre-loaded audio tracks, an AUX/USB/MicroSD/Bluetooth input mode, USB port, AUX jack, MicroSD card slot, light switch, horn, on/off button, directional gear shift, and battery status display
SAFETY FEATURES: magnetically-closed doors, seat belt, hood latch to secure the hood
PARENTAL REMOTE CONTROL can override car's functions and control speed + direction
MAX WEIGHT CAPACITY: 66 lbs
NET/GROSS WEIGHT: 45.2/59.3 lbs; 2-year warranty