YOU ARE $125.00 AWAY FROM FREE U.S. SHIPPING!
YOU ARE $125.00 AWAY FROM FREE U.S. SHIPPING!





+1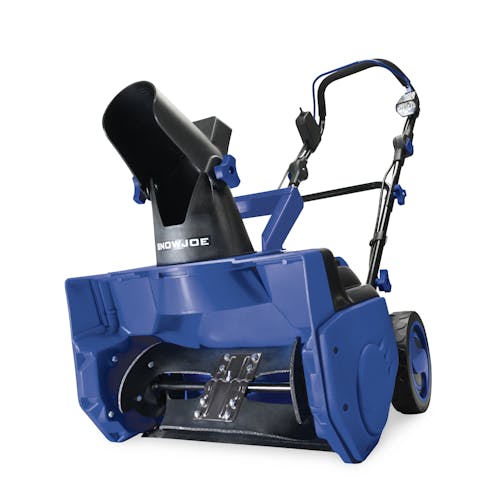 Snow Joe 24V-X2-SB18U-CT-RM 48-Volt iON+ Cordless Snow Blower | Tool Only | Auto Rotate Chute | LED Headlight | 8" Depth (Certified Refurbished)
WHEN IT COMES TO SNOW, GO WITH JOE®. The latest revolution in snow-clearing technology meets the 24V iON+ Battery System with iON+ 48-Volt 18-Inch Cordless Snow Blower from SNOW JOE®. Powered by Snow Joe's exclusive iON+ technology, power up 24V-X2-SB18U-CT by adding 2 24V iON+ batteries with 4.0-Ah or more (Sold Separately). Clear up to 1300 sq ft of 3" snow in just 25 mins — and charge up fast in under 2 hours so you're ready to tackle even more snow. Equipped with a heavy-duty, 2-blade rubber-tipped steel auger, SNOW JOE clears an 18-inch wide by 8" deep path in a single pass, clearing right to the ground without damaging your deck or driveway. The powerful 900 W brushless motor moves up to 485 lbs of snow per minute and throws it up to 20-feet away in any direction. And after dark, the integrated 3-Watt LED handle light brightens the way to safer nighttime clearing. So, when winter strikes, Go With Joe®. The 48-volt 18" Cordless Snow Blower from SNOW JOE. GET EQUIPPED®.
Generates 48V max with two 24V lithium-ion batteries. Initial no-load voltage, per fully charged battery, peaks at 24 volts. Nominal voltage under typical load is 21.6 volts. Plowing capacity may vary based on snow conditions.
Download Manuals
Features
iON+ 24-Volt Battery System compatible — Batteries sold Separately
Ideal for small to large decks + driveways — or anywhere power is at a premium
2-blade rubber-tipped steel auger clears a path 18" wide x 8" deep in a single pass
900 W brushless motor clears up to 485 lbs of snow per minute
180º adjustable chute throws snow up to 20 ft away in any direction
3 W LED headlight lights up the night for safer nighttime clearing
Weight (battery installed): 30 lbs
Certified Refurbished 90 Day Warranty