YOU ARE $125.00 AWAY FROM FREE U.S. SHIPPING!
YOU ARE $125.00 AWAY FROM FREE U.S. SHIPPING!





+5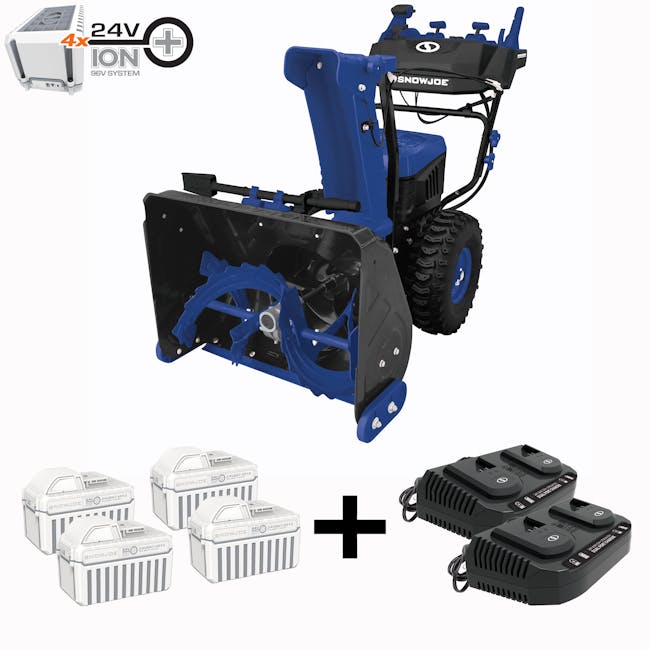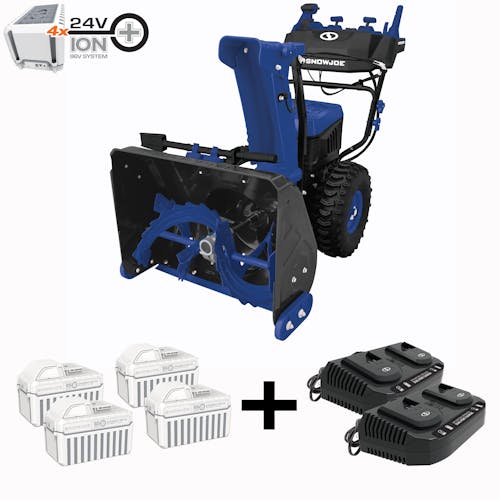 Snow Joe 24V-X4-SB24 96-Volt MAX iON+ Cordless Snow Blower | 24-Inch | W/ 4 x 12-Ah Batteries & Quad Charger
Limit 10 Per Order.
WAGE WAR ON WINTER. The latest revolution in snow-clearing technology meets the 24V iON+ Battery System with the 24-inch 96V Max Cordless Snow Blower from SNOW JOE®. Driven by Snow Joe's exclusive 24-Volt battery series, the self-propelled SNOW JOE features four high-capacity 24-volt, 12.0 Ah lithium-ion batteries that deliver up to 96 volts of max power + performance, with zero carbon emissions for cleaner air.
SNOW JOE boasts a variable drive speed lever featuring forward and reverse settings, a powerful 3200-watt plowing motor + 400-watt drive motor, and 2 serrated steel blades that quickly clear a 24-inch wide by 17.5-inch deep path in a single pass. Plus, the 180º auto-rotate chute throws snow up to 40 feet away, and the integrated scraper bar at the base of the unit clears right to the ground without damaging your deck, driveway or pavement. After dark, the six 3-watt LED lights brighten the way for safer nighttime clearing. And when the work is done, the two high-speed, dual-port chargers can recharge in as fast as 6 hours so you're ready to tackle even more snow!
Download Manuals
Features
iON+ 24-VOLT BATTERY SYSTEM COMPATIBLE — includes 4 x 24V 12.0 Ah batteries + 2 x high-speed dual-port chargers for rapid recharging
SELF-PROPELLED + VARIABLE DRIVE SPEED LEVER featuring forward and reverse settings
2 SERRATED STEEL BLADES clear a path 24" wide x 17.5" deep in a single pass
PLOWING MOTOR/DRIVE MOTOR: 3200 W/400W
SCRAPER BAR at base of the unit clears right to the ground without damaging your deck, driveway or pavement
180º AUTO-ROTATE CHUTE throws snow up to 40 ft away
6 x 3-WATT LED LIGHTS light up the night for safer nighttime clearing
WEIGHS 147.7 lbs; 2-year warranty