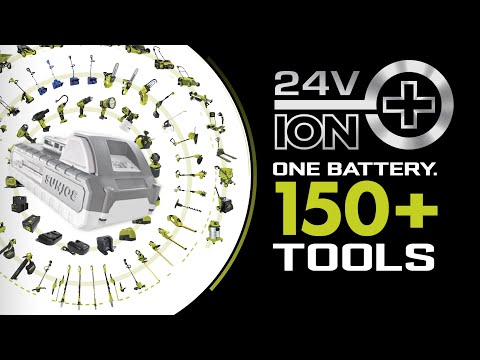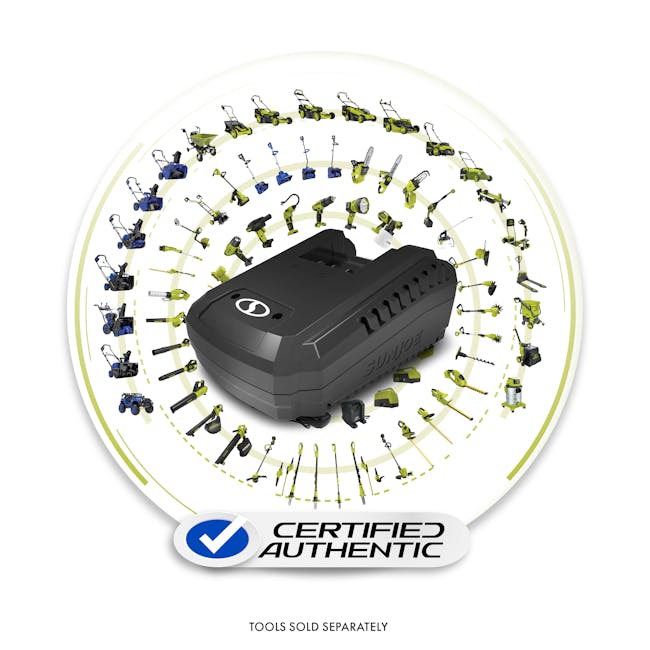 Snow Joe + Sun Joe CERTIFIED AUTHENTIC 24VCHRG-QC IONMAX Quick Charge Dock for iBAT24 and 24VBAT Series Batteries
2 YEAR WARRANTY
ADD A PROTECTION PLAN:
Charger Type: 24V Quick Charger
PLUG IN POWER UP! Boost your battery in less time with the 24VCHRG-QC 24-Volt Quick Charger from SNOW JOE® + SUN JOE®. Designed to work exclusively with SNOW JOE's IONMAX 24-Volt lithium-ion batteries, 24VCHRG-QC powers up your rechargeable IONMAX batteries (and EcoSharp® iBAT24 batteries) in as little as 30 minutes! Take command of your cordless power tools and get back to your task in less time. Or better yet, buy a second battery for unlimited runtime, so one is always ready to work while the other charges up! Equipped with thermal, over-voltage, and over-current circuit protection, 24VCHRG-QC safely charges and recharges your IONMAX battery without any risk of battery pack damage. SNOW JOE'S iON battery and charger system provide eco-friendly means to safely and reliable power up your 24-volt cordless yard garden tools.  
Features
CERTIFIED AUTHENTIC: Official Snow Joe + Sun Joe charger with valid markings of authenticity. Use of non-authentic accessories with your Snow Joe + Sun Joe tool will void your tool's warranty.
24-VOLT MAX LITHIUM-ION QUICK CHARGER: Rapid charging technology to keep your tools powered up
COMPATIBLE WITH ALL IONMAX BATTERY MODELS: Includes 24VBAT-LTX, 24VBAT-LTW, 24VBAT-LTE, 24VBAT-LT, 24VBAT, 24VBAT-XR, 24VBAT-XR8, 24VBAT-XR12
BACKWARDS COMPATIBLE WITH ECOSHARP® IBAT24 MODELS: Works with iBAT24-LTE, iBAT24-LT, iBAT24-XR models as well
INITIAL NO-LOAD VOLTAGE, PEAKS AT 24 VOLTS: When fully charged, the initial no-load voltage peaks at 24 volts; nominal voltage under typical load is 21.6 volts
THERMAL, OVER-VOLTAGE, OVER-CURRENT CIRCUIT PROTECTION: Built-in safeguards to prevent overheating and electrical overloads
BUILT-IN BATTERY STATUS INDICATOR: Helps you monitor battery levels easily
WEIGHT: A mere 0.84 lbs, for easy handling and transport
ETL CERTIFIED/ 2 YEAR WARRANTY: Certified by ETL, Includes Snow Joe's 2 Year Warranty