YOU ARE $125.00 AWAY FROM FREE U.S. SHIPPING!
YOU ARE $125.00 AWAY FROM FREE U.S. SHIPPING!




+24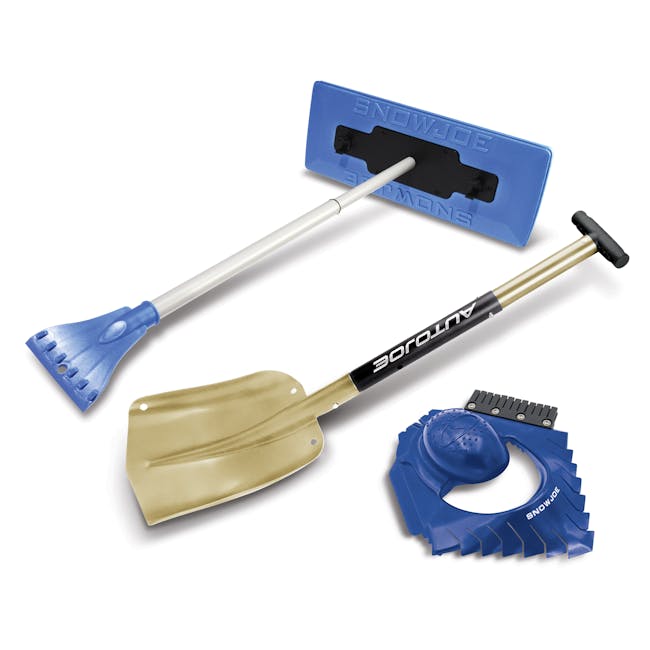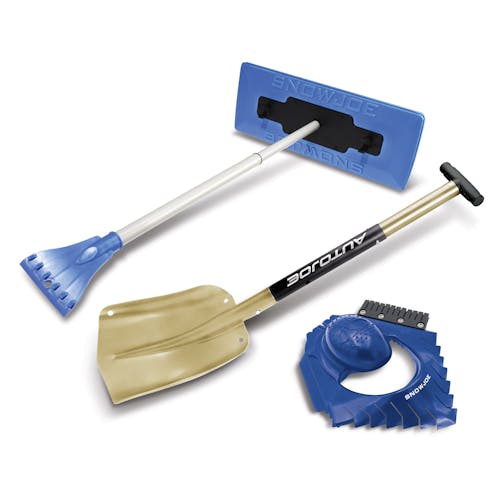 Snow Joe Auto Snow Removal Bundle | Snow Broom + Utility Shovel + Ice Dozer
2 YEAR WARRANTY
2 YEAR WARRANTY
Snow Joe SJBLZD The Original 2-In-1 Telescoping Snow Broom + Ice Scraper
SNOW PROBLEM! The Snow Joe® Snow Broom model SJBLZD makes quick work out of the snow piled on the roof, hood, trunk or windshield of your car. Its patented dual-purpose design features a broom head on one end and a built-in ice scraper on the other, so you can quickly push heavy, wet snow off your car, then clear away the ice build-up on your windshield with just one tool. Made with a durable, reinforced, non-abrasive foam head, the Snow Broom safely and effectively sweeps snow off your car without scratching the glass surfaces. Plus, its telescoping pole extends from 33 to 52 inches to provide maximum reach with minimal strain. Weighing only 1.4 pounds, the Snow Broom is super easy to handle and stores neatly inside the trunk of your car with its built-in bracket holder. GET EQUIPPED® this winter with the Snow Joe® Snow Broom and clear out fast from tough winter messes.
Auto Joe ATJ401M-GLD Compact Utility Shovel
Dig your way out of any situation with our lightweight and rugged utility shovel that collapses into three component pieces to become the ultimate stow and go tool for auto, lawn, garden and camping companionship. Stylishly designed, this all-purpose shovel boasts a durable aluminum construction that withstands the abuse Mother Nature dishes out. By squeezing two reinforced smart locks, the telescoping T-handle extends to 3 different heights for hard to reach spots, or easily contracts for compact portability.
Snow Joe SJEG-DZ IceDozer Ice & Snow Scraper Tool
Equipped with 6 different sides for multiple uses, the IceDozer provides a full 360º of ice-decimating technology in one, compact, handheld tool. The articulated front-facing, hinged blades conform to your windshield and score + soften tough ice, while the 2.8-inch sharpened edge side scraper easily penetrates ice to lift it away. The surface scrapers shaves away frost and snow, and the innovative 3.3-inch squeegee brush clears away sleet, slush and dirt + debris to keep your windshield clean year-round. High-impact teeth concentrate cracking force and swiftly shatters even the thickest ice. Plus, the built-in wiper notch is specially designed to clean wiper blades of icy build-up in a single swipe. Weather winter's worst and GET EQUIPPED® with the innovative IceDozer 360º Ice Scraper from SNOW JOE.
Features
Snow Joe SJBLZD The Original 2-In-1 Telescoping Snow Broom + Ice Scraper
Patented dual-purpose design to tackle snow and ice (Patent No: US 8,464,387 B1)
Durable non-abrasive foam head pushes heavy, wet snow off cars without damaging glass
Built-in ice scraper quickly clears ice build-up on windshields
Auto-locking telescoping pole adjusts from 33 in (84 cm) to 52 in. (132 cm) to extend reach
Weighs only 1.4 lbs for easy handling
Auto Joe ATJ401M-GLD Compact Utility Shovel
Ideal for auto, camping, lawn and garden applications
Durable, yet lightweight aluminum design with high-impact blade and handle
Telescoping shaft conforms to 3 adjustable heights: 32.3", 25.6" and 21.3" for maximum leverage and efficiency
Easy 3-piece smart lock assembly and compact storage
T-shaped handle
Snow Joe SJEG-DZ IceDozer Ice & Snow Scraper Tool
360º of ice-shredding technology – clears ice and frost in any direction.
Includes articulated front-facing blades, side scraper blade, ice teeth + wiper notch, squeegee brush, and surface scrapers
Safe on glass and windshields — won't scratch or damage surface
Features ergonomic, non-slip textured grip to reduce wrist strain
Sturdy, shatter-resistant design for years of reliable use
Compact, lightweight, and easy to store in the glove compartment