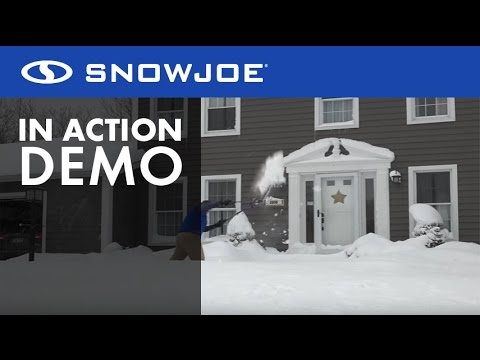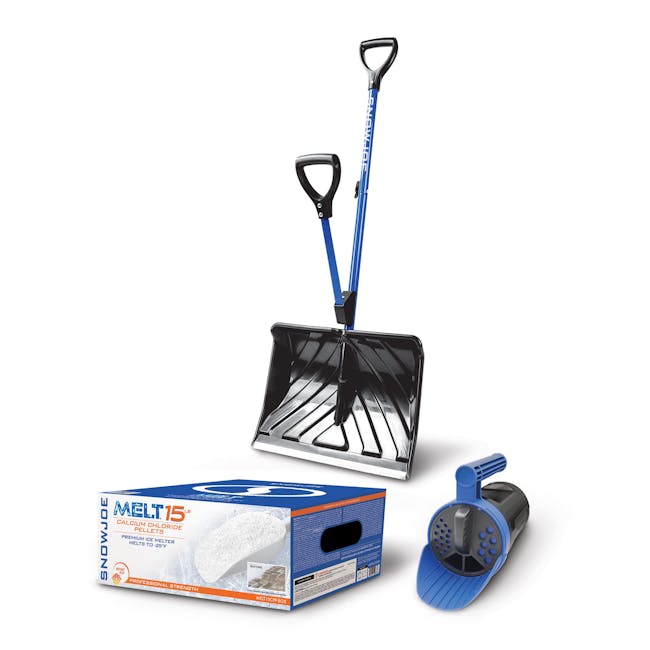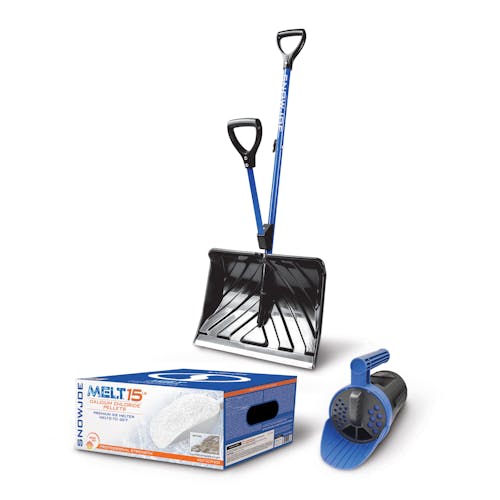 Snow Joe Clear Walkway Bundle | Snow Shovel + Ice Melt + All-Purpose Spreader
SJ-SHLV20 - Snow Joe Shovelution Back Saving Snow Shove | 20-in
This winter, experience the cutting-edge in snow clearing technology with Snow Joe's SHOVELUTION, the ultimate strain-reducing snow shovel with spring-assist handle. Now you can shovel smarter, not harder to quickly and easily get snow out of your way. No more heavy lifting with a traditional shovel. No more aching back. Shovelution greatly reduces the effort, strain and potential injury involved in shoveling, using the powerful muscles of your upper body to do the lifting and throwing and sending lifting leverage to the lower hand to reduce back strain by up to 30%, so you can lift more and throw farther. With SHOVELUTIONs patented dual-handle spring-loaded system and durable 20 blade, you're always ready for the next load. SHOVELUTION captures the expended energy from throwing the snow and rapidly recoils to instantly reset the shovel. And, Snow Joes SHOVELUTION isn't just for winter weather. Use it to easily lift loads of mulch around the garden come spring.
MELT15CPP-BOX - Snow Joe Pure Calcium Chloride Ice Melt Pellets | 15-Lbs
Tackle tough ice and snow build-up with PRO results: MELT Calcium Chloride Pellets — the fast-acting, professional-strength, long-lasting de-icing formula from SNOW JOE. The powerful, easy to dispense, non-clumping formula works in sub-zero conditions and is safer on sidewalks. Unlike outdated tired, unreliable ice clearing methods, MELT Calcium Chloride Pellets, when used as directed, will not track into your home and lasts up to 24 hours, making it the perfect pre-treating solution to prevent ice build-up from the start. MELT15CPP-BOX calcium chloride pellets contain 94% calcium chloride to quickly generate heat upon contact and penetrate snow and ice up to 3 times faster than conventional ice melt for fast, effective results. So, when the ice builds up, Go With Joe®: MELT Calcium Chloride Pellets, from SNOW JOE.
SJSPD1 - Snow Joe + Sun Joe Handheld All-Season Multi-Purpose Spreader | 5 lbs
Spread your way around the yard with the Portable Handheld Multipurpose Spreader with built-in scoop from SNOW JOE. Ideal for year-round use, the smart adjustable dial changes from coarse to fine settings to suit a wide variety of materials: ice melt, grass seed, fertilizer, pool chemicals, weed killers, sand, pesticides, and more. Simply twist the locking lid to adjust the flow, or scoop-and-go for quick refills. With an extra-large 84.5 oz capacity to dispense your desired materials, you'll always have the right solution for every season. So, spread the word and Go With Joe®: the SJSPD1 Multi-Purpose Spreader from Snow Joe®. GET EQUIPPED®.
Download Manuals
Features
SJ-SHLV20 - Snow Joe Shovelution Back Saving Snow Shove | 20-in
Durable, impact-resistant blade
Comfortable, ergonomic D-ring handle grips
Spring-assist handle acts as a fulcrum changes mechanics of shoveling, reduces strain
Gives lifting leverage to the lower hand to lift greater loads with ease
Ergonomic design improves posture, reduces the need to bend
Wide 20 in. shovel blade with aluminum wear strip
MELT15CPP-BOX - Snow Joe Pure Calcium Chloride Ice Melt Pellets | 15-Lbs
MELT Calcium Chloride Pellets contain 94% calcium chloride to quickly generate heat upon contact
Fast-acting formula works immediately upon contact
Pre-treating surfaces with MELT prevents ice and snow build-up
Easy to dispense formula is treated with an anti-caking agent to extend shelf-life and improve spreading
Long-lasting formula lasts up to 24 hours and melts in sub-zero temperatures down to -25º F
SJSPD1 - Snow Joe + Sun Joe Handheld All-Season Multi-Purpose Spreader | 5 lbs
Ideal for use with ice melt, grass seed, fertilizer, pool chemicals, weed killers, pesticides, and more
Easy-to-use twist + locking lid with built-in scoop for quick refills
Adjustable dial changes from coarse to fine settings for a wide variety of materials
Extra-large 84.5 oz capacity
Warranty: 2 year