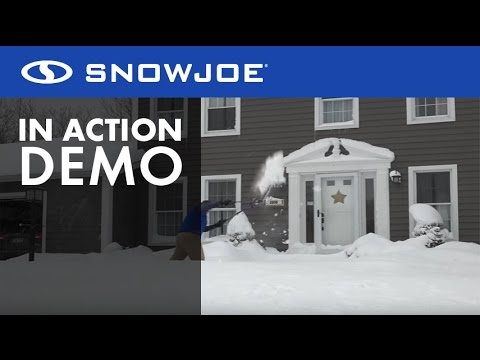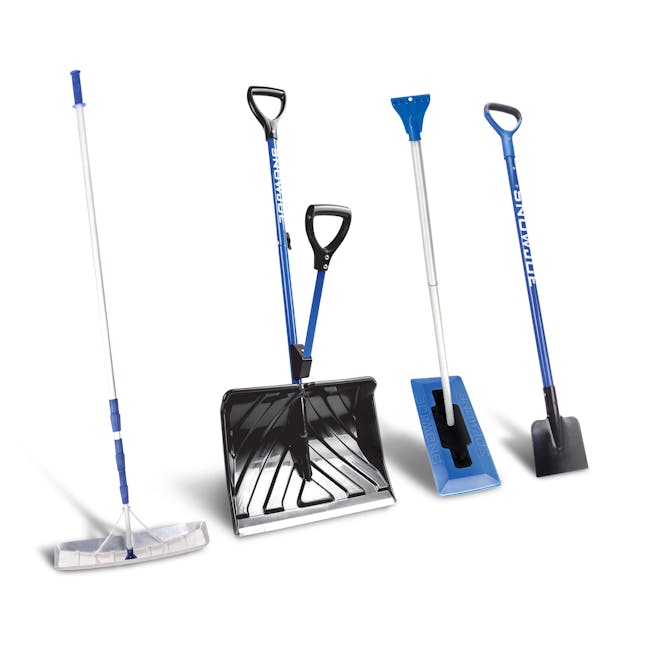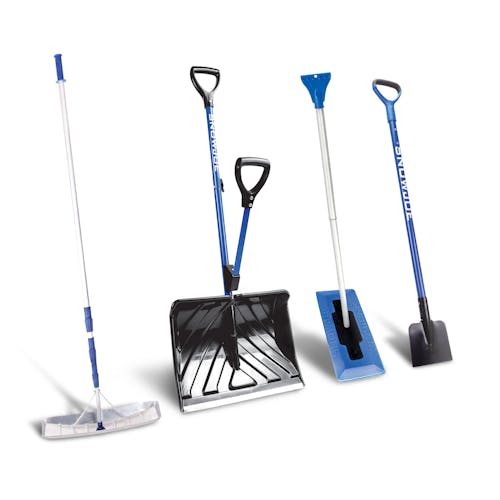 Snow Joe Complete Snow Removal Bundle | Snow Broom + Shovel + Ice Chopper + Roof Rake
SJ-SHLV20 - Snow Joe Shovelution Strain-Reducing Snow Shovel | 20-Inch | Spring Assisted Handle
SPRING IT AND FLING IT® This winter, experience the cutting-edge in snow clearing technology with the SNOW JOE® SHOVELUTION, the ultimate strain-reducing snow shovel with spring-assist handle. Now you can shovel smarter, not harder to quickly and easily get snow out of your way. No more heavy lifting with a traditional shovel! No more aching back! Shovelution greatly reduces the effort, strain and potential injury involved in shoveling, using the powerful muscles of your upper body to do the lifting and throwing, and sending lifting leverage to the lower hand – to reduce back strain by up to 30%, so you can lift more, and throw farther. With SHOVELUTION's patent-pending dual-handle spring-loaded system and durable 20" blade, you're always ready for the next load. SHOVELUTION captures the expended energy from throwing the snow, and rapidly recoils to instantly reset the shovel. And, Snow Joe's SHOVELUTION isn't just for winter weather. Use it to easily lift loads of mulch around the garden come spring.
SJBLZD - Snow Joe Original 2-In-1 Telescoping Snow Broom + Ice Scraper
SNOW PROBLEM! The Snow Joe® Snow Broom model SJBLZD makes quick work out of the snow piled on the roof, hood, trunk or windshield of your car. Its patented dual-purpose design features a broom head on one end and a built-in ice scraper on the other, so you can quickly push heavy, wet snow off your car, then clear away the ice build-up on your windshield with just one tool. Made with a durable, reinforced, non-abrasive foam head, the Snow Broom safely and effectively sweeps snow off your car without scratching the glass surfaces. Plus, its telescoping pole extends from 33 to 52 inches to provide maximum reach with minimal strain. Weighing only 1.4 pounds, the Snow Broom is super easy to handle and stores neatly inside the trunk of your car with its built-in bracket holder. GET EQUIPPED® this winter with the Snow Joe® Snow Broom and clear out fast from tough winter messes.
SJEG700 - Snow Joe Spring-Loaded Impact-Reducing Steel Ice Chopper | 7-Inch x 5.5-Inch | Shock-Absorbing Handle
BREAK ICE SMARTER, NOT HARDER! Chip away those icy days with the Snow Joe 7-Inch Blade Ice Chopper. Built with a spring-loaded handle and a non-slip D-ring grip, the SJEG700 absorbs the shock of ice chopping to reduce the strain on both your wrists and shoulders! Its durable, 7-inch carbon steel chopper blade and its heavy-duty steel shaft offer control and precision to swiftly scrape, slice, dice and break through layers of tough ice. The rugged, reinforced D-ring handle provides a safe, secure grasp – even with gloves – and the lightweight 3.17 pound Ice Chopper ensures easy maneuverability and compact storage. It comes with a complete two-year warranty, too, for worry-free, season after season performance. So, when it comes to ice, don't play nice - Go With Joe® and Get Equipped®! The SJEG700 Snow Joe® Spring-Loaded Impact-Reducing Steel Ice Chopper with a 7-inch x 5.5-inch blade and Shock Absorbing Handle.
RJ205M - Snow Joe Telescoping Snow Shovel Roof Rake | 21-Foot Extension
ROOFER JOE TO THE RESCUE! Heavy snow and ice dams causing havoc on your house? Don't let Mother Nature ruin your roof. Prevent damage due to heavy snow loads piled onto your roof and save on costly repairs with Snow Joe® ROOFER JOE – a handy, easy-to-use and affordable roof rake that quickly lets you remove snow, wet leaves and other debris from your roof while standing safely on solid ground. Roofer Joe Model RJ205M boasts an innovative Twist-n-Lock telescoping pole that quickly and easily adjusts from 6.2 feet to a whopping 21 feet for even greater overhead reach to quickly and safely lighten the load without the need for a ladder. And at just 5.7 lbs, Roofer Joe is ultra-lightweight, durable and easy to handle. Its oversized aluminum blade rake head measures 6-inches wide by 25-inches long for maximum clearing power with each pass. Get Equipped® for winter cleanup with Roofer Joe and defend your home when winter strikes!
Download Manuals
Features
SJ-SHLV20 - Snow Joe Shovelution Strain-Reducing Snow Shovel | 20-Inch | Spring Assisted Handle
Durable, impact-resistant blade
Comfortable, ergonomic D-ring handle grips
Spring-assist handle acts as a fulcrum changes mechanics of shoveling, reduces strain
Gives lifting leverage to the lower hand to lift greater loads with ease
Ergonomic design improves posture, reduces the need to bend
Wide 20 in. shovel blade with aluminum wear strip
SJBLZD - Snow Joe Original 2-In-1 Telescoping Snow Broom + Ice Scraper
Patented dual-purpose design to tackle snow and ice (Patent No: US 8,464,387 B1)
Durable non-abrasive foam head pushes heavy, wet snow off cars without damaging glass
Built-in ice scraper quickly clears ice build-up on windshields
Auto-locking telescoping pole adjusts from 33 in (84 cm) to 52 in. (132 cm) to extend reach
Weighs only 1.4 lbs for easy handling
SJEG700 - Snow Joe Spring-Loaded Impact-Reducing Steel Ice Chopper | 7-Inch x 5.5-Inch | Shock-Absorbing Handle
Shock absorbing, spring-loaded handle reduces strain
Durable poly handle and non-slip D-ring grip
Blade size: 7" wide x 5.5" high
Handle length: 39.7"
Weight: 3.17 lbs
RJ205M - Snow Joe Telescoping Snow Shovel Roof Rake | 21-Foot Extension
Ideal for removing snow, wet leaves and debris from roofs without climbing
Twist-n-Lock telescoping pole quickly adjusts from 6.2 to 21 ft for extended reach
Ultra-lightweight construction (only 5.7 lbs!) for easy handling
Oversized aluminum blade rake head measures 6 in. x 25 in. for maximum clearing