YOU ARE $125.00 AWAY FROM FREE U.S. SHIPPING!
YOU ARE $125.00 AWAY FROM FREE U.S. SHIPPING!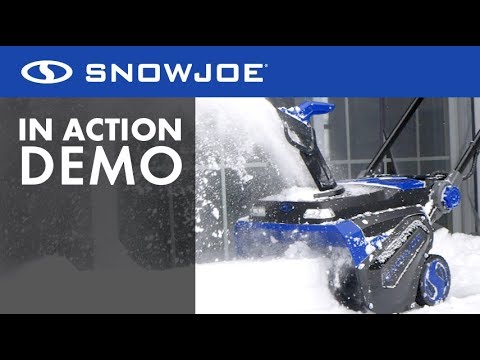 +6
Ranked Top Performing Battery-Powered Snowblower, Scoring Excellent for both Surface Cleaning and Handling, Consumer Reports 2020.
Snow Joe iON100V-21SB-CT 100-Volt iONPRO Cordless Brushless Variable Speed Single Stage Snowblower | 21-Inch | Tool Only
Ships Free
Ships Free
PAY AS LOW AS:
$4510
/Month
with
with
2 YEAR WARRANTY
ADD A PROTECTION PLAN:
Ships Free
There is a newer model of this item:
WAGE WAR ON WINTER. Meet the newest winter-weather warrior in our unbeatable line-up of snow-clearing tools: the iON100V-21SB-CT 100-Volt 21-Inch Cordless Snow Blower from SNOW JOE®.
iON100V-21SB starts up instantly with a simple touch of the integrated push-button display, and is powered by the latest revolution in the legendary iON series, featuring high-capacity 100-volt lithium-ion battery cells that deliver no-fade power + performance, with zero carbon emissions for cleaner air.
Equipped with a variable-speed heavy-duty 2-blade paddle auger featuring auger-assisted drive, iON's powerful 2800 W brushless motor shreds up to 1067 lbs/min, clearing a path 21-inches wide and 12-inches deep with each pass. Plus, the integrated scraper bar at the base of the unit lets you clear to the ground without damaging your deck, driveway or pavement!
Put the powder precisely where you want it! iON100V-21SB's digital control 180º auto-rotate chute lets you throw snow up to 30-feet away in any direction at the push of a button. And when you need to brighten up your nighttime clearing, iON100V's integrated dual, 5-watt LED headlights light the way to a clean driveway.
And when the snow's been cleared and the work is done, the completely collapsible handle folds down neatly for compact storage and transport, so iON100V never takes up too much room in your garage or shed.
Plus, every iON100V-21SB comes backed by SNOW JOE's full two-year warranty, for reliable performance, season after season.
When winter strikes, GET EQUIPPED® and fight back with 100-volts of snow-shredding power — and Go With Joe®: The iON100V-21SB 100-Volt 21-Inch Cordless Snow Blower from SNOW JOE®.
Voted Most Powerful Cordless Snowblower, Popular Mechanics, January 2020
Download Manuals
Features
TOOL ONLY: NO BATTERY OR CHARGER INCLUDED. Battery charger options sold separately at snowjoe.com
Powerful 2800 W brushless motor increases battery efficiency, maximizes motor performance, decreases noise vibration, and extends motor life
Auger-assisted drive helps propel the unit forward through snow to clear more with less effort
Dual 5 W LED headlights provide increased visibility for nighttime snow removal
Integrated push-button display: 180º chute rotation, LED light, power ON/OFF, and variable speed control dial
2-blade paddle auger clears a path 21" wide x 12" deep in a single pass
Maximum auger speed moves up to 1067 lbs/min
100V battery features carrying handle, integrated USB ports and onboard LED emergency light ideal for camping power failures
Weight (battery installed): 58.9 lbs
Certifications/warranty: TUV/2-year warranty