YOU ARE $125.00 AWAY FROM FREE U.S. SHIPPING!
YOU ARE $125.00 AWAY FROM FREE U.S. SHIPPING!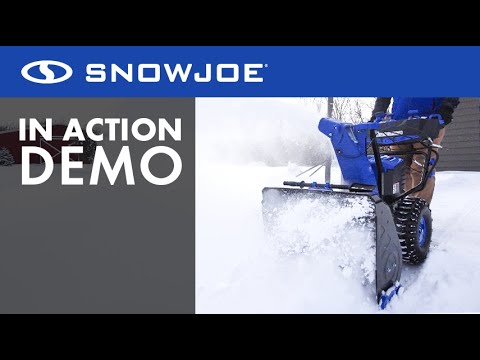 +10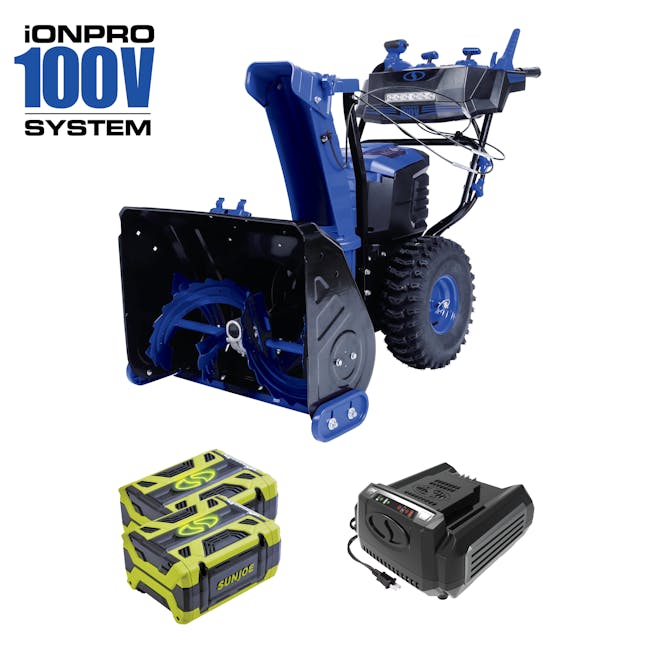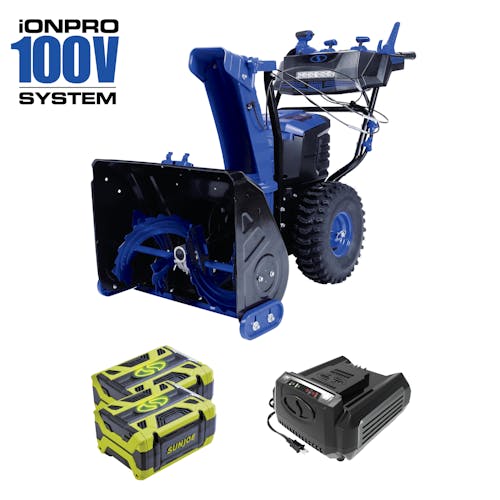 Snow Joe iON100V-24SB 100-Volt iONPRO Cordless Dual-Stage Snow Blower | 24-Inch | W/ 2 x 5.0-Ah Batteries and Charger
There is a newer model of this item:
SUPERCHARGE YOUR SNOW DAY. The next-generation winter-weather warrior meets the legendary line-up of iONPRO snow-clearing tools with the 100-Volt 24-Inch Cordless Dual-Stage Snow Blower from SNOW JOE. Only iONPRO combines the power of gas with the convenience of a battery for unparalleled snow-shredding power. Driven by the latest revolution in the iON series, iONPRO features two high-capacity 100-volt, 5.0 Ah lithium-ion cells that deliver no-fade power + performance, with zero carbon emissions for cleaner air.
iONPRO's 4000 Watt brushless plowing motor is engineered for efficiency, providing you with maximum performance and extended life to keep your snow blower running stronger, longer. And the self-propelled, 500 Watt brushless drive motor saves you time and energy, moving the unit forward to minimize the strain of pushing through heavy, dense snow. Simply set the drive speed to the perfect pace and go! iON's control panel gives you automatic speed control, chute rotation, reverse drive, and an LED headlight — all at your fingertips.
Equipped with a variable-speed, heavy-duty 2-blade serrated steel auger, iON's powerful 4000 watt brushless motor effortlessly clears a path 24-inches wide and 17.5- inches deep in a single pass. Just a touch is all it takes, and iON's dual serrated steel blades shreds through up to clear over 3200 square feet of snow on a single charge. Put the powder precisely where you want it — SNOW JOE's 180º auto-rotate chute lets you throw snow up to 52-feet away in any direction at the push of a button.
Trek through tough terrain and slick ice without worry. The 15-inch wide textured TracAssist rubber tires provide increased traction, for slip-free and slide-free performance every time. And the scraper bar at the base of the unit lets you clear right to the ground for a clean path on the first pass! Then, after dark, iON's six 3-Watt LED headlights light up the night for safer clearing. Plus, every iON snow blower is backed by Snow Joe's complete two-year warranty, for reliable performance, season after season. So, supercharge your snow day with 100-volts of snow-shredding power —
The iON100V24SB 100-Volt 24-Inch Cordless Dual-Stage Snow Blower from SNOW JOE®. Get Equipped®.
Download Manuals
Features
Equipped with powerful 100-Volt 5.0 Ah batteries featuring exclusive ECOSHARP® technology
Powerful 4000 W brushless motor increases battery efficiency, maximizes motor performance, decreases noise + vibration, and extends motor life
500 watt drive motor propels the unit forward through snow to clear more with less effort
Six 3 W LED headlights provide increased visibility for nighttime snow removal
Integrated control panel: 180º chute rotation, LED light, power ON/OFF, variable speed control, and reverse
2-blade paddle auger clears a path 24" wide x 17.5" deep in a single pass
100V battery features carrying handle, integrated USB ports and onboard LED emergency light ideal for camping + power failures
Weight (batteries installed): 141 lbs
Certifications/warranty: CSA/2-year warranty