YOU ARE $125.00 AWAY FROM FREE U.S. SHIPPING!
YOU ARE $125.00 AWAY FROM FREE U.S. SHIPPING!





+2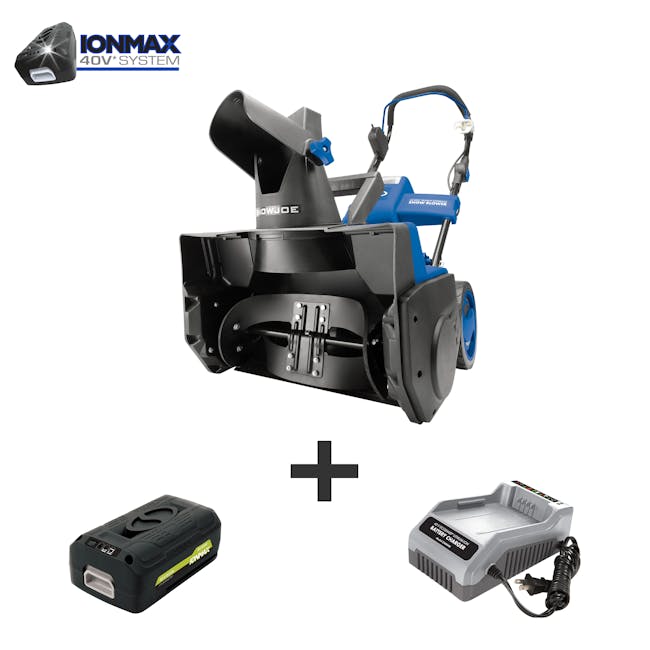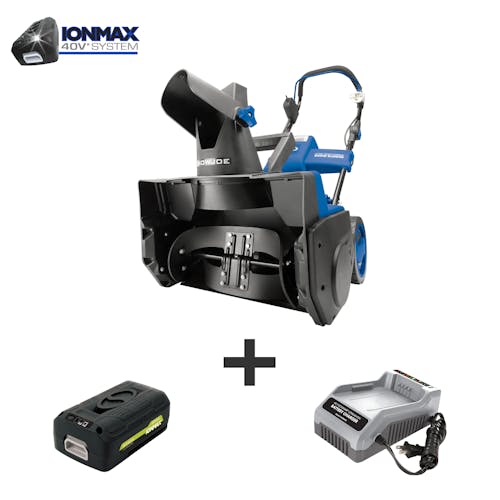 Snow Joe iON18SB-PRO-RM 40-Volt iONMAX Cordless Single Stage Snow Blower Kit | 18-Inch | Brushless | W/ 5.0-Ah Battery and Charger (Certified Refurbished)
Ships Free
Ships Free
PAY AS LOW AS:
$2711
/Month
with
with
90 DAY WARRANTY
90 DAY WARRANTY
Ships Free
CUT THE CORD®. Meet iON's big brother - iON PRO, an amped up version of the original battery-powered snow blower. Like iON, the iON PRO 18-inch snow blower is ideal for clearing snow off driveways, sidewalks and decks without the hassle of gas, oil, tune-ups, frustrating pull-cords or tangled extension cords. And, with an upgraded interchangeable and rechargeable 40 V* 5.0 Ah EcoSharp® PRO lithium-ion battery, iON PRO can get larger snow jobs done without waking the neighbors or polluting the air with toxic emissions. This cordless dynamo is also engineered with a powerful 500 W brushless motor for increased battery efficiency, optimal motor performance and extended motor life to keep iON PRO blowing strong season after season.
iON PRO starts instantly with a simple push of a button and its adjustable handle maximizes user comfort during use. Equipped with a steel auger and 2 heavy-duty rubber blades, iON PRO moves up to 495 pounds of snow per minute, clearing a path 18-inches wide by 8-inches deep with each pass. Plus, the scraper bar at the base of the unit lets you clear right to the ground without damaging your deck or pavement. Featuring a 180° auto-rotate chute that rotates instantly with the push of a switch, iON PRO directs the snow stream up to 20 feet away. Compared to heavier and more cumbersome gas machines, iON PRO weighs only 32 lbs, so you can easily carry it onto your snow-filled deck to clear out fast. For nighttime snow removal, iON PRO features an integrated LED headlight that quickly switches on to increase visibility. GET EQUIPPED® this winter with the Snow Joe® iON PRO – the easy, convenient and cordless solution to get snow out of your way on your snow day.
*Refurbished unit
Download Manuals
Features
Lightweight design (only 32 lbs) to easily clear sidewalks, driveways and decks
40 V 5.0 Ah EcoSharp® PRO rechargeable lithium-ion battery is compatible with all iON tools
No pull cords, gas, oil, tune-ups, carbon emissions or tangled extension cords
Steel auger with 2 rubber blades moves up to 495 lbs of snow per minute; cuts a path 18 in. wide by 8 in. deep without damaging surface
180° auto-rotate directional chute throws snow up to 20 ft
3 W LED headlight provides increased visibility for nighttime snow removal
Powerful 500 W brushless motor optimizes motor performance and increases battery efficiency
ETL approved; Refurbished 90-Day Warranty; Includes battery and charger (Energy Star certified)
Minor cosmetic scratches and scuffs are possible