YOU ARE $125.00 AWAY FROM FREE U.S. SHIPPING!
YOU ARE $125.00 AWAY FROM FREE U.S. SHIPPING!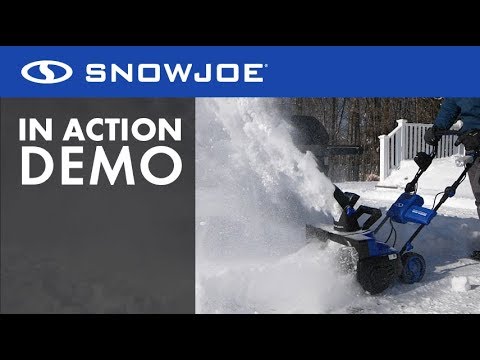 +8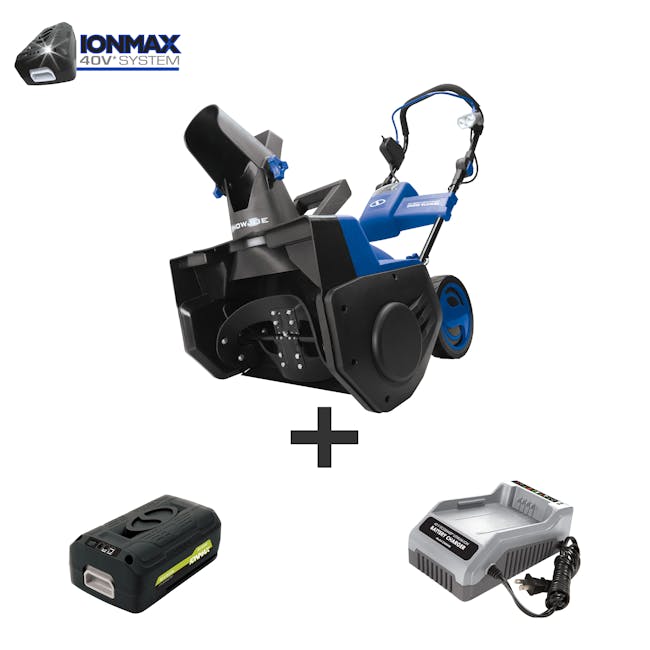 Snow Joe iON21SB-PRO-RM 40-Volt iONMAX Cordless Single Stage Snow Blower Kit | 21-Inch | W/ 5.0-Ah Battery and Charger (Certified Refurbished)
CUT THE CORD®. Meet iON's big brother – iON21SB-PRO-RM, an amped-up, deluxe-size version of the original battery-powered snow blower. The iON21SB-PRO-RM 21-inch unit is ideal for clearing large driveways and walkways without the hassle of gas, oil, tune-ups, frustrating pull-cords or tangled extension cords. And, with an upgraded interchangeable and rechargeable 40 V iONMAX 5.0 Ah  lithium-ion battery, iON21SB-PRO-RM can get larger snow jobs done without waking the neighbors or polluting the air with toxic emissions. This cordless dynamo is also engineered with a powerful 600 W brushless motor for increased battery efficiency, optimal motor performance and extended motor life to keep iON21SB-PRO-RM blowing strong season after season.
iON21SB-PRO-RM starts instantly with a simple push of a button and its adjustable handle maximizes user comfort during use. Equipped with a steel auger and 2 heavy-duty rubber blades, iON21SB-PRO-RM moves up to 660 pounds of snow per minute, clearing a path 21-inches wide by 8-inches deep with each pass. Plus, the scraper bar at the base of the unit lets you clear right to the ground without any surface damage. Featuring a 180° auto-rotate chute that rotates instantly with the push of a switch, iON21SB-PRO-RM directs the snow stream up to 20 feet away. Compared to heavier and more cumbersome gas machines, iON21SB-PRO-RM weighs only 36 lbs, so you can easily maneuver it around your property. For nighttime snow removal, iON21SB-PRO-RM features an integrated LED headlight that quickly switches on to increase visibility. GET EQUIPPED® this winter with the Snow Joe® iON21SB-PRO-RM – the easy, convenient and cordless solution to get snow out of your way on your snow day.
Download Manuals
Features
Refurbished - 90-Day Warranty from Snow Joe LLC.
Lightweight design (only 36 lbs) to easily clear large driveways and walkways
Featuring exclusive EcoSharp® technology for no fade power and maximum performance
40 V iONMAX 5.0 Ah rechargeable lithium-ion battery is compatible with all iON tools
No pull cords, gas, oil, tune-ups, carbon emissions or tangled extension cords
Steel auger with 2 rubber blades moves up to 660 lbs of snow per minute; cuts a path 21 in. wide by 8 in. deep without damaging surface
180° auto-rotate directional chute throws snow up to 20 ft
3 W LED headlight provides increased visibility for nighttime snow removal
Powerful 600 W brushless motor increases battery efficiency, maximizes motor performance, decreases noise and vibration and extends motor life
ETL approved; Includes battery and charger (Energy Star certified)
Minor cosmetic scratches and scuffs are possible