YOU ARE $125.00 AWAY FROM FREE U.S. SHIPPING!
YOU ARE $125.00 AWAY FROM FREE U.S. SHIPPING!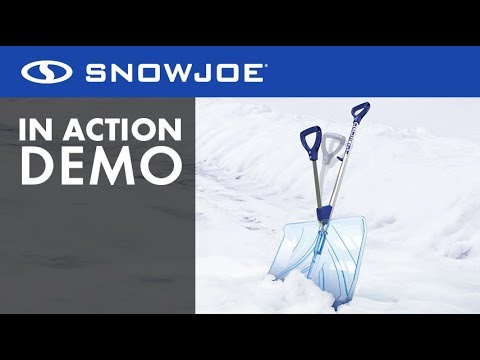 +26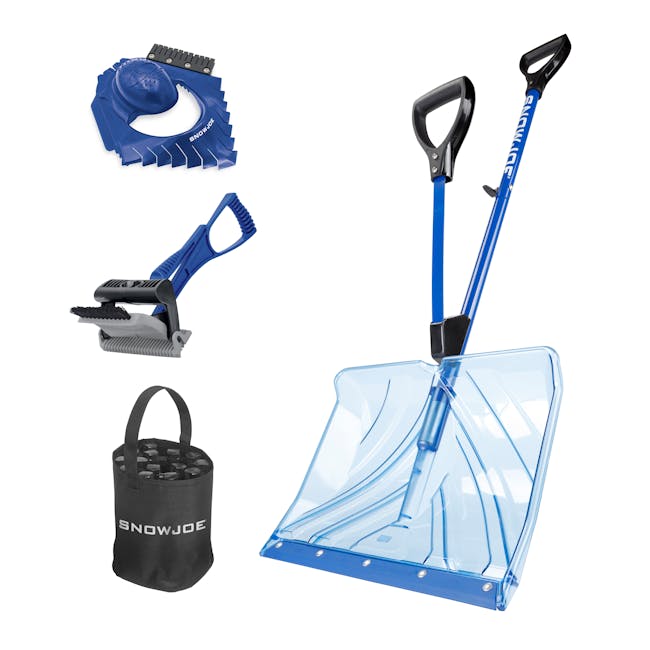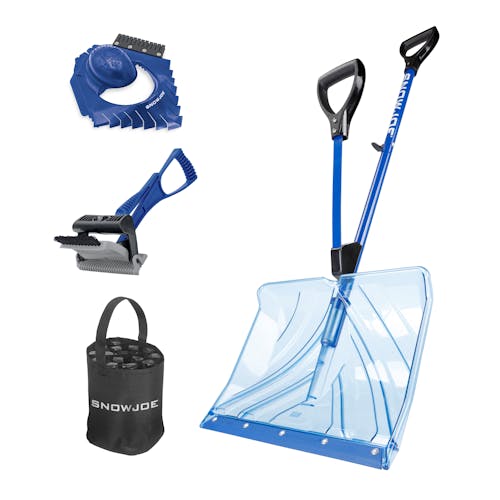 Snow Joe QUICKPICK-BDL Quick Snow Clearing Bundle | TrackAssist | IceDozers | Ergonomic Shovel
ATJ651 Thermoplastic Rubber TrackAssist
Don't call roadside assistance, Go with Joe's® TrackAssist ATJ651. This simple system guides your vehicle to safety, providing a non-slip track in ice, snow, mud and sand. The ATJ651 is crafted from heavy duty thermoplastic rubber to handle cars and trucks. Wedge the TrackAssist between your car's tire and the slippery surface, then drive ahead to regain traction.
SJEG-DZ IceDozer® Ice and Snow Scraper Tool
Equipped with 6 different sides for multiple uses, the IceDozer provides a full 360º of ice-decimating technology in one, compact, handheld tool. The articulated front-facing, hinged blades conform to your windshield and score + soften tough ice, while the 2.8-inch sharpened edge side scraper easily penetrates ice to lift it away. The surface scrapers shaves away frost and snow, and the innovative 3.3-inch squeegee brush clears away sleet, slush and dirt + debris to keep your windshield clean year-round. High-impact teeth concentrate cracking force and swiftly shatters even the thickest ice. Plus, the built-in wiper notch is specially designed to clean wiper blades of icy build-up in a single swipe. Weather winter's worst and GET EQUIPPED® with the innovative IceDozer 360º Ice Scraper from SNOW JOE®.
SJEG-DZ-PRO IceDozer® and Snow Scraper with Bristle Brush
Shred through frost and slice through ice with the IceDozer PRO Ice + Snow Windshield Scraper from SNOW JOE®. The heavy-duty construction powers through ice and snow and helps you weather winter's worst. The tough, hinged dozer blade and rugged surface scraper teeth score and soften ice, and the ergonomic power grips provide maximum leverage to scrub away frost. The removable brush and mini scraper sweep away slush and snow from windows and mirrors and the built-in wiper notch is specially designed to clear sleet and snow from frozen wiper blades.
SJ-SHLV02 Strain-Reducing Indestructible Snow Shovel W/ Spring Assisted Handle
This winter, experience the cutting-edge in snow clearing technology with SNOW JOE's SHOVELUTION, the ultimate strain-reducing snow shovel with spring-assist handle. Now you can shovel smarter, not harder to quickly and easily get snow out of your way. No more heavy lifting with a traditional shovel! No more aching back! Shovelution greatly reduces the effort, strain and potential injury involved in shoveling, using the powerful muscles of your upper body to do the lifting and throwing, and sending lifting leverage to the lower hand – to reduce back strain by up to 30%, so you can lift more, and throw farther. With SHOVELUTION's patented dual-handle spring-loaded system and durable 18" polycarbonate blade, you're always ready for the next load. SHOVELUTION captures the expended energy from throwing the snow, and rapidly recoils to instantly reset the shovel.  And, Snow Joe's SHOVELUTION isn't just for winter weather. Use it to easily lift loads of mulch around the garden come spring.
Download Manuals
Features
TrackAssist provides maximum traction in ice, snow, mud and sand
TrackAssist features durable TPR (thermoplastic rubber)
Track Assist rolls up for easy storage
SJEG-DZ features 360º of ice-shredding technology – clears ice and frost in any direction.
SJEG-DZ includes articulated front-facing blades, side scraper blade, ice teeth + wiper notch, squeegee brush, and surface scrapers
DJEG-DZ is safe on glass and windshields — won't scratch or damage surface
SJEG-DZ features ergonomic, non-slip textured grip to reduce wrist strain
SJEG-DZ is sturdy, shatter-resistant design for years of reliable use
SJEG-DZ is compact, lightweight, and easy to store in the glove compartment
SJEG-DZ-PRO features heavy-duty, ice-decimating IceDozer™ blade powers through the toughest ice build-up
SJEG-DZ-PRO won't damage windshield, safe on glass
SJEG-DZ-PRO features surface scrapers shave frost and snow while the sturdy teeth crack ice
SJEG-DZ-PRO has a detachable mini scraper with brush sweeps slush and sleet from windows and mirrors
SJEG-DZ-PRO features built-in ice notch, which quickly clears frozen windshield wipers of sleet and snow
SJEG-DZ_PRO features 3 power grips provide a secure, non-slip grip for maximum leverage
SJ-SHLV02 features clear, impact-resistant polycarbonate blade
SJ-SHVL02 designed with comfortable, ergonomic D-ring handle grips
SJ-SHVL02 takes the work off your back with spring-assist handle – changes mechanics of shoveling, reduces strain
SJ-SHVL02 features wide 18-inch shovel blade with heavy-duty poly wear strip