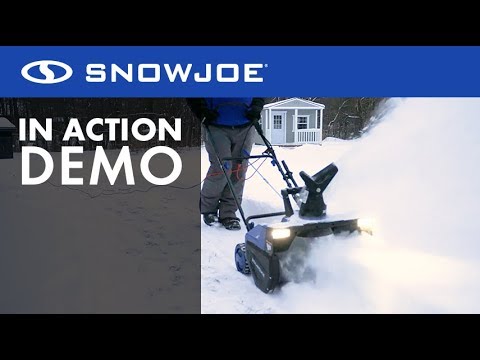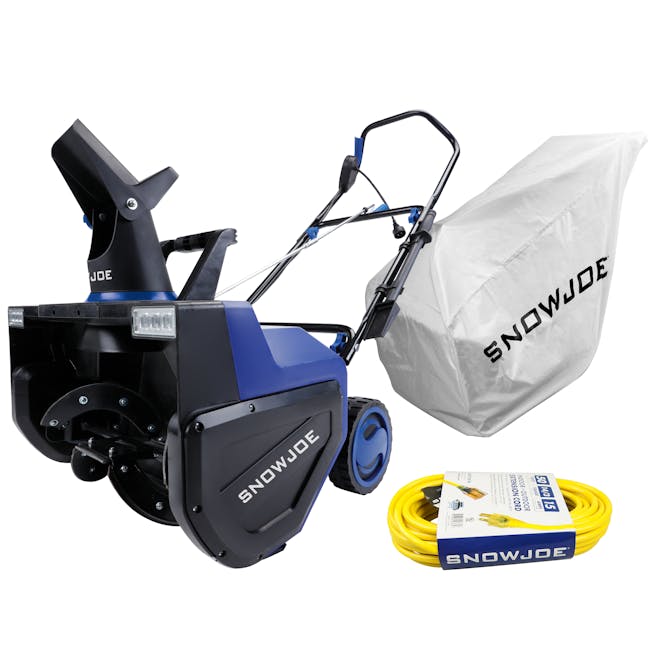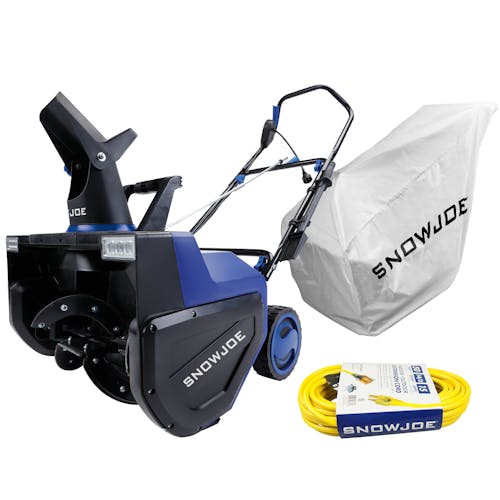 Snow Joe SJ627E-BDL Electric Snow Thrower Bundle | 22-Inch | 15-Amp | W/ Dual LED Lights, Protective Cover, and Extension Cord
MAX POWER + MAX PERFORMANCE! Our engineers have maxed out this model with the most power and widest clearing width for best-in-class performance in an electric unit. Snow Joe's eco-friendly SJ627E snow thrower combines the power of gas with the performance of an electric for unlimited snow-shredding power. The 15-amp unit is ideal for clearing large driveways and walkways without the hassle of gas, oil, tune-ups, frustrating pull-cords or tangled extension cords, and starts instantly and reliably with the push of a button. Simply plug in, squeeze the trigger - and go! Equipped with an all-steel auger, 4-ply rubber padding, and 4 heavy-duty rubber-tipped blades, SJ627E moves a massive amount of snow - up to an incredible 25 tons per hour - while clearing a path up to 22-inches wide by 13-inches deep in a single pass. SJ627E features an adjustable chute that rotates 180 degrees to direct the snow stream up to 25 feet away, and features a durable scraper bar at the base of the unit to clear to the ground without damaging your deck, driveway or pavement. Compared to heavier and more cumbersome gas machines, SJ627E weighs just 35 lbs, so you can easily maneuver it around your property, or carry it to clear snow from the deck. And for safer nighttime snow removal, SJ627E features dual integrated LED headlights to brighten the way for increased nighttime visibility.
The SJCVR-24 cover from Snow Joe offers all-season protection for electric single stage snow blowers 24-IN in width. The cover is made of heavy duty fabric that won't shrink or stretch and is water resistant. The SJCVR-24 protects your electric snow blower investment against dirt, ice, snow, rain, sun damage, tree sap and bird droppings. You can cover your unit fully assembled for quick access during the season or fold the snow blower handles for long term storage. Putting on and taking off the cover is effortless in any weather condition.
The Snow Joe PJEXT50-B 50-Foot (SJTW) extension cord is designed to withstand the toughest elements. The cord's outer jacket provides superior resistance to oil, grease, moisture and abrasion is extremely flexible. Made from PVC, this UL listed cord can weather temperatures from a below freezing -40°F to 167°F. It's fluorescent yellow color makes this cord easy to identify during use. The Power Joe® indicator plug glows when the cord has power flowing. PJEXT50-B is rated at 15 AMPs to deliver the maximum amount of power.
Download Manuals
Features
Ideal for clearing snow off larger driveways and walkways
No gas, oil or tune-ups make it effortless to start and maintain
Powerful 15-amp electric motor moves up to 25 tons/hr. of snow
All-Steel auger cuts 22 in. wide by 13 in. deep path with each pass
180° adjustable directional chute throws snow up to 25 ft
Dual LED headlamps brighten the way to clear paths at night
Chute clean-out tool to remove snow build-up
Compact wheels for easy maneuverability in winter-weather conditions
Protects against snow, ice, sun damage, rain, dust, tree sap and birds
Heavy-duty fabric of protective cover won't shrink or stretch
50 Foot SJTW indoor/outdoor extension cord
Extension Cord Made to withstand extreme temperatures from -40°F to 167°F
Power Joe® indicator plug glows when cord has power
Rugged 3-Conductor, 14-gauge wire, with 15-amp rating made of durable PVC
Extension Cord features Fluorescent yellow color for superior visibility
ETL approved; Full 2-year warranty