YOU ARE $125.00 AWAY FROM FREE U.S. SHIPPING!
YOU ARE $125.00 AWAY FROM FREE U.S. SHIPPING!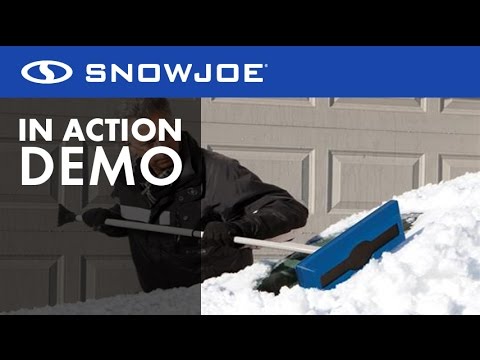 +12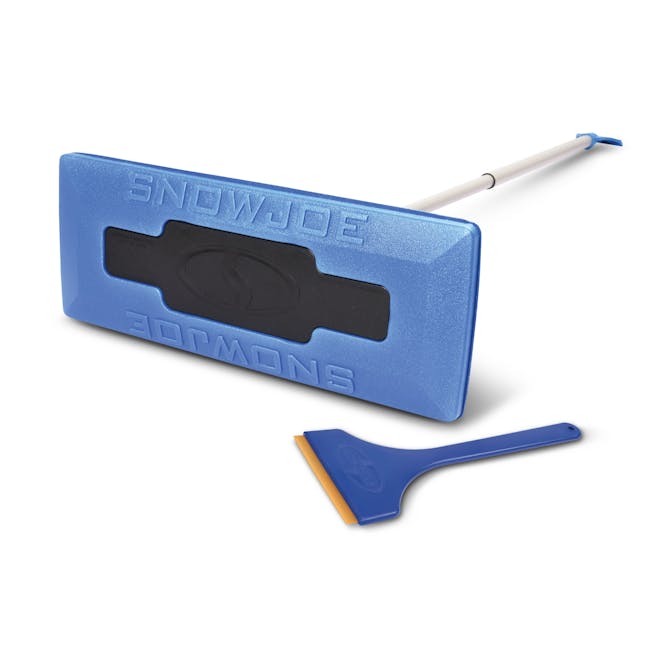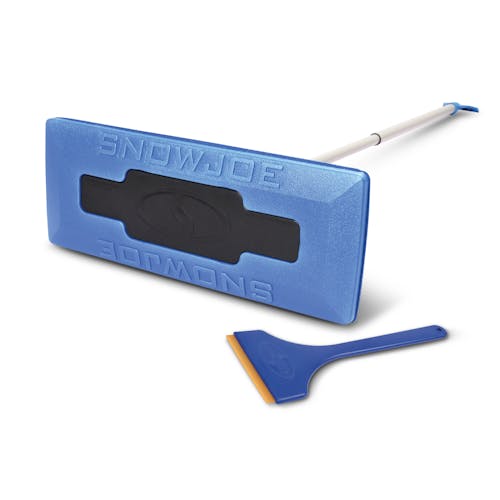 Snow Joe Telescoping Snow Broom + Brass Ice Scraper Bundle | 18-inch Foam Head
2 YEAR WARRANTY
ADD A PROTECTION PLAN:
SJBLZD - Snow Joe The Original 2-In-1 Telescoping Snow Broom + Ice Scraper | 18-inch
SNOW PROBLEM! The Snow Joe® Snow Broom model SJBLZD makes quick work out of the snow piled on the roof, hood, trunk or windshield of your car. Its patented dual-purpose design features a broom head on one end and a built-in ice scraper on the other, so you can quickly push heavy, wet snow off your car, then clear away the ice build-up on your windshield with just one tool. Made with a durable, reinforced, non-abrasive foam head, the Snow Broom safely and effectively sweeps snow off your car without scratching the glass surfaces. Plus, its telescoping pole extends from 33 to 52 inches to provide maximum reach with minimal strain. Weighing only 1.4 pounds, the Snow Broom is super easy to handle and stores neatly inside the trunk of your car with its built-in bracket holder. GET EQUIPPED® this winter with the Snow Joe Snow Broom and clear out fast from tough winter messes
SJEG01 - Snow Joe Brass Blade Ice Scraper
The Snow Joe® Edge ice scraper with brass blade is a must-have for winter survival. This handy winter tool features a durable 4.8-inch brass blade that effectively cuts through frost and ice on car windows and windshields in just one swipe. And, since brass is softer than glass, you'll easily scrape through light or heavy frost or icy frozen mixes without leaving a scratch. Inefficient plastic scrapers require multiple passes and still don't get the job done. But, with the Snow Joe Edge, you'll make quick work out of any ice that gets in your way. Its comfort grip handle makes it easy to use and it's compact enough to fit neatly inside your glove compartment. Stay at the cutting edge this winter with the Snow Joe Edge—your reliable winter tool for any ice or frost emergency.
Download Manuals
Features
SJBLZD - Snow Joe The Original 2-In-1 Telescoping Snow Broom + Ice Scraper | 18-inch
Patented dual-purpose design to tackle snow and ice (Patent No: US 8,464,387 B1)
Durable non-abrasive foam head pushes heavy, wet snow off cars without damaging glass
Built-in ice scraper quickly clears ice build-up on windshields
Auto-locking telescoping pole adjusts from 33 in (84 cm) to 52 in. (132 cm) to extend reach
Weighs only 1.4 lbs for easy handling
SJEG01 - Snow Joe Brass Blade Ice Scraper
Effectively removes frost and ice from car windows and windshields
Durable 4.8 in. (12.2 cm) brass blade will not scratch glass
Easy grip handle makes ice removal effortless
Compact and lightweight (only 2.8 oz)
Stores conveniently in glove compartment
Measures 4.8 in. (12.2 cm) wide x 12.5 in. (31.8 cm) long