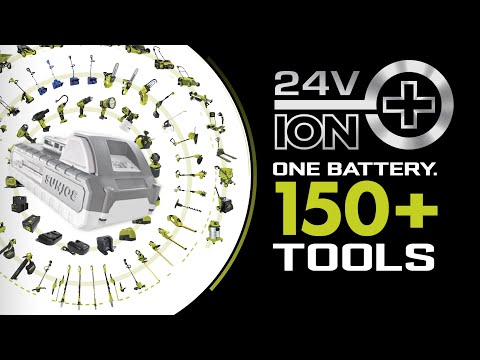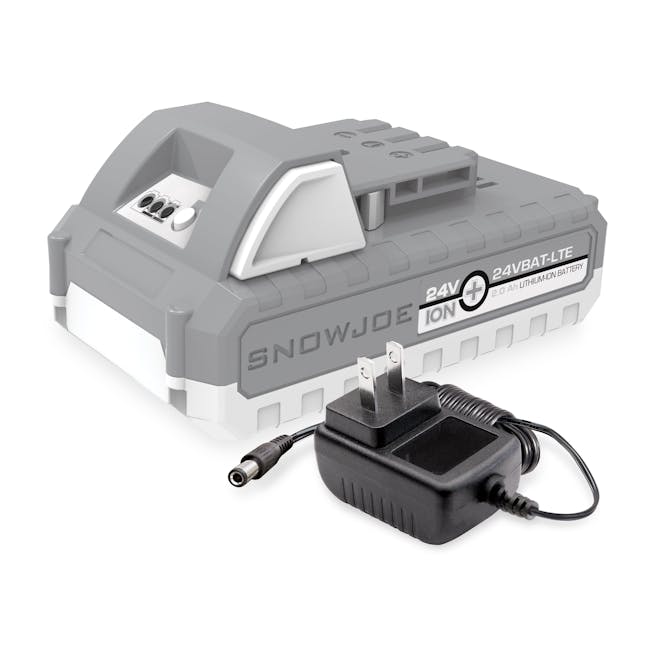 Snow Joe + Sun Joe CERTIFIED AUTHENTIC 24V-2AMP-SK1 24-Volt* IONMAX Starter Kit | W/ 2.0-Ah Battery + Charger
*Initial no-load voltage, at full charge, peaks at 24V; nominal voltage with typical load is 21.6V
Battery Option: W/ 2.0-Ah Battery + Standard Charger
POWER UP AND TAKE CHARGE The IONMAX 24V-2AMP-SK1 starter kit is a great choice for joining the 24V* IONMAX tool system, or even expanding an existing arsenal! Including both a 24VBAT-LTE 2.0-Ah battery and a 24V-CHRG-AC Battery charger, this starter kit has everything needed to start working - just add tools!
24BAT-LTE
Power your cordless iON tools the eco-friendly way with the 24-volt* IONMAX 24VBAT-LTE lithium-ion battery. Compatible with all Snow Joe® + Sun Joe® 24V* IONMAX models, the 24VBAT-LTE features high capacity 2.0 Ah lithium-ion cells that deliver no-fade power for maximum job performance.
Simply insert IONMAX LITE into your 24-volt* tool of choice and power up instantly without having to mess with gas, oil, pull-cords, or tangled extension cords! Breathe easily and confidently while working with your 24VBAT-LTE since rechargeable battery pack provides cleaner, emission-free air during operation. Although run-times will vary depending on the tool used and the job performed, IONMAX LITE charges up for the task in just 80 minutes max.
The fuel gauge indicator lights on IONMAX LITE will also let you easily monitor your battery's charge capacity while it is in use. When it is time to charge, simply slide the 24VBAT-LTE into its dedicated 24VCHRG-AC or 24VCHRG-QC charger. The 24VBAT-LTE holds its charge well in storage and will retain up to 65% charge for six months.
Easy, convenient, reliable, and super-lightweight (only 1 lbs!), the 24-volt* IONMAX 24VBAT-LTE is the smart way to battery pack for your power trip.
24CHRG-AC
Take command of your cordless power tools with the 24VCHRG-AC IONMAX lithium-ion battery charger, designed to work specifically with SNOW JOE's 24-volt* IONMAX lithium-ion batteries. When the battery indicator light on your 24-volt* battery indicates diminished battery capacity, simply plug in, power up, and get back to your task in next to no time! Or better yet, buy a second battery, so one is always powered up and ready to tackle your to-do list. Equipped with thermal, over-voltage, and over-current circuit protection, the 24VCHRG-AC charger safely charges and recharges your IONMAX battery without any risk of battery pack damage. IONMAX battery and 24VCHRG-AC charger provide an eco-friendly means to safely and reliably power your 24-volt* cordless yard + garden tools..
Features
[CERTIFIED AUTHENTIC]: Official Snow Joe + Sun Joe battery and charger with valid markings of authenticity. Use of non-authentic accessories with your Snow Joe + Sun Joe tool will void your tool's warranty.
24V* EXCLUSIVE ECOSHARP® LITHIUM-ION TECHNOLOGY: High capacity cells with no-fade power, ensuring maximum job performance
NO MEMORY EFFECT: Enables you to charge whenever you want without having to drain the battery or wait for full charge before use
CORD-FREE OPERATION: No need for gas, oil, tune-ups, pull-cords, or tangled extension cords!
ECO-FRIENDLY: Produces zero emissions, contributing to cleaner air
RELIABLE PERFORMANCE: 2.0 Ah (48 Wh) performance
FOR USE WITH ALL SNOW JOE® AND SUN JOE® CORDLESS 24V* IONMAX MODELS: Broad compatibility with the range of Snow Joe and Sun Joe products
24-VOLT* MAX LITHIUM-ION QUICK CHARGER: Rapid charging technology to keep your tools powered up
INITIAL NO-LOAD VOLTAGE, PEAKS AT 24 VOLTS: When fully charged, the initial no-load voltage peaks at 24 volts; nominal voltage under typical load is 21.6 volts
THERMAL, OVER-VOLTAGE, OVER-CURRENT CIRCUIT PROTECTION: Built-in safeguards to prevent overheating and electrical overloads
ETL CERTIFIED/ 2 YEAR WARRANTY: Certified by ETL, Includes Snow Joe's 2 Year Warrant