YOU ARE $125.00 AWAY FROM FREE U.S. SHIPPING!
YOU ARE $125.00 AWAY FROM FREE U.S. SHIPPING!




+2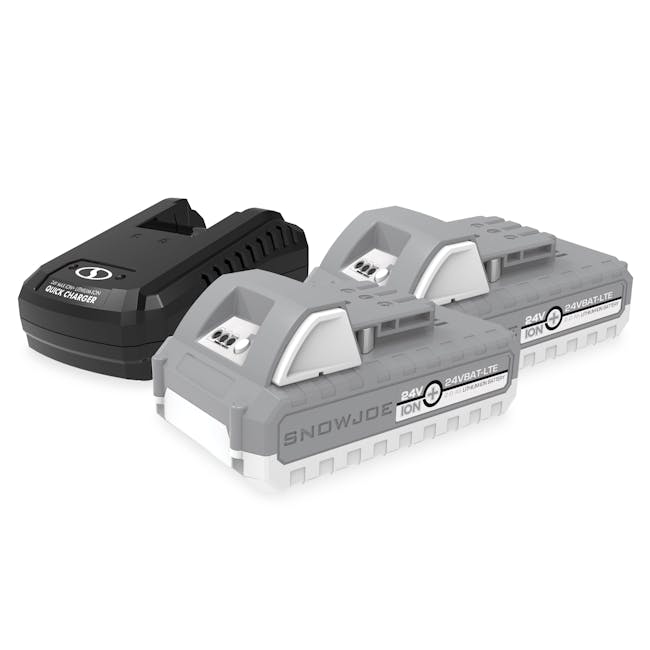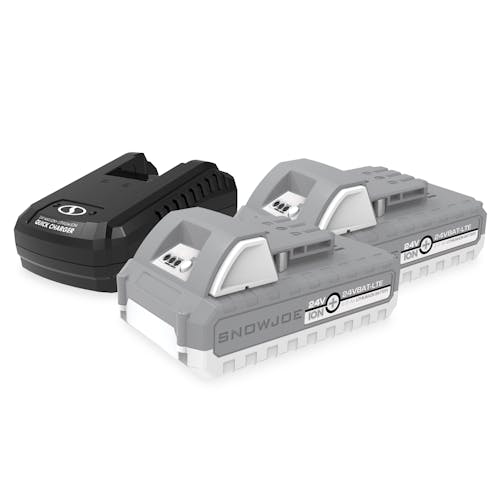 Snow Joe + Sun Joe 24V-2AMP-SK2 24-Volt iON+ Starter Kit | W/ 2x 2.0-Ah Batteries + Quick Charger
PAY AS LOW AS:
$985
/Month
with
with
2 YEAR WARRANTY
ADD A PROTECTION PLAN:
Battery Option: W/ 2 x 2.0-Ah Batteries + Quick Charger
POWER UP AND TAKE CHARGE The iON+ 24V-2AMP-SK2 starter kit is a great choice for joining the 24V iON+ tool system, or even expanding an existing arsenal! Including two 24VBAT-LTE 2.0-Ah batteries and a 24V-CHRG-AC Rapid Charger, this starter kit has everything needed to start working - just add tools!
24BAT-LTE
Power your cordless iON tools the eco-friendly way with the 24-volt iON+ 24VBAT-LTE lithium-ion battery. Compatible with all Snow Joe® + Sun Joe® 24V iON+ models, the 24VBAT-LTE features high capacity 2.0 Ah lithium-ion cells that deliver no-fade power for maximum job performance.
Simply insert iON+ LITE into your 24-volt tool of choice and power up instantly without having to mess with gas, oil, pull-cords, or tangled extension cords! Breathe easily and confidently while working with your 24VBAT-LTE since rechargeable battery pack provides cleaner, emission-free air during operation. Although run-times will vary depending on the tool used and the job performed, iON+ LITE charges up for the task in just 80 minutes max.
The fuel gauge indicator lights on iON+ LITE will also let you easily monitor your battery's charge capacity while it is in use. When it is time to charge, simply slide the 24VBAT-LTE into its dedicated 24VCHRG-AC or 24VCHRG-QC charger. The 24VBAT-LTE holds its charge well in storage and will retain up to 65% charge for six months.
Easy, convenient, reliable, and super-lightweight (only 1 lbs!), the 24-volt iON+ 24VBAT-LTE is the smart way to battery pack for your power trip. This kit includes two, ideal for giving you an extra battery to use while you charge or powering an iON+ tool that requires two batteries.
24CHRG-QC
PLUG IN POWER UP! Boost your battery in less time with the 24VCHRG-QC 24-Volt Quick Charger from SNOW JOE. Designed to work exclusively with SNOW JOE's iON+ 24-Volt lithium-ion batteries, 24VCHRG-QC powers up your rechargeable iON+ batteries (and EcoSharp® iBAT24 batteries) in as little as 30 minutes! Take command of your cordless power tools and get back to your task in less time. Or better yet, buy a second battery for unlimited runtime, so one is always ready to work while the other charges up! Equipped with thermal, over-voltage, and over-current circuit protection, 24VCHRG-QC safely charges and recharges your iON+ battery without any risk of battery pack damage. SNOW JOE'S iON battery and charger system provide eco-friendly means to safely and reliable power up your 24-volt cordless yard garden tools. 
Features
24 V exclusive EcoSharp® lithium-ion technology – High capacity cells with no-fade power for maximum job performance
No memory effect – Charge whenever you want without having to drain the battery or wait for full charge before use
Cord-free operation – No gas, oil, tune-ups, pull-cords, or tangled extension cords!
Eco-friendly – Zero emissions for cleaner air
Reliable performance – 2.0 Ah (48 Wh)
For use with all Snow Joe® and Sun Joe® cordless 24V iON+ models
24-volt max lithium-ion quick charger
Initial no-load voltage, when fully charged, peaks at 24 volts; nominal voltage under typical load is 21.6 volts
Thermal, over-voltage, over-current circuit protection
Built-in battery status indicator
Weight: 0.84 lbs
ETL Certified/2 year warranty
SK2 Kit includes 2 24V iON+ 2.0-Ah batteries and Single Port Rapid Charger