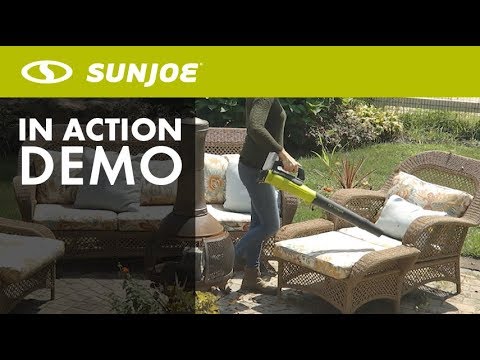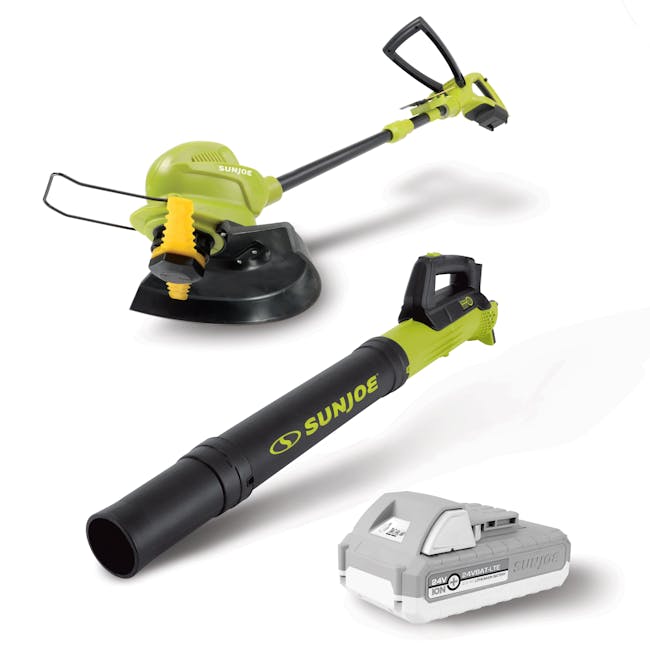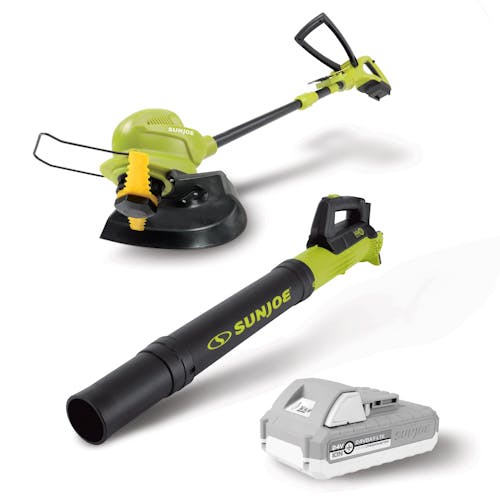 Sun Joe 24-Volt* IONMAX Cordless Leaf Blower + Grass Trimmer Bundle | 100-MPH Air Speed | 10-inch Trimmer | W/ 2.0-Ah Battery + Charger
*Initial no-load voltage, at full charge, peaks at 24V; nominal voltage with typical load is 21.6V
24V-TB-LTE - Sun Joe 24-Volt* IONMAX Cordless Compact Turbine Jet Blower
MAKE CLEANUP A BREEZE!  Say goodbye to blisters and give your back a break – tiring lawn and leaf cleanups are a thing of the past with 24V-TB-LTE 24-Volt* Cordless Compact Turbine Jet Blower from SUN JOE. Only SUN JOE is powered by iON , the revolutionary 24V* lithium-ion battery system with a world of possibilities. Cut The Cord® and go beyond the porch and patio, or anywhere power is at a premium with rechargeable runtime with no-fade power + performance, and cord-free, gas-free, rechargeable power! Quickly sweep the garage, garden, deck, driveway and more with the perfectly portable cordless convenience of SUN JOE. Like an aircraft, 24V-TB's turbine fan propels the windspeed up to 100 mph and 280 cubic feet per minute to make yardwork a breeze and leave your yard spotless. With a sleek, compact, aerodynamic design to maximize airflow and optimize storage, SUN JOE's 350 Watt motor provides all the power you need to quickly clear away grass clippings, leaves, dirt and debris, or even light snow! So, when life gives you leaves, make cleanup a breeze. The 24V-TB-LTE 24-Volt* Cordless Compact Turbine Jet Blower from SUN JOE®. GET EQUIPPED®.
24V-SB10-CT - Sun Joe 24-Volt* IONMAX Cordless SharperBlade Stringless Lawn Trimmer | 10-Inch
NO STRINGS ATTACHED. Say goodbye to tangled strings and extension cords with the next generation of grass-trimming tech: 24V-SB10-CT 24-Volt* Trimmer Edger from SUN JOE.
No more struggling with string — SUN JOE features patented SharperBlade® Technology. The self-sharpening, 10" precision cutting blade slices through tough grass, thick thatches, and unwanted weeds without kinks, tangles, or jams! Plus, SUN JOE's flower guard protects against accidental blade contact with delicate plants.
Or twist it up switch it up! The 180º rotating Twist-N-Groom head converts from trimmer to edger in seconds. Edge along flowerbeds, sidewalks, and walkways for a crisp, precise line — every time. Lightweight at 5.2 lbs, SUN JOE features an adjustable auxiliary handle and telescopic shaft which extends from 36.6 in. to 48.4 in. for maximum comfort and control. 
And every SUN JOE tool comes backed by our complete 2-year warranty, for worry-free performance, season after season.
So, avoid the hassle a traditional trimmer and GO WITH JOE® — 24V-SB10-CT 24-Volt* IONMAX Cordless Trimmer Edger from SUN JOE®. GET EQUIPPED®.
Download Manuals
Features
24V-TB-LTE - Sun Joe 24-Volt* IONMAX Cordless Compact Turbine Jet Blower
IONMAX 24-VOLT* SYSTEM includes 2.0 Ah lithium-ion battery + charger; battery recharges in just 5 hours

QUICKLY + EFFICIENTLY clears away leaves, dirt, debris, or even light snow!

CORDLESS CONVENIENCE: Ideal anywhere power is at a premium

TURBINE AIRBOOST TECHNOLOGY: SUN JOE has re-aligned the rotor of the standard leaf blower and turned it 90 degrees, so it propels air forward with more force — just like the turbine jet engine on an airplane!

POWERFUL 350-WATT MOTOR generates a max airspeed of 100 miles per hour, and a max air flow of 280 cubic feet of air per minute

LIGHTWEIGHT + PORTABLE at just 4 lbs; 2-year warranty
24V-SB10-CT - Sun Joe 24-Volt* IONMAX Cordless SharperBlade Stringless Lawn Trimmer | 10-Inch
Core tool ONLY; battery not included
Comes with 1 

SharperBlade mini trimmer blade + 10 grass blades

Ideal for trimming grass and edging along flowerbeds
2 tools in 1 —Twist-N-Groom 180º rotating head converts from trimmer to edger in seconds
10-inch patented SharperBlade self-sharpening blade provides hassle-free, reliable cutting
Lightweight at only 5.2 lbs for easy maneuverability
Adjustable handle and telescopic pole for maximum comfort and control
Flower guard protects against accidental blade contact with delicate plants