YOU ARE $125.00 AWAY FROM FREE U.S. SHIPPING!
YOU ARE $125.00 AWAY FROM FREE U.S. SHIPPING!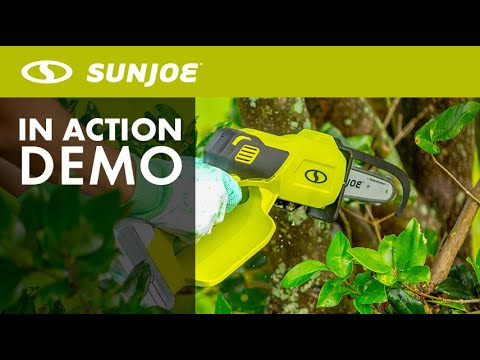 +11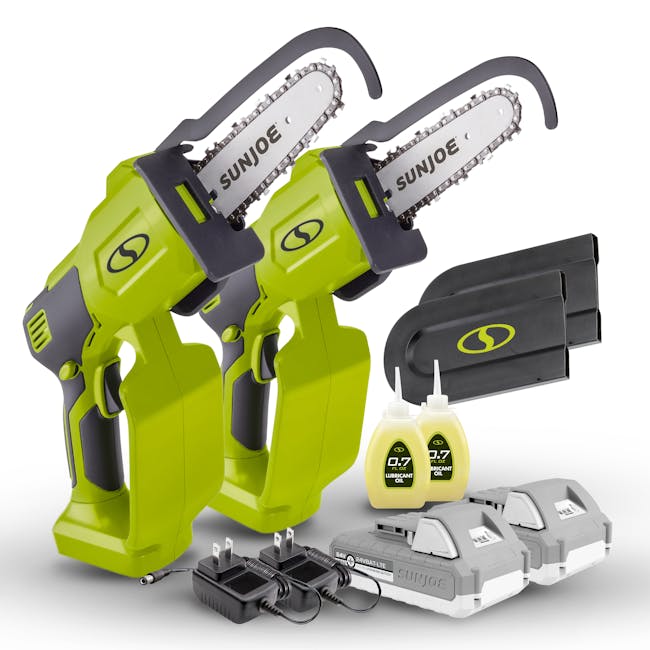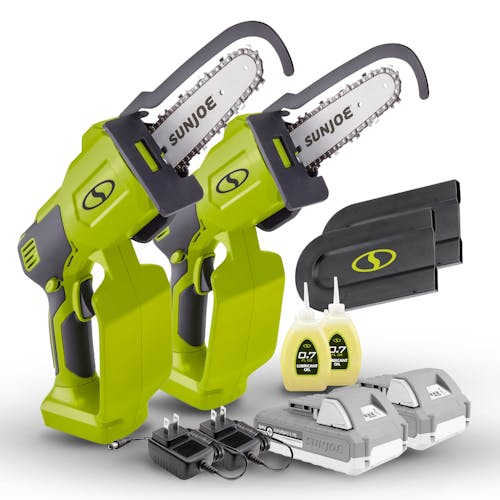 Sun Joe 24-Volt Handheld Chainsaw | Best Value Bundle | W/ 2x 2.0-Ah Batteries + Chargers
Ships Free
Ships Free
PAY AS LOW AS:
$1627
/Month
with
with
2 YEAR WARRANTY
ADD A PROTECTION PLAN:
Ships Free
Battery Option: Best Value Bundle
24V-HCS-LTE-P1 - Sun Joe 24-Volt iON+ Cordless Handheld Chainsaw | 5-inch Pruning Saw Kit | W/ 2.0-Ah Battery and Charger (Includes 2)
SEE IT? SAW IT WITH SUN JOE! The Sun Joe® 24V-HCS-LTE-P1 iON+ Cordless Handheld 5-inch Chain Saw is ultra-compact and lightweight at just 5½ pounds, yet it's an ultra-powerful saw that quickly trims overgrown branches and lifeless limbs. No more tangled cords, or wrestling with heavy gas chainsaws. Forget the stress and strain of squeezing manual pruners. And why work so hard with a handsaw? Because now there's a much better way. A cordless, convenient way. An easy, super-fast, super-powerful way that makes it simpler than ever to trim, saw, cut, and power prune like a pro.
Sun Joe's 5-inch handheld chainsaw quickly cuts through branches, thatch and shrubs up to 4½ inches thick with plenty of power and runtime, thanks to Sun Joe's exclusive 24-Volt iON+ battery technology. Plus, built-in safety features like the riving knife to prevent kickback, a knuckle-guard handle, and a safety switch to avoid accidental starts – let you cut with confidence. When you Go With Joe®, you get the cordless freedom to tackle your toughest trimming tasks.
Sun Joe takes the pain out of pruning: the secret is Triple-Action Pruning Power. Sun Joe's 230-Watt brushless motor cuts cooler, quieter and longer than traditional motors – so you can easily maintain tree health, improve your yard's appearance, and avoid safety issues like falling limbs. Sun Joe provides a clean, precise cut every time with just a squeeze of the trigger – ideal for green or woody stems, twigs, limbs, branches, firewood, and even plywood! No more tugging, no more straining – just cord-free, gas-free, hassle-free power and convenience. Plus, every Sun Joe iON+ tool is backed by a rock-solid 2-year warranty, for worry-free operation, season after season. So, prune like a PRO and Go With Joe! The 24V-HCS-LTE-P1 24V Cordless Handheld Pruning Saw from Sun Joe. Get Equipped®.
The iON+ System
With iON+, you've got Power To Go! With NO-FADE POWER from start to finish, you can run stronger, longer. The individual battery cells are continuously optimized for peak performance, with No Memory Effect during recharge, a rugged, shock-resistant design for longer life, and zero emissions for cleaner air. Plus, it's virtually maintenance-free! iON+ batteries are interchangeable, powering over 100 tools across the JOE brands. iON+ will become your go-to battery system for your home, yard, garage, and outdoor space. It's time to Supercharge Your Chores with iON+ and GO WITH JOE today! Get Equipped.
Download Manuals
Features
24V-HCS-LTE-P1 - Sun Joe 24-Volt iON+ Cordless Handheld Chainsaw | 5-inch Pruning Saw Kit | W/ 2.0-Ah Battery and Charger (Includes 2)
iON+ 24-VOLT SYSTEM includes 2.0 Ah lithium-ion battery + charger; battery recharges in just 5 hours

230 W BRUSHLESS MOTOR runs cooler, quieter, and longer than traditional motors

5" COMPACT BAR + CHAIN starts up with just the squeeze of a trigger

IDEAL FOR PRUNING green, growing branches, and woody stems up to 4½" thick

BUILT-IN SAFETY FEATURES include riving knife to prevent kick-back; a knuckle-guard handle, and a safety switch to prevent accidental starts

REFILLABLE OIL BOTTLE: 0.7 fl oz capacity

LIGHTWEIGHT + COMPACT at just 5½ lbs! SGS Listed/2-year warranty