YOU ARE $125.00 AWAY FROM FREE U.S. SHIPPING!
YOU ARE $125.00 AWAY FROM FREE U.S. SHIPPING!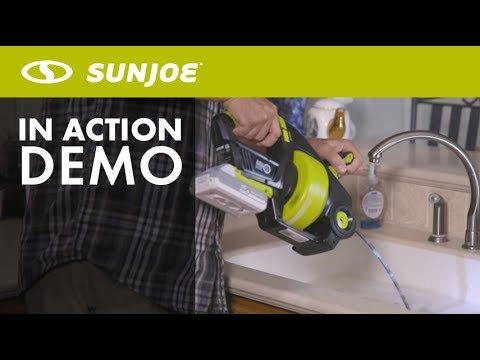 +4
Sun Joe 24V-DRNCLN-CT 24-Volt iON+ Cordless Automatic Drain Auger | Tool Only
PAY AS LOW AS:
$624
/Month
with
with
2 YEAR WARRANTY
ADD A PROTECTION PLAN:
Take on tough clogs and stubborn stoppages with the 24V-DRNCLN-CT 24-Volt Cordless Automatic Drain Auger Core Tool from SUN JOE! Don't let plugged pipes drain your wallet – reach for SUN JOE and clear out clogs with less stress and strain than a manual drain auger – and for less than the price of a plumber visit! Weighing less than 8 pounds, the portable, handheld unit powers through clogged drains anywhere around your home — or anywhere power is at a premium. Powered by SUN JOE's exclusive, eco-friendly iON+ lithium-ion battery system, 24V-DRNCLN offers multiple battery power options (battery + charger sold separately) for rechargeable runtime with no-fade power + performance, and a world of 24-volt tool possibilities!  The variable speed trigger adjusts with simply a squeeze — from 0 to 560 rpm — to quickly break up blocked plumbing faster than traditional, manual augers. The flexible steel cable extends, retracts and rotates to feed easily down into, and then back out of the drain. The 0.25" wide by 25-ft long metal cable with corkscrew tip dislodges obstructions up to 20 feet down the drainpipe and is designed for clearing conventional plumbing up to 2" in diameter. Simply feed the cable down the blocked pipe until it contacts the obstruction, and let the tool do the rest! No more worrying about stuck or stubborn manual drain snakes, SUN JOE feeds and retracts automatically at the touch of the trigger — no need to crank, turn or twist! The onboard drum with built-in drain plug neatly coils up the retracted cable and drains easily to prevent standing water in the unit. And the included LED light provides extra visibility whenever a little light is needed in tight or dark spaces!  So, next time you've got a backed up drain, GO WITH JOE®, and grab the 24-Volt Cordless Automatic Drain Auger! Get Equipped®.
Download Manuals
Features
Core Tool (BATTERY + CHARGER SOLD SEPARATELY) — Compatible with all iON+ 24-Volt Batteries
Breaks up blockages and unclogs plumbing between 0.75" – 2" in diameter
The 25-ft long cable reaches down pipes to clear blockages up to 20 feet down
Variable speed trigger — 0 to 560 rpm — quickly and efficiently dislodges clogs
Faster and easier than traditional manual augers!
Onboard drum neatly coils the 0.25" wide x 25' cable
Built-in drain plug prevents water build-up in the drum
Lightweight at just 7.6 lbs (without battery)!
Compact, portable design + cordless convenience – perfect anywhere power is at a premium
Convenient LED light for brightening up tight or dark spaces