YOU ARE $125.00 AWAY FROM FREE U.S. SHIPPING!
YOU ARE $125.00 AWAY FROM FREE U.S. SHIPPING!




+13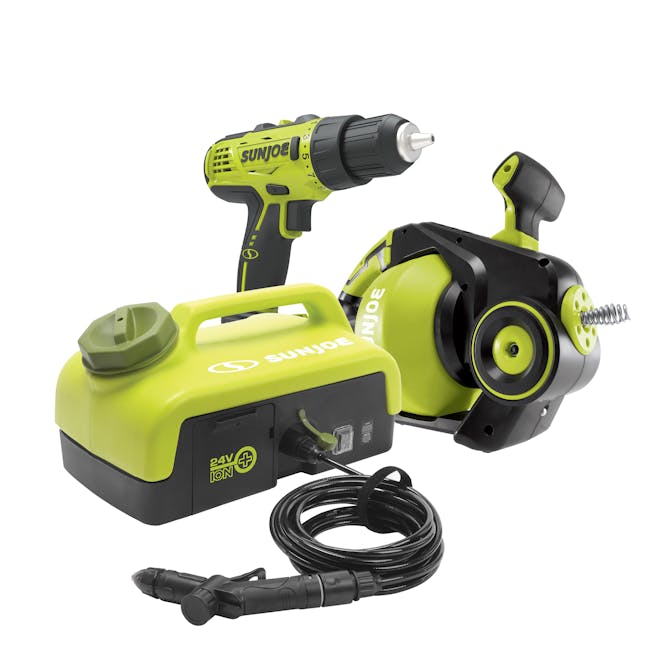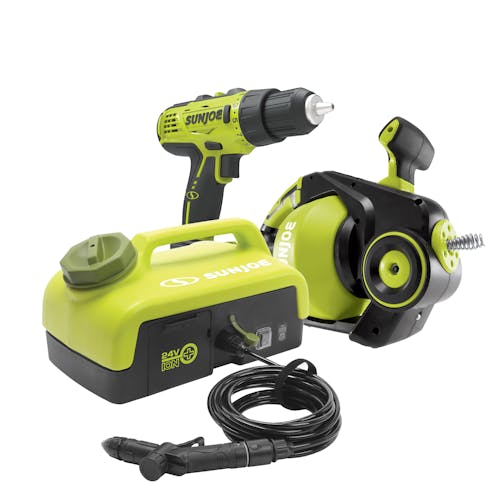 Sun Joe 24V-HOME-BDL Cordless Home Care Bundle | W/ Washer, Drain Auger, and Drill Driver
Take a quick rinse on the road or a mini wash wherever your travels take you with the NEW 24V-PSW2.5 Cordless Portable Spray Washer from SUN JOE. Only iON+ gives you room to roam, courtesy of the powerful, 24-Volt, 1.3 Ah rechargeable battery system, eco-friendly runtime per charge! Perfectly portable, SUN JOE's handy spray washer is ideal for quick cleanups at the park, car, beach, boat, or anywhere power and water are at a premium. You can even use SUN JOE's gentle spray to make cleaning your pets quick and painless! Fill up fast to carry up to 2.5 gallons of fresh, pond, or tap water and wash away dirt and debris with up to 116 PSI and 1.5 GPM of maximum cleaning power. The included spray wand with twist-to-adjust nozzle and shower attachment provide an on-the-go wash station wherever a quick rinse if needed — like after a hike, to water delicate plants, or for a quick cleanup after a day at the lake. So, hose off on-the-go — With Joe!
Don't let plugged pipes drain your wallet – reach for SUN JOE and clear out clogs with less stress and strain than a manual drain auger – and for less than the price of a plumber visit! Weighing less than 8 pounds, the portable, handheld unit powers through clogged drains anywhere around your home — or anywhere power is at a premium. The variable speed trigger adjusts with simply a squeeze — from 0 to 560 rpm — to quickly break up blocked plumbing faster than traditional, manual augers. The flexible steel cable extends, retracts and rotates to feed easily down into, and then back out of the drain. The 0.25" wide by 25-ft long metal cable with corkscrew tip dislodges obstructions up to 20 feet down the drainpipe and is designed for clearing conventional plumbing up to 2" in diameter. Simply feed the cable down the blocked pipe until it contacts the obstruction, and let the tool do the rest! No more worrying about stuck or stubborn manual drain snakes, SUN JOE feeds and retracts automatically at the touch of the trigger — no need to crank, turn or twist!
Tackle your toughest fastening tasks with up to 265 in-lbs of torque. Choose your drilling or driving setting with the selectable 24-position clutch that includes 23 screw settings + 1 drill setting. The variable speed trigger and 2-speed gear box gives you all of the control you need to take on tasks around the house, workshop, garage and worksite with 24-volts of pure cordless convenience. Plus, 24V-DD-CT's keyless chuck with auto-lock spindle makes sure bits are properly secured for added safety.
Features
Powerful 24V, 2.0 Ah iON+ battery system features exclusive EcoSharp® technology for no-fade power performance
Generates up to 116 PSI at maximum internal pressure and 1.5 GPM of flow to quickly rinse away dirt and debris
Innovative bucket design holds up to 2.5 gallons of fresh, pond or tap water
Twist-to-adjust nozzle from pinpoint jet to gentle fan spray
Included shower spray attachment is perfect for a quick wash after a hike, a gentle rinse after a day at the beach, or washing your pets
20-ft hose attachment easily reaches all four corners of the car
Charge time max: 3 hours
Lightweight at just 9.5 lbs (battery installed, not filled)
Core Tool (BATTERY + CHARGER SOLD SEPARATELY) — Compatible with all iON+ 24-Volt Batteries
Breaks up blockages and unclogs plumbing between 0.75" – 2" in diameter
The 25-ft long cable reaches down pipes to clear blockages up to 20 feet down
Variable speed trigger — 0 to 560 rpm — quickly and efficiently dislodges clogs
Faster and easier than traditional manual augers!
Onboard drum neatly coils the 0.25" wide x 25' cable
Built-in drain plug prevents water build-up in the drum
Lightweight at just 7.6 lbs (without battery)!
Compact, portable design + cordless convenience – perfect anywhere power is at a premium
Convenient LED light for brightening up tight or dark spaces
iON+ 24-Volt Battery System compatible — BATTERY + CHARGER SOLD SEPARATELY
0.25" bit size and keyless chuck with auto-lock spindle
24-position clutch + 2-speed gear box
Variable speed trigger switch lets you start slow and speed up as you go
Includes convenient features like the built-in bubble level and magnetic screw tray
1 W LED light improves visibility in dark or tight spaces
Direction of rotation selector switch — right for forward, left for reverse, and center locks the switch for safe storage
Includes soft storage case and double-ended driver bit
Weight: 3.5 lbs (1.6 kg)
Certifications/warranty: ETL/2 year