YOU ARE $125.00 AWAY FROM FREE U.S. SHIPPING!
YOU ARE $125.00 AWAY FROM FREE U.S. SHIPPING!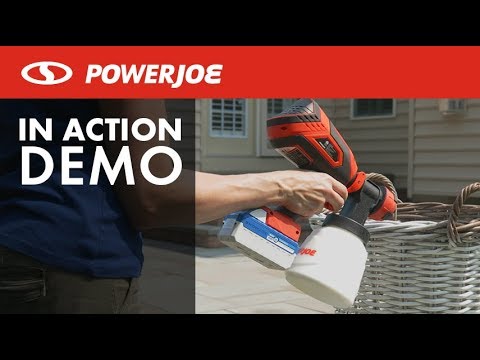 +7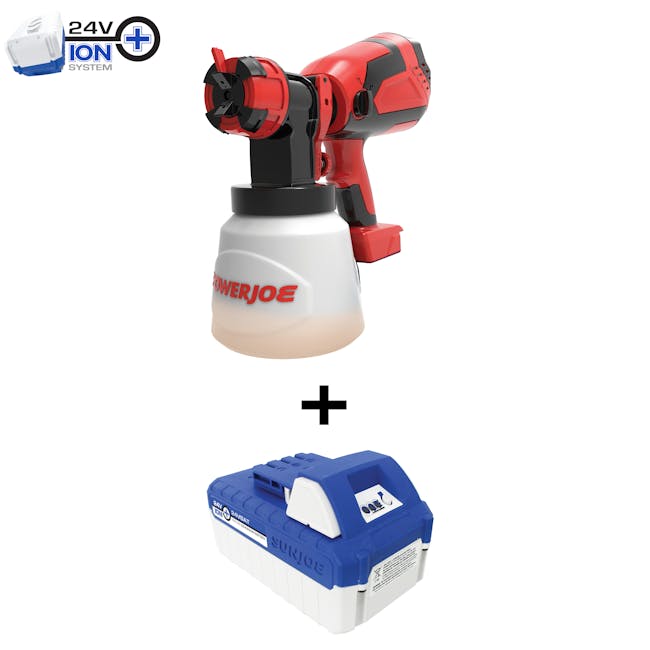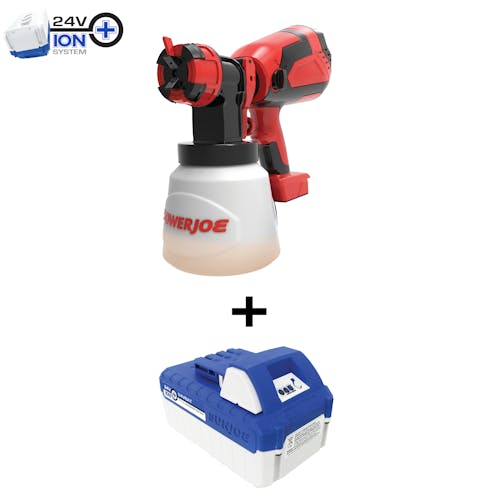 Sun Joe 24V-PS1 24-Volt* IONMAX Cordless HVLP Handheld Paint Sprayer Kit | 3 Spray Patterns | W/ 4.0-Ah Battery + Charger
*Initial no-load voltage, at full charge, peaks at 24V; nominal voltage with typical load is 21.6V
Ships Free
Ships Free
PAY AS LOW AS:
$1437
/Month
with
with
2 YEAR WARRANTY
ADD A PROTECTION PLAN:
Ships Free
SPRAY YOUR WAY! Get pro-quality paint results without the hassle of bulky professional equipment with the 24V-PS1 24-Volt* Cordless Paint Sprayer from POWER JOE®, by SUN JOE®. Gone are the tiring hours rolling paint, or the streaks you get from a brush; get a flawless finish in half the time with POWER JOE.
24V-PS1 uses High-Volume, Low-Pressure (HVLP) technology to evenly disperse the flow of paint with less risk of overspray or wasted paint. The onboard turbine atomizes the paint upon contact with the air flow — eliminating the need for heavy pressure like traditional airless sprayers — and provides you the control you need for intricate painting projects without splattering paint everywhere or needless overspray.
The IONMAX 24V* battery provides rechargeable runtime and a max rated flow of up to 3.2 gallons of paint per charge!
The onboard paint container holds up to 32 fl oz of paint, primer, stain, sealer, or varnish, while the variable flow control lets you get the most out of every ounce of paint. Do detail work in less time with the 3 selectable spray patterns: vertical, round, and horizontal. Get in crevices and corners, around edges, and in fine details with unparalleled precision. No more struggling with a brush — just smooth, even coverage and fast, easy application.
And the six piece accessory kit includes 3 spray nozzles — 1.5 mm, 1.8 mm, and 2.2 mm — a viscosity testing cup, and a cleaning brush clean-out tool to maintain optimum flow and dislodge possible clogs and clumps.
So, get ready to spray your way and Go With Joe®: The Power Joe 24V-PS1 24-Volt* Cordless Paint Sprayer, by SUN JOE. Get Equipped®.
Features
IONMAX 24V* 4.0 Ah Battery System provides runtime with no-fade power performance
High-Volume, Low-Pressure technology evenly disperses the flow of paint without the use of high pressure to minimize overspray maximize control
Onboard paint container holds up to 32 fl. oz. of paint, primer, stain, sealer, or varnish
Controllable air flow atomizes paint upon contact with a max flow of up to 3.2 gallons of paint per charge!
3 selectable spray patterns cover both small and large areas with ease
For ideal results, maintain equal speed and distance when spraying. Use a small roller to clean up any mistakes or drips
Viscosity cup helps test the ideal dilution ratio — refer to owner's manual for more details
Lightweight at just 4.4 lbs. for maximum comfort control