YOU ARE $125.00 AWAY FROM FREE U.S. SHIPPING!
YOU ARE $125.00 AWAY FROM FREE U.S. SHIPPING!


+16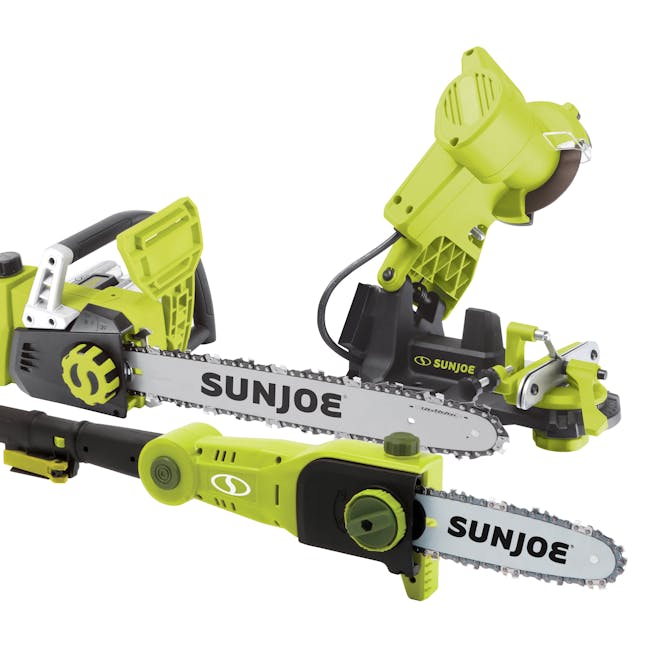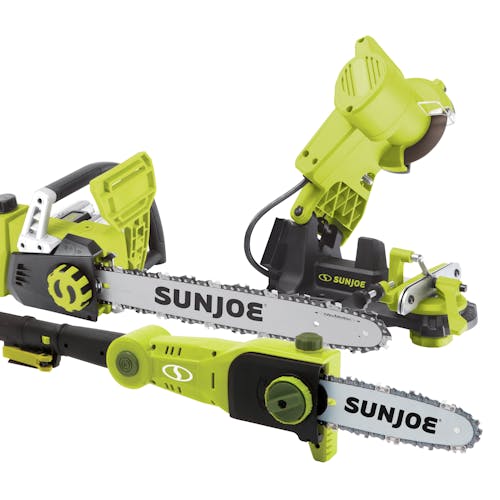 Sun Joe 24V-SAW-BDL 24-Volt IONMAX Chainsaw Bundle | W/ Chainsaw Kit, Pole Saw Kit, and Chainsaw Sharpener
Cut The Cord® and go beyond the limits of the extension cord, or anywhere power is at a premium. SUN JOE is powered by the two included IONMAX 24-Volt 2.0 Ah batteries. The robust 1,200 Watt motor and self-lubricating 16-inch bar and chain cut cleanly through branches and logs up to 15.5" thick, to quickly clear away brush and branches. The onboard, 5 fl oz oiler keeps the bar and chain fully lubricated for continuous cutting, and the tool-less chain tensioner provides a quick fix on-the-go with just a twist.
Cut your tree trimming tasks down to size and tackle those tough-to-reach branches with ease with the 24V-PS8-LTE 24-Volt 8-Inch Cordless Pole Chain Saw from SUN JOE. Powered by SUN JOE's exclusive 24-Volt IONMAX Battery System, 24V-PS8-LTE's 2.0 Ah lithium-ion rechargeable battery charges up in just 80 minutes. IONMAX offers the all of the power and performance of gas with the best of cordless convenience for all your outdoor chores — and no emissions, fumes, fuss, or tangled extension cords.
Cut The Cord® and cut a cord of wood, or trim a load of limbs and logs, all while standing safely on solid ground! SUN JOE takes the danger and difficulty out of trimming overgrown trees. Trim out-of-reach branches with the telescopic pole — which extends from 3.7 ft to 7.2 ft — to provide up to 14 ft of overhead reach.
Powered by a robust 350 W motor and revolutionary lithium-ion battery power, 24V-PS8-LTE's multi-angle head can quickly adjust from 0º to 30º for maximum cutting control. And SUN JOE's auto-lubricated 8-inch bar and chain can handle the most stubborn brush, branches, limbs and logs up to 7.5-inches thick.
Dull chains are dangerous and difficult to work with, and taking trips to the hardware store to get them sharpened wastes time and money. So, next time your chain saw or pole chain saw pulverizes wood and can't cut cleanly any more, reach for the 24V-CSSHRP-CT 24-Volt Cordless Chain Sharpener from SUN JOE®! Designed to work with virtually all saw chains, 24V-CSSHRP is the perfect tool to keep your chain in top cutting condition. Simply position your dull chain along the guide, set your swivel angle from -30º to +30º left or right, and use the 100 grit, aluminum oxide grinding wheel to keep your tool's cutting teeth razor sharp! Adjust the grinding depth with a quick twist of the knob for a precise cut every time! The powerful 65.5 watt motor spins the grinding wheel at up to 6,500 RPM, sharpening your worn chains in less time and with less effort than manual sharpeners. The sturdy base mounts securely on any table or bench for maximum control during use. Plus, 24V-CSSHRP is perfect for use anywhere power is at a premium – with the cordless convenience of IONMAX: SUN JOE's exclusive, eco-friendly 24-Volt lithium-ion battery system.
Features
Powerful 1200 W motor and 16-inch bar + chain cuts cleanly through trunks, limbs, logs and branches up to 15.5-inches wide

Tool-less tensioning tightens the chain with just a twist

Onboard auto-oiler keeps the bar and chain lubricated for continuous cutting

Safety features include: a protective hand guard with kick back brake for superior safety + control; a built-in safety switch to prevent accidental starts, and sheath for safe storage after use.
8 in. auto-lubricating bar + chain with 2.7 fl oz oil tank capacity and oil level window
24 V 2.0 Ah IONMAX lithium-ion battery
Multi-angle head adjusts from 0º to 30º
Battery charge time (max): 80 minutes
Swiftly slices through branches up to 7.5 in. thick
Telescoping pole extends from 3.7 ft to 7.2 ft, providing up to 14 ft of overhead reach
Weight: 7.7 lbs (3.5 kg)
Sturdy base mounts securely to any table or workbench
IONMAX 24-Volt Battery System compatible
Durable 100 grit, 4.25 in. diameter, 1/8 in. thick aluminum oxide grinding wheel
Powerful 65.5 watt motor rotates grinding wheel up to 6,500 rpm
Chain gauge: 0.05 in. – 0.07 in. (1.3 mm – 1.8 mm)
Compatible with 1/4 in. + 3.8 in. + 0.325 in. chain pitches
Features grinding depth adjustment + locking knob for a precise cut every time
Swivel angle adjusts from -30º to +30º left or right
Chain guide lock keeps chains securely in place while working
Recommended for use with SUN JOE pole + chain saw chains
Compatible with most chain saws
Lightweight at under 5 lbs!