YOU ARE $100.00 AWAY FROM FREE U.S. SHIPPING!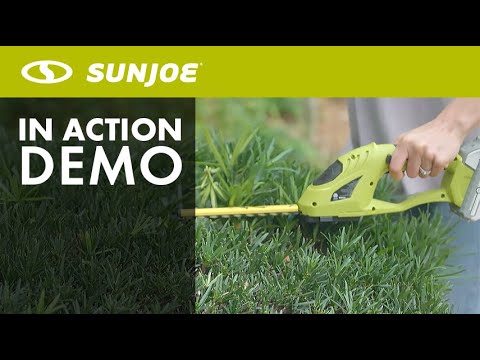 +2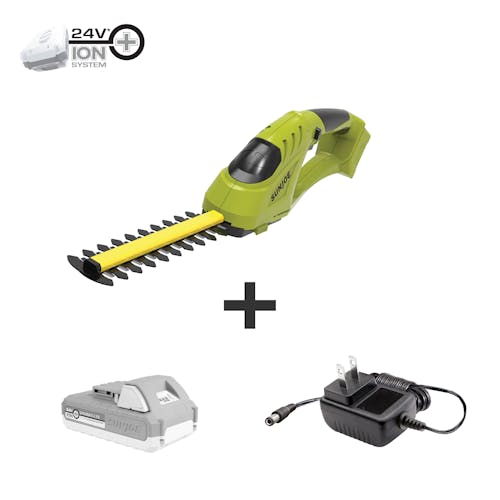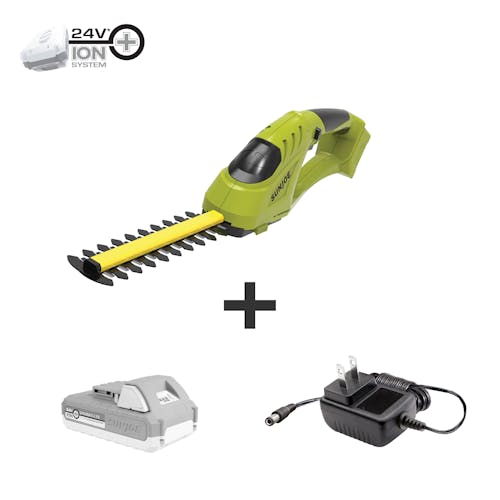 Protection Plan Options |
2 Years

Total Warranty
2 Years - FREE
+1 Year - $6.99
+2 Years - $8.99
+3 Years - $11.99
POWER MEETS PRECISION. Shape up your shrubs in those hard to reach places with the 24-Volt iON+ Cordless Handheld Hedge Trimmer. Perfect for detailed trimming, potted plants and topiaries, 24V-SSEG-LTE makes trimming touch-ups hassle-free thanks to the 24V cordless operation. The included 2.0 Ah lithium-ion battery provides up to 80 minutes of eco-friendly, rechargeable runtime with no-fade power + performance, ideal anywhere power is at a premium. Just insert the iON+ universal battery, power up, and get your shrubs back in shape! And SUN JOE is cord-free and maintenance-free, so you can get your to-do list done without having to worry about gas, oil, costly seasonal tune-ups, or toxic emissions. The 7-inch steel blades easily slice through twigs, leaves, brush and branches up to 0.3" in diameter, for a crisp, clean and precise cut every time. Lightweight at just 3 lbs, SUN JOE provides all the power of a heavy-duty hedge trimmer with the precision of a handheld trimmer. So, when the bushes are overgrown, CUT THE CORD® and Go With Joe®. The 24V-SSEG-LTE 24-Volt Cordless Handheld Hedge Trimmer from SUN JOE. GET EQUIPPED®.
Features
iON+ 24-Volt System — includes 2.0 Ah lithium-ion battery for up to 80 minutes of rechargeable runtime
Included AC charger recharges battery in just 5 hours
7-inch, rust-resistant steel blades cut through branches up to 0.3" in diameter
60 watt motor provides up to 1,150 RPM for max cutting power + performance
Safety features include built-in safety switch to prevent accidental starts, and blade sheath for safe storage
Lightweight at just 3.1 lbs
ETL approved/Includes 2-year warranty