YOU ARE $100.00 AWAY FROM FREE U.S. SHIPPING!





+3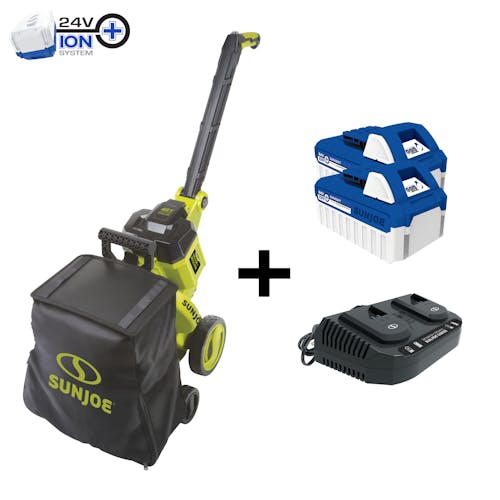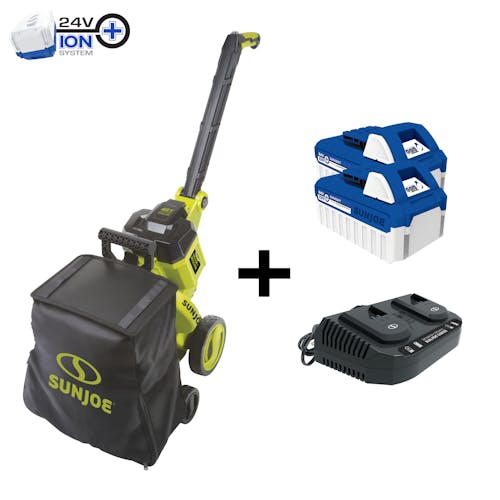 2 YEAR WARRANTY
ADD A PROTECTION PLAN:
CLEAN UP CORDLESSLY! Vacuum your yard like a rug with the innovative 48V iON+ Cordless Vacuum/Mulcher from Sun Joe®. This 2-in-1 machine delivers the power and performance you need to quickly rid your yard of leaves, dirty and debris.
Powered by the exclusive 24V iON+ lithium-ion battery system, this power-packed yard vac uses two 4.0 Ah batteries (included) for 48-Volts of cordless power, and up to 22 mins of rechargeable runtime. The eco-friendly 1100 watt motor offers up to 38 MPH air speed, and 850 CFM of vacuum air flow! No need to rake leaves into piles — simply vacuum your yard, driveway, or deck like a rug! The heavy-duty impact-resistant impeller shreds through dry leaves, saw dust, packing peanuts, dirt, debris, and even acorns, and mulches them to a 15:1 ratio. And the extra-large 10.6 gallon collection back traps the mulch as it cleans, leaving your yard spotless — and making it easy to clean up, or simple to reuse the shredded leaves as nutrient-rich mulch for your garden! So, when life gives you leaves, make cleanup a breeze with the innovative 48V iON+ Cordless Vacuum/Mulcher from SUN JOE®. GET EQUIPPED®. 
Download Manuals
Features
iON+ 48-Volt Battery System compatible — Includes two 24-Volt 4.0 Ah battery that provides up to 22 minutes of rechargeable runtime
2-in-1 outdoor vacuum mulcher
Powerful 1100 watt motor provides maximum suction
17.7" adjustable handle folds down for compact, easy storage
High-impact resistant impeller mulches leaves up to 1/15th their original size
Ultra-powerful 850 CFM vacuum air flow is strong enough to vacuum up acorns!
Extra-large 10.6-gallon bag capacity
7.5" x 5.5" debris intake
Lightweight at just under 21 lbs!
ELT Listed/2 year warranty