YOU ARE $125.00 AWAY FROM FREE U.S. SHIPPING!
YOU ARE $125.00 AWAY FROM FREE U.S. SHIPPING!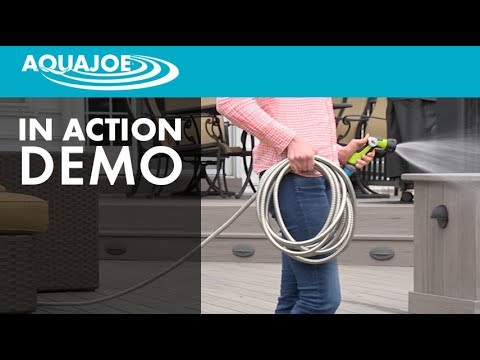 +14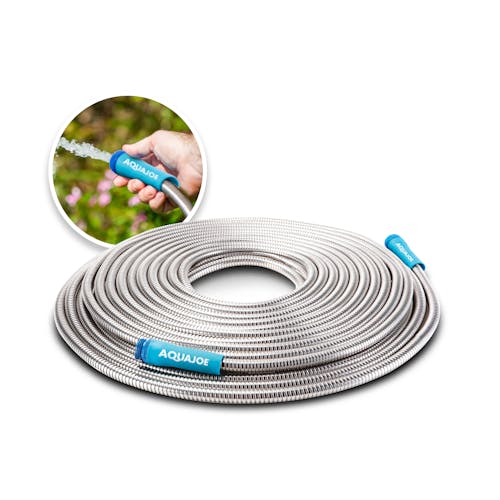 Aqua Joe AJSGH75 Heavy-Duty Puncture Proof Kink-Free Metal Garden Hose | 75-Foot | 304-Stainless Steel | Spiral Constructed | 1/2-Inch Diameter
THE STAINLESS STEEL HOSE THAT'S AS TOUGH AS NAILS!  AQUA JOE's lightweight stainless steel hose is quite simply the last hose you'll ever need! Made from high-quality industrial grade 304 stainless steel for a lifetime of reliable use in your yard and garden. Won't cut, crush or crack - won't split, kink or get hot in the sun. It's the one hose that works as hard as you do.  A rugged, virtually indestructible and puncture-proof stainless steel outer sheath surrounds a flexible PVC inner core, for maximum performance and durability, and features bend restrictor collars and durable aluminum fittings at each end for unrestricted water flow and secure, leak-proof connections. Lead-free, phthalate-free and BPA-free.  Perfect for watering the flowers, washing the truck, rinsing patio furniture or connecting to sprinkler or pressure washer.
Download Manuals
Features
Made from lightweight, industrial grade 304 stainless steel 
Lead-free, Phthalate-free, and BPA-free
Won't cut, crush or crack - won't split, kink or get hot in the sun
Rugged stainless steel outer layer over durable PVC inner core
Durable, leak-proof aluminum fittings
Bend restrictor sleeve for uninterrupted flow
Great for yard garden: water the lawn and plants, wash the car and deck