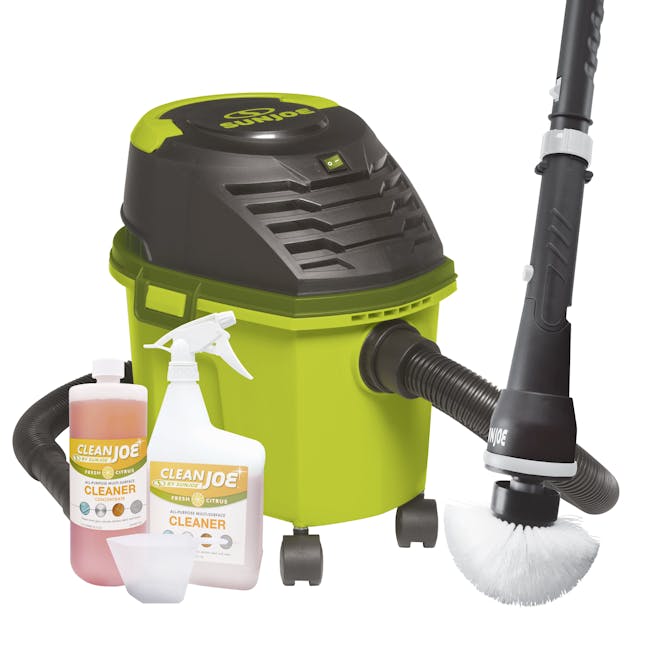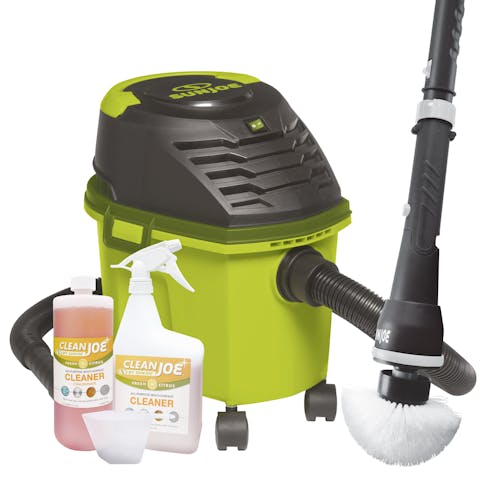 Sun Joe CLEAN-BDL Home Cleaning Bundle | W/ Wet/Dry Vacuum, 24-Volt Power Scrubber, and Multi-Surface Cleaner
Spruce up your home, workshop and garage with the Sun Joe® Electric Wet/Dry Vacuum! Full size shop vacs are cumbersome, so SUN JOE created a compact vac that's just the right size for minor messes and spills around the house or in the car, porch, pantry, garage, bathroom, basement or laundry room!
Packed with 3.5 HP of pure cleaning power, the SWD2500 comes equipped with an easy-empty 2.6 gal tank, ideal for quick cleanups, leaks and spills. Wet or dry, you'll have the right solution for every situation with washable, reusable filters including sponge and cloth bag, and a suite of handy tool attachments to suit every cleaning task.
From the leading manufacturer of eco-friendly outdoor yard garden equipment comes the powerful every day, multi-surface cleaner that will change the way you clean your home — CleanJoe, by SUN JOE. With one quart of concentrated solution, CleanJoe's all-purpose, multi-surface spray tackles your toughest cleaning tasks. We wanted a "greener" all-purpose cleaner that works as hard as we do, and as hard as our tools do. Something tough enough to use throughout our facilities and on our equipment, yet gentle enough to use in our homes and around our families. We couldn't find it, so we made it ourselves using only the finest of non-toxic ingredients and a clean, all-natural citrus-scent. CleanJoe works on multiple surfaces around your home — from stainless steel, to aluminum, to ceramic, glass, concrete, wood, laminate, and more! Simply dilute, spray, and watch CleanJoe remove even the most stubborn, caked on messes.
Take the tiring, tedious, repetitive work out of your cleaning to-do list with the 24V-PWSCRB-LTW-BLK 24-Volt Cordless Power Scrubber from SUN JOE! No more endless scrubbing by hand – tackle the toughest messes, mold and mildew, stains and more at home or on-the-go with cordless convenience. Perfect anywhere power is at a premium, like the laundromat, garage, pool or patio, SUN JOE's power scrubbing dynamo also makes light work of household grime in the kitchen, laundry room or bathroom. Simply select from the four included, easy to clean, scrubbing brush heads to suit the task. The rotating head spins at two variable speeds — LOW (600 rpm) and HIGH (1000 rpm) — for light- to heavy-duty cleaning tasks. Effortlessly clean large surfaces in less time with the round brush or large flat brush head; Or, get in grout lines and corners with the cone brush and small flat brush. And SUN JOE doesn't stop there! Go beyond the kitchen and bathroom with IONMAX power — the rechargeable lithium-ion battery system with a world of possibilities. Clean the car, tires hub caps, scrub gunk off of the grill, wash the windows, get grime off of grout and granite, and so much more, with up to 50 minutes of continuous runtime! Reach high or low without bending! SUN JOE extends from 27 in. to 50 in. with the included pole attachment to get to from those hard-to-reach corners of your shower and tub without the pain and strain on your back and knees. And when the job is done, simply remove the extension pole for compact, convenient storage in the closet or cabinet.
Features
Includes floor brush, crevice brush, and dust brush for multiple cleaning tasks
For wet or dry cleaning applications
Perfect for home, auto, workshop, garage
Reusable, washable filtration system
Removable 2.6 gallon tank for easy emptying of dirt, debris and liquids
Powerful 7-Amp / 3.5 HP motor
Suction hose length: 3.9'
Air Flow: 65 CFM
Concentrated, non-toxic formula is perfect to use anywhere around the home — indoors or out
All-purpose, multi-surface spray cleans: vinyl, glass, grout, carpet, fabric, wood, laminate, ceramic, metal, concrete, pots and pans, and more!
Made in the USA
1 U.S. Quart (32 fl oz) of concentrated formula makes up to 32 quarts of all-purpose cleaner!
Easy to pour and dilute so you can customize your mix based on your mess
Use it with a cloth towel for every day messes. Use a scrub brush for grease and oil stains on concrete and asphalt.
Perfect for a variety of cleanings tasks: kitchen counters, bathroom tile, sinks, grout lines, auto tires, windows, outdoor grills, and other non-wood surfaces.
Great anywhere power is at a premium, like the laundromat, garage, pool or patio
IONMAX 24-Volt 1.3 Ah lithium-ion battery provides up to 50 minutes of rechargeable runtime for no-fade power performance
Includes 4 brush head attachments — round brush, large flat brush, cone brush, small flat brush
Removable pole attachment extends tool from 27 in. to 50 in.
Two variable speed settings — LOW (600 rpm) and HIGH (1000 rpm) — for light- and heavy-duty cleaning tasks
Lightweight at just 3.5 lbs