YOU ARE $125.00 AWAY FROM FREE U.S. SHIPPING!
YOU ARE $125.00 AWAY FROM FREE U.S. SHIPPING!





+30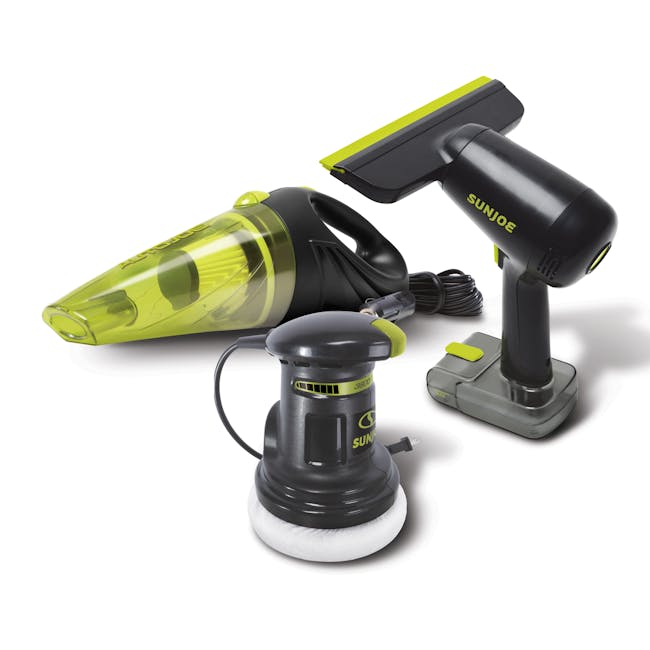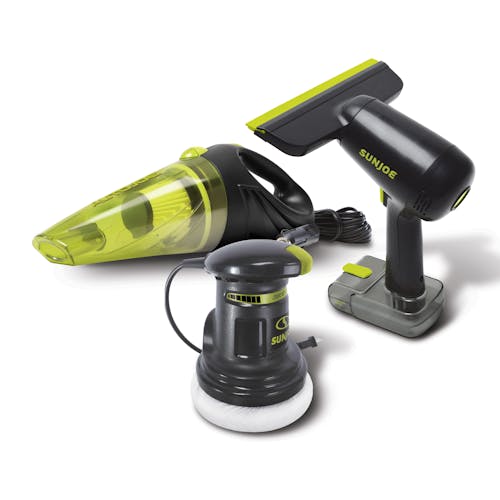 Sun Joe Complete Auto Care Bundle | Electric Buffer + Window Cleaner + Vacuum
Limit 10 Per Order.
AJP100E - Sun Joe Random Compact Orbital Electric Buffer Polisher Waxer | 6-Inch
POLISH LIKE A PRO!  Give your elbow an upgrade with the 6-inch Random Orbit Buffer + Polisher from SUN JOE. At less than 3 lbs, it's the compact, lightweight all-in-one electric polisher and buffer designed for ergonomic comfort and the precise control you demand for your auto and home improvement projects. Just plug it in, squeeze the trigger and go. Perfect for buffing and polishing kitchen counters, fiberglass on the boat, stainless steel and bathroom fixtures, woodwork, paneling, windows and more, the powerful high-performance electric motor provides up to 3800 orbits per minute max of random orbit action for a swirl-free, mirror-like finish. Simply swap interchangeable 8-inch bonnets over the 6-inch foam pad to switch applications. Choose the terrycloth buffer to apply wax, oil or sealants to your surfaces, or select the fleece polishing bonnet to add some sparkle and shine to the finished product. Polish off all your home and auto projects, and Go With Joe®: The 6-inch Random Orbit Buffer + Polisher from SUN JOE®. Get Equipped®.


AJWV100 - Sun Joe 3.7-Volt Cordless Multi-Surface Glass + Window Vacuum Cleaner
Whisk away dirt and grime for a dazzling SUN JOE shine with the Cordless Multi-Surface Window Vacuum Cleaner. Ideal for indoor and outdoor jobs like cleaning windows, counters, mirrors, shower doors, auto glass, tiles and more – simply spray, and vacuum soap scum, smudges and haze away. Clean up to 50 standard-sized windows per charge for the ultimate in cordless convenience. The soft, flexible squeegee blade is safe on glass and delicate surfaces for a squeaky-clean, streak-free finish. Just spray and vacuum away. No wiping required – and no more piles of grimy paper towels! SUN JOE's powerful, rechargeable 15 watt motor instantly dries your surfaces in seconds for a sparkling-clean sheen, while the built-in 3.4 ounce vacuum tank collects dirty water as you go, and easily empties when full. And when the work is done, simply plug in and power up again using the included USB charge cable or AC adapter. And, with SUN JOE's complete 2-year warranty protection, you'll have the maximum service and support you can count on. So, for a clearly better way to clean your windows and shine your surfaces – Go With Joe®: The Cordless Multi-Surface Window Vacuum Cleaner from SUN JOE. 


ATJ-V501 - Auto Joe 12-Volt Portable Car Vacuum Cleaner
GET A SHOWROOM INTERIOR! Keep your car, truck, and auto clean with this 12V Portable Handheld Vacuum Cleaner from AUTO JOE®. Advanced HEPA filtration traps pollen, dust, sand, hair, dirt + debris, and more! Simply plug the 16ft 12V D.C. cable into your car's power outlet, and vacuum away! The eco-friendly 90 W motor and 6-piece accessory kit makes this the perfect all-in-one car interior cleaning kit. Use the included extension hose and crevice nozzle to get in those tough-to-reach nooks and crannies — like under the seat, or next to the center console. Or swap in the brush attachment, to get tough-to-clean dirt from rugs and upholstery. Lightweight, compact convenient, Auto Joe™ neatly stows away in the trunk of your car with the included storage case, so it's always ready for a quick-pickup. 
Features
AJP100E - Sun Joe Random Compact Orbital Electric Buffer Polisher Waxer | 6-Inch
Random orbit buffer + polisher ideal for auto and home improvement projects

Powerful 0.7A motor provides up to 3800 orbits per minute max for a swirl-free, mirror-like finish

Includes 6 in. foam pad, 8 in. terrycloth buffer bonnet + 8 in. fleece polishing bonnet

Perfect for buffing kitchen counters, polishing fiberglass on the boat, stainless steel and bathroom fixtures, applying wax and sealant to woodwork, paneling and more

Compact size for precise control, ergonomic comfort

Lightweight, only 2.9 lbs
AJWV100 - Sun Joe 3.7-Volt Cordless Multi-Surface Glass + Window Vacuum Cleaner
Portable multi-surface vacuum cleaner for the ultimate in cordless convenience
Ideal for indoor + outdoor jobs like cleaning windows, counters, mirrors, shower doors, auto glass, tiles and other hard surfaces
Rechargeable 15 watt motor cleans up to 50 standard-sized windows on a single charge
Soft, flexible squeegee blade is safe on glass and delicate surfaces
Easy-empty 3.4 fl oz collection tank
Includes Universal USB Charger + AC adapter
ATJ-V501 - Auto Joe 12-Volt Portable Car Vacuum Cleaner
Great for rugs, seats, dashboard, glove compartment, console, trunk, and every area in your car!
6-pc auto accessory kit includes: Extension Hose, Crevice Nozzle, Brush Attachment, Carrying Bag, Replacement Filter, Filter Cleaning Brush
90 W eco-friendly motor
12V D.C. cable plugs directly into your car's auxiliary outlet
17 fl oz dust tank capacity
Lightweight + compact at just 1.6 lbs